Most student jobs are okay at best but what if next summer, you could run your own business, enhance your resume, and set yourself up for success after graduation? With the Student Works Management Program, you now have that opportunity.
We asked ten past Student Works operators at the University of Guelph for their thoughts and reviews of the program to see if it was truly the life-changing opportunity it promised to be. Here's what they had to say…
Alexander LeBlanc – Real Estate and Housing
"I still don't really know what my future holds, but one thing I do know is that myself and Student Works alumni will have our picking at whatever position we may want after we graduate. Student Works essentially provides 5 years of career experience over an eight-month period. Complete 3 years of Student Works and I would consider you to be as prepared and qualified as most 35-year-olds in the workforce."
Adriana Benoit – Human Kinetics
"The most valuable skill I learned this year was confidence. When I started running my business, I was nervous about marketing and speaking with clients. When I look back at myself from January to now I can see a huge difference in my confidence. This has not only helped me in my business but also in the rest of my life."
Cameron Clarke – Human Kinetics
"The mentorship and the network of support are what make Student Works such an outstanding company. You can't find another business that puts so much time and effort into the success of their operators. The culture that's been built in Student Works creates an environment that breeds success and gets the most of every individual in the program."
Cameron Schell – Marketing Management
"I was referred into the company by a friend of mine, so when I started running the business none of what I was asked to do surprised me, but when I first heard about the Student Works system and found out that a student could run a business and hire people and could be selling thousands of dollars of legal painting contracts, it definitely threw me for a loop!"
Drew Davies – Marketing Management
"I feel like I've fast-tracked 10 years of my life and gained the experience to deal with anything that life could possibly throw my way. I've been put through the most stressful and exhausting challenges I've ever experienced and certainly wouldn't have experienced if not for Student Works. After persevering through the past through years I'm confident in my abilities to handle any challenge or situation."
John Cameron – Real Estate and Housing
"In my past jobs, I was a water park attendant where my biggest responsibility was telling people when they were allowed to go down the slide. With Student Works, I was responsible for everything and that was something that was a dream come true."
Larissa Potichny – Criminal Justice and Public Policy
"It gave me a sense of what being in control of your own life means in regards to almost everything; tenacity, funds, complacency, organization, delegation and drive. It was a neat experience essentially being my own boss and showed me the true result of cause and effect, meaning every action I took in my business had a direct impact on the outcome; positive and negative."
Mike Gambarotto – Marketing Management
"I always knew I wanted to start my own business, but had no idea where to start. From Student Works' mentorship and coaching, I was able to experience running a successful business and will use these skills I have developed in whatever business I start next."
Quinton Carroll – Biomedical Science
"The amount of commitment, learning, and growth that I have gained from this summer with Student Works far exceeds that of any of my past summer jobs. I achieved something that I never thought was possible at my age. I now feel more confident in myself and my abilities than I have ever before. This program has pushed me far beyond my limits and taught me the values of integrity, accountability and responsibility. Now that I have completed the program I cannot imagine returning to any of my past summer jobs."
Russell Epp – Marketing Management
"I was extremely surprised by the amount of responsibility not only the company placed in our hands but also the customers. Never did I think that at my age and with my experience customers would trust me with the well-being of their home and hard-earned money. Not only this but we were tasked with the full responsibility of determining our worker's summer. Their experience, finances, and safety were completely put in our hands. Completing the program definitely developed a greater sense of self-respect in knowing that I could be trusted with this amount of responsibility."
Want to gain practical skills, grow your personal network, and broaden your future opportunities like these Guelph students did? The Student Works Management Program is already recruiting ambitious students for next summer! Apply now and yours could be the next success story.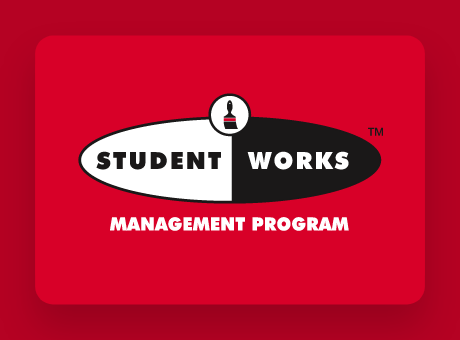 Jobs
Yours could be the next success story.