The WWF-Canada Designing Change for a Living Planet Challenge is a yearly event that brings together post-secondary students from all disciplines for four hours per day over the course of three days to take action for nature. This year's challenge was unique because it was the first year that it was completely virtual and truly national with youth joining from all over Canada.
DAY 1
The theme of this year's challenge was: how can we mobilize workplaces and people to partake in citizen science and take action for nature? The first day's events dove into the issues WWF-Canada hopes this challenge will address, as well as examples of solutions that restore and protect nature.
There was also a speaker series with presenters from Ferrero Canada, RBC, and IBM offering their insights on how best to mobilize an audience. It was really interesting to hear the speakers, each with different backgrounds varying from behavioural scientist and citizen experience to corporate communications, discuss their work. Some tips and advice that stood out to me for engaging an audience were: 1) plan for the moment your audience will be in when they are making the decision to be more sustainable and make conscious choices and 2) your biggest challenge will be addressing the gap between people wanting to do something and actually doing it.
I thought this was an amazing way to kick off the challenge because seeing people from different professional backgrounds explore solutions to a common problem helped me feel less out of place and nervous.
With events like this, it's really easy to get anxious about if you've done enough for the environment. This can be really discouraging for someone that is just starting their journey to be sustainable. However, it was really refreshing to see students from the arts, political science, natural science faculties, and more come together for this event.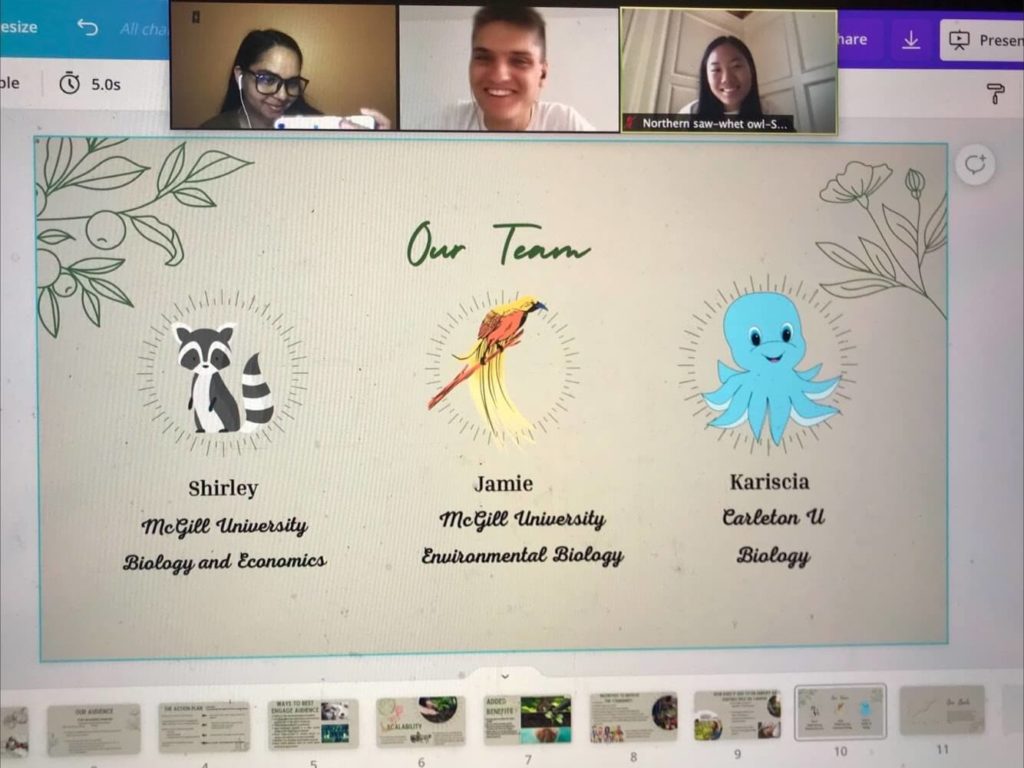 DAY 2
Day 2 was even more exciting because I got to meet my fellow teammates; Jamie and Shirley from McGill University. We would then be known as Team Northern Saw-Whet Owl for the duration of the challenge. We did icebreakers and got to know each other better. I'm happy to say there was never a lull in the conversation and everyone was inclusive and fun!
After brainstorming, we finally decided on an issue that was both prevalent in our communities and close to our hearts. The idea we came up with was implementing community gardens on post-secondary campuses in an effort to reduce the amount of food waste accumulation. The goal being to use the waste products produced from cafeterias, residences, and restaurants on campuses to make compost. This compost would feed the community garden which would be run by volunteers, faculty, and in the future, potentially different societies on campuses with their own small plots in the garden.
In its infancy, the garden would be a sustainable way to replenish campus food banks and ensure that students facing food insecurity have access to fresh produce and fruits. We hope that as the garden grows it will alleviate the pressures farmers might face when supplying vegetables and fruits to large institutions like universities and colleges.
Our long-term goals for this garden is that it will foster a sense of community on campus, promote sustainable and healthy eating, and also form connections with local community members and farmers. We plan on doing this by having giveaways, allowing volunteers to own small plots, and donating excess compost to local gardens and farmers. With our idea planned out, we created our presentation.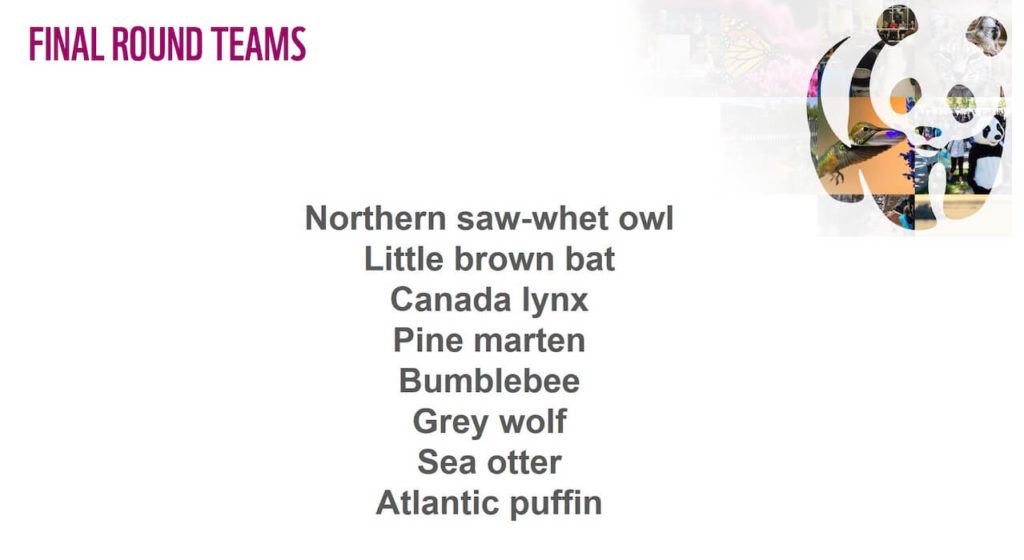 DAY 3
Day 3 was presentation and judging day. I was a bundle of nerves because I had never participated in a challenge before or presented online in front of 100 people and judges! It was also extra challenging because our presentation was limited to six minutes! However, this day could not have gone better! Not only were we able to stay on time and present coherently but we also made it into the final round of judging.
It was both exhilarating and shocking to hear our team name be called first. Even though we didn't win the Designing Change for A Living Planet Challenge, it was an absolutely amazing experience. I'm so proud of my teammates, who were also first time participants, for making it into the final round out of 27 teams! I'm pleased to say I will definitely be participating again next year. Hopefully, I won't be the only student from Carleton!
READ MORE: Build Your Resume With WWF: Become a Living Planet Leader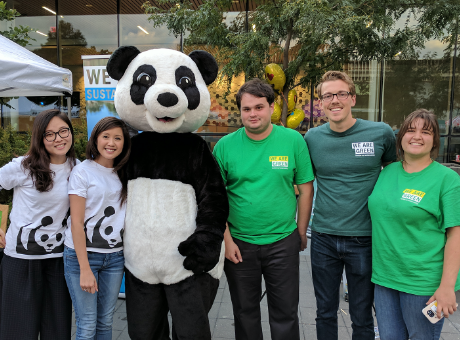 WWF-Canada
Build your skills and experience!