Looking for a career in the tech industry? The right certifications can make all the difference. For example, keep reading to see the doors that a Microsoft Azure certification could open for you.
When it comes to improving yourself and your job prospects, many students and young professionals have turned to online workshops as a way to skill up.
Even top brands like Microsoft got involved, They put together some of the best skills workshops around, with a particular focus on preparing you to gain an Azure certification through Seneca. So what exactly is Microsoft Azure and why is it worth getting certified?
This cloud computing service makes it easier than ever to share with other users and devices. Maybe that's why thousands of customers sign up every day and 95% of Fortune 500 companies are using it. But beyond breaking into this industry, what other ways could a Microsoft Azure certification help you?
1. Helps You Get Hired
This is a certification employers look for and it opens up some concrete career paths few others can access. This isn't just an 'Intro to IT' course, this is a professional certification program leading to an exam that will certify you for work as an AI Engineer Associate, Data Science Associate, or one of many other positions.
Even if you're hoping to pursue a role in something like Sales or Marketing within the tech industry, having an introductory certification like this on your resume will absolutely set you apart from other applicants. With cloud jobs in high demand, becoming certified in a specific role-based certification, tailored to the market requirements of the job, will help you immediately break into the industry.
2. Makes You More Money
More and more, people are using cloud storage. This has led to widespread adoption of Azure by a variety of companies. Industries like healthcare, banking, and education are all hiring for specialized positions and that often means a higher salary. Already have a tech or IT job? Get a better one! This certification offers you the flexibility to find a new role, either now or in the future.
3. Builds Your Tech and Hands-On Skills
When it comes to careers in tech, certified skills are a must, regardless of the position you want. This is an easy opportunity to fill in your resume and bolster your qualifications. Because of the popularity of cloud computing, it's the perfect time to actually learn about it. Don't just say you have the expertise, prove it. Take the time to learn how theory leads to practical application and others will recognize the time and effort you put in.
4. Keeps You Up to Date With the Latest Trends
Personally and professionally, this is a win. Whether's it's keeping up with the latest discussions or sounding confident in a job interview, it pays to be current. Get the inside details on this cloud computing service and how it can help you build, run, and manage applications. Getting certified is one of the best ways to stay current and learn new things about Azure as it becomes more widespread.
5. Broadens Your Network
Not that kind of networking, the kind where you meet other people in your field. Participating in the training and certification programs can lead you to meet other people with similar interests and career goals. They could become professional contacts or even friends that could help you out down the line.
6. Opens the Doors to More Professional Development
Professional development is one of those things that sounds intimidating until you actually do it. By pursuing a new tech certification, you'll recognize other exciting certifications that also lay within your grasp. In addition, these skills make for a great display of personal growth and a commitment to seeing things through, regardless of whether you continue to pursue a career in Azure.
7. Challenges You
It's totally fine if you find a role you like and stick with it. But you're unlikely to truly advance yourself without pushing yourself into the unknown. By taking on a challenge like this, you can change things up and launch yourself to greater heights of personal and professional achievement.
Interested in achieving certification in Microsoft Azure? Register for the right learning pathway for you right here.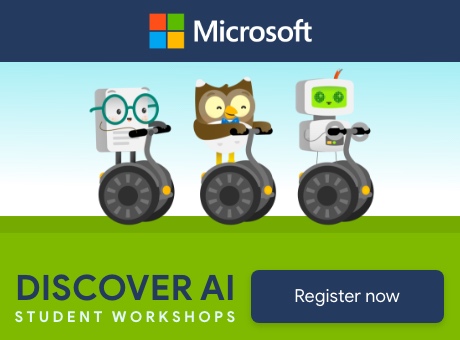 Workshops
Skill Up at a Microsoft AI Workshop