Before applying to any job, make sure you put together a good resume using this easy checklist.
The modern workplace is constantly changing but the need for a good resume has remained a constant. Without a strong resume, your application may be glanced at for less than 20 seconds and thrown out on the spot. But a good resume can make all the difference, and it's easy to put one together.
Job hunting doesn't need to be tricky and intimidating. Feel confident in yourself, your skills, and your experience and use your resume to sell that to a potential employer. (And it also helps if you avoid some of these common mistakes.)
There are a lot of ways to build a good resume but as long as you follow these basics, you should be okay.
1. Use a Template
Usable resume templates are just a search away. Alternatively, just load up Microsoft Word and use one of the templates there. Don't overthink the format too much. For some creative-based positions, a bolder resume can help but for a majority of applications, you're better off playing it safe. Keep it clean, use fonts like Arial or Times New Roman and you'll do fine. Oh, and don't include a photo of yourself.
2. Have a Proper Email Address
This one's easy but you'd be surprised how many people forget it. Applying to a job with an email that has something like 'princess' or 'cool' in it is a quick way to be rejected. Honestly, even your school email isn't the greatest option. We recommend setting up something simple like an Outlook address using a version of your full name. And make sure the phone number you provide is working, as well.
3. Sell Yourself, Quickly
Although not essential, many people like to include a brief bio or profile at the top of their resume. This is a great opportunity to sell yourself for the position you're applying for. But remember, they don't want your life story. This is also the place to include any relevant designations you have, for instance, if you're applying to be an accountant, mention that you have a CPA. Keep it to a few sentences explaining who you are, your strengths, your qualifications, and the role you're looking for.
4. Work Experience
Keep it simple. Stay away from fancy buzzwords—if you were a babysitter, just say so and describe what you did in plain English. Don't say you "Managed conflicts by utilizing various behavioural strategies." Instead, add tangible points like the ages of the children, how many you watched, etc. To that end, chances are, the hiring managers will know the basics of most roles, so rather than summarize what a Sales Associate does, use bullet points to explain how you were a top performer or new projects you took on.
If you have limited experience, it's okay, try to make the bullet points speak to skills that are relevant to what you're applying for, even if the job title isn't. It's also okay to use things like volunteer experiences or extra-curriculars if you need to fill in space, but remember to focus on the skills for each one. Lastly, make sure to list experience from most recent at the top to least recent at the bottom.
5. Add Proven Skills
Show, don't tell. This step is crucial if you're looking to set yourself apart. Things like time management and organization don't really count as impressive skills, especially since they're hard to prove. Instead, you should be investing in actual certifications that demonstrate your capabilities. For example, don't say you're 'good with technology', get a certification that proves it. Microsoft is offering free Discover AI workshops for students this January and February.
Having a skill in something impressive like AI will jump off the page at potential employers. In fact, hiring managers often use keyword searches to filter through resumes looking for specific skills. So depending on the industry you're applying to, that could mean the difference between them finding your resume and never even opening it. Even if you're not pursuing a career in that field, it shows your commitment to personal growth and makes for a great talking point in interviews.
6. Use Numbers
Quantify your skills and results wherever possible. People like numbers. So you managed a club? Say how many people you managed. Raised money for a cause? How much? You get the idea.
7. Keep It Short
Your resume should not be longer than one page. Again, your resume should not be longer than one page! If it is, consult that next step.
8. Proofread
Look for typos, grammatical errors, and places with more words than you need. Tighten it up and make sure everything is clear and concise. Obvious errors are a surefire way to be discounted for a job.
9. Have Someone Else Review It
When you've spent a lot of time working on something like a resume, it always benefits to have a fresh set of eyes tell you everything looks okay. Speak to a parent, teacher, mentor or even friend and have them take 5 minutes to look it over and see if they spot anything amiss or confusing that you hadn't considered.
10. Save It as a PDF
It sounds like a small thing but exporting your resume to a PDF file will make your resume look instantly more clean and professional to employers when you submit it.
11. Don't Stop There
A good resume is a great start but finding and actually landing that dream job will often take more work. Network, build your personal brand with a website, find a mentor, start a LinkedIn profile, or even create opportunities for yourself. Then, when the job opportunities start showing up, you'll already have a good resume ready to go.
Interested in adding some impressive skills to your resume? Attend one of Microsoft's free Discover AI workshops. You can register here.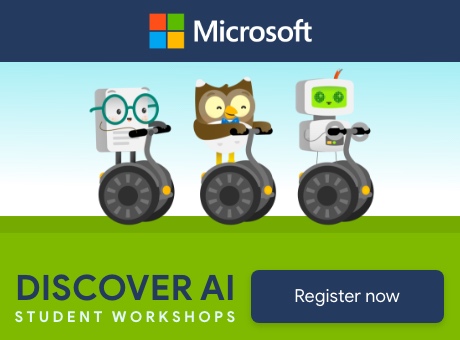 Workshops
Skill Up at a Microsoft AI Workshop