Sponsored by Blinded By The Light, in theatres August 16th. Watch the trailer below:
Earlier this month, a team of five SLN Creators attended and covered a private advance screening of the upcoming feature film, Blinded By The Light. Joined by a lucky group of viewers (including a handful of SLN Access winners), we spent the evening watching then discussing Gurinder Chadha's adaptation of Sarfraz Manzoor's fascinating book, "Greetings from Bury Park: Race, Religion and Rock N' Roll." Here's what happened.
6:00 pm in Toronto
I showed up to the swanky Warner Bros. headquarters just after 6:00 pm and met with my fellow SLN Creators: Mikael Melo, Elizabeth Idowu, Cassandra Franco, and Alexander Cheah. We all felt a strong buzz in the air, knowing we were about to watch a movie that was earning nothing but rave reviews. In a short briefing with Stephen Sills from Student Life Network, we discussed a game-plan for interviewing attendees after the screening.
Showtime!
Then, we watched the movie. And let me tell you: it was a pure roller-coaster of emotions! I laughed, I cried, I sang, I danced. And in between I smiled from ear-to-ear. What can I say? Gurinder Chadha knocked this movie out of the park! It beautifully and authentically captured some experiences that resonated very strongly with me: the immigrant experience, culture clash, parent-child bond, the love of music, and growing up with immigrant parents.
What The Fans Had To Say
Once the credits rolled, I sat in my seat and luxuriated in the warm, fuzzy feeling that Gurinder left us with. But then I quickly remembered that as an SLN Creator, I had a job to do! I rushed out, huddled with my team, and began to interview other viewers about their experience of the film. As I expected, they too were basking the glow of what we had just experienced: a love letter to not just the music of, but rather the soul of Bruce Springsteen. And with it, a rich, relatable story of being the boss of your life.
It was heartwarming to hear how people from all walks of life connected with the themes of the film: adults, teenagers, parents, children, immigrants—you name it. Gurinder Chadha has created something truly special with this film, and it comes at a time when we could all use a little bit of love, hope, and happiness.
Go see  Blinded By The Light, in theatres August 16th.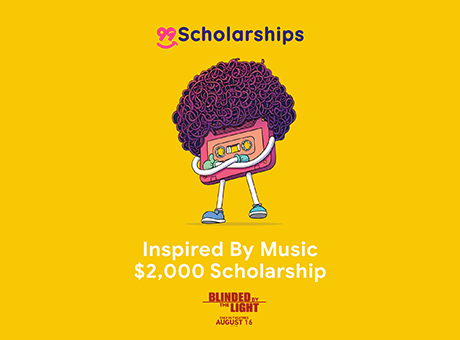 Scholarship
Tell us about the music that speaks to you.