Have you applied yet? You don't need an A+ average to qualify for one of our 99 Scholarships.
You already know that school is expensive, which is why one of the most frequent questions students ask us at SLN is how they can manage to pay for it all. There are jobs and loans available, but there's nothing quite like a scholarship. A scholarship is the kind of reward that can instantly make that financial pain go away, no strings attached.
But for many of you (this writer included), despite being a good student, or a decent athlete, or an occasional volunteer, you just don't have what it takes to secure any kind of traditional scholarship.
That's why we started 99 Scholarships.
What is 99 Scholarships?
Put simply, 99 Scholarships offers you money for your passions, not your grades. It's SLN's new scholarship campaign, full of scholarships that a student like you actually has a chance of winning. So if you need help paying for school, this is the place to be.
What kinds of scholarships are there?
We have scholarships for everything. For the things you're studying (business, nursing, journalism), the things you love doing (photography, watching movies, playing video games), and all the good stuff in between (travelling, taking care of a pet, helping people out).
Who can enter?
You can! As long as you're at least 16 years old and a current student at a Canadian high school, university, or CEGEP or you're currently accepted to attend an accredited Canadian college or university, you're good to go. Just sign in to your Student Life Network account (or sign up) and you can apply to as many scholarships as you want.
How do I apply?
Each scholarship is different but the application process is always simple. It might involve a short personal essay about the scholarship topic that you'll actually be excited to write, a video or photo that says a 1,000 words, or even something as simple as completing a survey or a free trial. When you have your submission ready, just agree to the contest rules and you'll be in the running for that scholarship.
What if I can't find one for me?
Our goal is to make sure there is a scholarship for everyone available in 99 Scholarships. Even if you don't see your passion listed yet, we've got plenty of scholarships that any student can apply to:
Still nothing? The fact is, we haven't even reached our goal of having 99 scholarships to give away yet. We're adding more all the time, so check back to see which ones we add next, maybe there'll be one for you.
Got a great idea for a scholarship? Still have questions about how it all works? Email us at contact@studentlifenetwork.com and we'll talk.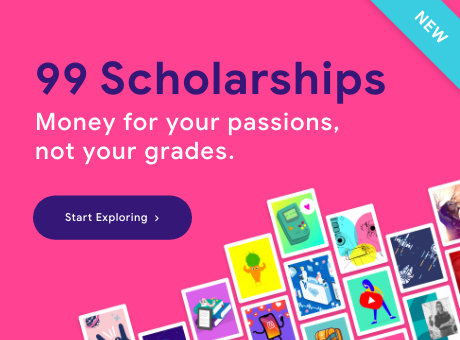 Opportunities
Find Your Scholarship