Explore your country's capital, plan your future, and make friends you will never forget. Here's how.
First of all, being a student is great, but we know it can also be stressful. From late nights to forgotten projects or convincing yourself that you actually like coffee—there are times where you question how you will ever graduate. Don't sweat! We know you can do it and we're here to help. At the Student Life Network, we recognize that one of the biggest hurdles students face is figuring out what degree you'll actually pursue! Luckily, you don't have to do that on your own and Encounters With Canada is a great way to get started.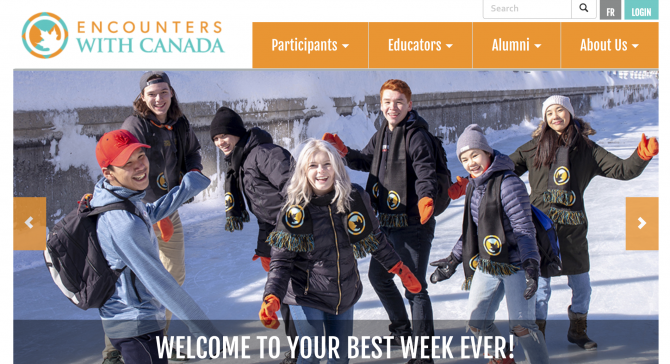 What Is Encounters With Canada?
Encounters with Canada is a unique program that allows high school students across Canada to spend a memorable week in Ottawa with others just like themselves. EWC gives more than 100 students (each week) the opportunity to embrace Canada's beauty while also exploring career options and shaping their future. EWC might even grace you with a visit from noteworthy leaders such as previous attendees: Queen Elizabeth, Justin Trudeau, Olympic athletes, astronauts, musicians, and many more. 
How Does EWC Work?
Students will visit the nation's capital and embark on excursions, discuss relevant issues in our country, take part in workshops of interest and encounter some very important people along the way. Above all, you must choose a theme for the week. From arts and culture, science and ecology, sports and fitness, among many more—there's an option for everyone. Additionally, these themes allow you to learn about your passion with like-minded individuals and discover how they exist within our country. Also, witness our government in action and understand the development of our nation. Your stay places you within a comforting residential neighbourhood at the Terry Fox Canadian Youth Centre. Minutes away from the historic downtown of Ottawa!
Who Pays For Travel? 
Now, your parents are wondering when their pockets will finally be full for themselves, not just you! EWC has this in mind. As a result, they offer free travel round-trip to Ottawa from anywhere in Canada courtesy of Canadian Heritage. Your stay at the Terry Fox Canadian Youth Center will cost $750. This includes your accommodation, meals, program costs, and travel within Ottawa. EWC also recommends that you check into your provincial (territorial) government policies as they often aid these expenses. Check with your regional coordinator for more information on this. 
Furthermore, if our word isn't enough, hear it from some happy attendees themselves:
"I made friends from Canada who I will never forget." – Janine Cainese, Rock Harbour, NL
"My experience at EWC was the most memorable high school experience I've had in my life." – Claya Cole, Kensington, PEI
"I hope more students like me have the chance to participate in this program" – Natalie Hynes, Whitehorse, YT
And hear from more here! If you're as excited about this as we are, click here to find out if you're eligible to embark on this journey of a lifetime.