SLN Creators is featuring Usama Siddiqui, a graduate of Seneca College's Visual Effects for Film and Television program. Now based in Vancouver, British Columbia, Usama has successfully made the transition from high school through post-secondary all the way to his dream job. As an FX Artist with Sony Pictures Imageworks, he most recently worked on the award-winning film Spider-Man: Into The Spider-Verse. Here's what Usama had to say about following your dreams and making it in the industry.
What inspired you to get into this line of work?
I was interested in video editing from a very early age. I can still recall shooting and editing my own videos when I was just 12 years old. Back then I had no idea I could turn my hobby into a career. I just did it because I loved it. As I grew older, I started to expand my knowledge into motion graphics and design, but I felt that these streams didn't allow me to completely express my style of creativity. It wasn't until Transformers 2 when I saw Optimus Prime burst through a building in an epic fight that I knew I wanted to be a part of something as surreal as that. I remember feeling completely mesmerized in that moment by how real the entire scene looked. After that, I began to look more seriously into a career as an FX Artist, and the rest is history.
What skills are most important for this job?
There are a lot of technical skills involved. Some of the important ones are basic programming knowledge and a solid understanding of 3D software, such as Maya and Houdini. There are a lot of technical issues that come about that don't always have a straight forward solution. You need to have a creative mindset and be able to problem solve creatively. Once you start familiarizing yourself with the internal programming languages for each special effects software, it will cut down a lot of your time and enable you to implement changes more effectively.
It's important to understand that behind each of these projects, there are hundreds of creative minds at play. We all work together to translate a single vision into a reality. In order to truly bring a vision to life, you sometimes have to go beyond conventional means and break some creative barriers before the final product can be achieved.
How do you upgrade and sharpen your skills? Are there any courses, publications, or other resources that you use?
Considering that this industry is constantly progressing, it is extremely important to stay updated with the latest trends and technologies. Otherwise, you risk getting left behind. When a problem occurs at work, or if I am unable to perfect some of my shots, I'll watch a lot of tutorials online. YouTube and Google really are your best friends here. Also, various studios often release behind the scenes footage of certain FX shots where they walk you through the process of how these effects were achieved. It also doesn't hurt to get involved with online communities and forums for FX Artists, where you can interact with others in the field to further advance your skills.
Who inspires you? Who are some of your role models?
I can't think of a better role model than my parents. I owe it all to them for showing me just how much dedication and hard work is required to pursue your dreams. Everything I learned I owe it to them for being such great examples.
How did you react when you learned that you'd be working on the new Spider-Man movie?
When I started my apprenticeship at Sony I found out that there were three movies in production: Hotel Transylvania 3, Small Foot and, to my surprise, an animated Spider-Man movie. The moment I heard there was going to be an animated Spider-Man I knew I had to do whatever it took to be a part of the project. Anyone that knows me will tell you that I am a huge Spider-Man fan. At the end of the apprenticeship term, we were emailed a list to tell us which movie we would be working on. My name was the first on the list and right beside my name was Spider-Man. I was shocked and extremely excited. That moment truly felt like a dream come true.
What exactly did you work on when it came to this movie? What should audiences pay attention to if they want to see your work?
In a production consisting of hundreds of very talented artists, I was a member of the FX team. A lot of people are very confused about what FX means, exactly. Even some of my family and friends mistakenly think I animated the characters in the film. FX Artists are mainly responsible for bringing life to explosions, fire, dust, snow, debris, crowd sims, environmental placements and so on. We also develop tools that will help speed up the production process. I personally worked on scenes with spiderwebs, snow, shattering glass and wall destruction. One really unique aspect of this movie are the ink lines which help to create a comic book feel. I worked on a handful of these types of shots. When watching the movie, look closely at the characters' faces for ink lines. That's one of the key features in this movie.
What was the most challenging part of working on this movie?
The biggest challenge was the art direction. As I mentioned before, this movie is very unique in its overall look. Creating an animated film that looks like a comic book come to life is not an easy task, and on top of that, it isn't really something that has been done before. When you're working on something that is the first of its kind, it's hard to visualize what the end results will look like. Luckily, I was part of an amazing team that worked very hard to bring that vision to life.
What was the most rewarding part of working on this movie?
The most rewarding part of this movie was seeing all of it finally come together. Hundreds of people put a lot of time and effort into creating this movie. I always used to joke around with my friends and say that one day they'd see my name on the big screen. I think it's safe to say that the highlight of it all was seeing my name in the end credits alongside all those amazing artists.
What advice would you give to a student who wants to follow a similar career path?
You have to love what you do. This field requires a lot of hard work and long hours, and often, your work may not be appreciated. Be prepared to face a lot of rejection. You could spend hours or even months working on something and not everyone is going to see the value in it. However, keep working hard and be patient, because eventually someone will come along and give you that first opportunity that you need to get your foot in the door.
What is something that you wish you knew before you started down this path?
I wish I knew just how much networking is involved in this field. Quality work and talent are some of the main things, but if you manage to make some valuable connections, it will definitely open doors for you.
What advice would you give to post-secondary students transitioning to their career?
My advice to students transitioning into this career is to start as early as possible. Play around with various software and programs, watch tutorials. Work on mini projects until you feel comfortable using the software. Try to create as much as you can. You will find that there is a lot of problem-solving involved and over time it will become easier to find creative solutions to your problems using these tools. Remember, the more you have on your tool belt, the more of an asset you will be to a prospective employer.
What is the best piece of advice you've ever received?
The best piece of advice I ever received was, "it's never too late to make your dreams come true". I have always been a creative individual. Whenever I expressed an interest in this field, I was confronted with negative feedback from those around me. So, I gave in to the pressure and I decided to pursue a career in business instead. I can honestly tell you that during this time, every day that I went to class was a nightmare. I absolutely hated what I was doing.
Eventually, I got older, everyone around me had already completed school and were now working as professionals. Meanwhile, I was contemplating a career change but absolutely dreaded the idea of going back to school and starting all over again. I owe it to my supportive wife, who encouraged me to go back to school to pursue my dreams, because "its never too late to make your dreams come true". It was definitely the best decision I ever made!
What's next for you in your career? What are your short-term or long-term plans?
I love working on these amazing projects and I plan on continuing to do so. Still, I want to take control of the wheel a little bit. Eventually, I plan on taking some time off of work to create something of my own. It's definitely a risk, but hey, I took a risk before and look where it got me? I'm definitely not afraid of taking a small risk for an even bigger dream.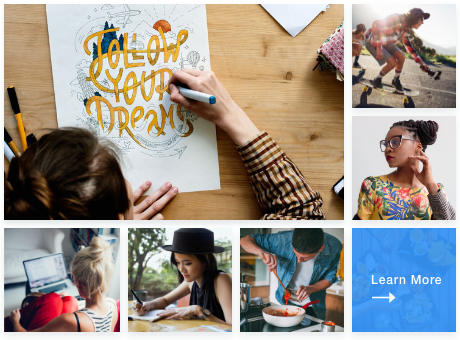 SLN Creators
Join SLN Creators to have your work featured.