SLN teamed up with 6 student chefs to put together 6 easy recipes for Friendsgiving, the holiday happening on Saturday, October 10th, dedicated to spending time with your friends. Share your awesome recipe or food with us on Instagram using the hashtag #MickeyFriendsStayTrue. Check out this recipe for Sophie's Ukrainian crepes or scroll to the bottom to see the video of her putting it all together so you can make it for your friends this Friendsgiving!
INGREDIENTS
4 eggs

1 cup milk

6 tbsp cold water

1 cup flour

½ tsp salt

1 cup cottage cheese

1 egg yolk

1tbsp whipping cream

Butter

Sour Cream

Dill
INSTRUCTIONS
Crepes:
In a medium bowl, use a whisk or a hand mixer to whip eggs until pale and airy.
Using a sieve, sift your flour onto a piece of parchment to remove any clumps. Combine water and milk in one container, and sifted flour & salt in another.
Gradually mix in flour mixture and milk mixture to whipped eggs by alternating between the two. Start with dry ingredients, and end with wet. I recommend 3 additions of each. Mix batter until smooth.
Cover batter with a towel or plastic wrap and let sit in the fridge for minimum 1h up to overnight to relax the gluten.
Once the batter has rested, heat a small-sized (6 inch) frying pan over medium heat. Add enough of the reserved butter to coat the bottom of the pan.
Using a 1/4 cup measurement, scoop batter into pan swirling to ensure an even and fairly thin covering of batter.
Cook crepe for about a minute until cooked through, and still fairly pale. DO NOT FLIP. Remove crepe from pan, and set aside on an oven-safe dish. Repeat steps 5-7 until no batter remains.
Once all crepes are made, cover the dish with tinfoil and keep warm in a 250f oven.
Filling and Assembly:
Using a cheesecloth or a towel, squeeze out as much moisture as possible from the cottage cheese. Once strained, place in a medium to a large mixing bowl.
Add the egg yolks, cream, salt & dill and mix together until well combined.
Remove crepes from the oven, and begin to fill. Add 1 heaping tablespoon of filling to the crepe, near the edge. Tuck the top and bottom edge of the crepe over, and roll crepe into a burrito-like shape from one side. Repeat until all crepes are filled.
Arrange crepes in a buttered 9″x 9″ baking dish, layer if needed. Cut remaining butter into small pieces and scatter on top of each layer. Freeze any extra filling for next time!
Once crepes are assembled, you may either freeze them at his point to reheat at the pot luck or you can bake them at 350f for 20 mins.
Top served crepe with a dollop of sour cream and some chopped dill & enjoy!
Watch it all put together.
REMINDER: Celebrate Friendsgiving responsibly. On October 10th, we invite you to safely join your friends – in small groups or remotely – for a delicious FRIENDSGIVING meal inspired by Mickey and Friends. We hope our chef's dishes have inspired you to make something delicious. #MickeyFriendsStayTrue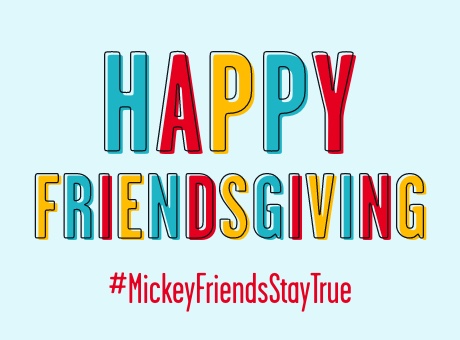 Friendsgiving
Share Your Favourite Dish With Us