Amazon Prime Day, on July 16th, is Amazon's fourth entry in what's become an annual tradition of deals and discounts on millions of products…from A to Z. Hehe. ?
Unless you've been living under a rock (which is totally cool, if that's what you prefer), then know about Amazon. Which means you've probably heard of Amazon Prime.
In case you didn't know, being a member unlocks these unreal benefits:
        Free two-day shipping.
        Faster, free delivery options.
        Unlimited cloud photo storage.
…And several others, for only $12.99 a month!
What you might also not know is that there's a student version of this. Guess what it's called? Amazon Prime for Students. Gotta love practical names. Amazon Prime has a special deal for post-secondary students that gives them a six-month free trial when they first sign up. When the free trial is over, students get 50% off Amazon Prime for as long as they remain in post-secondary.
That works out to $6.99 a month! 
And Quebec students, you folks are special, because you can get an 18-month membership for $39 instead of a free trial.
That's literally $2.17 a month for 18 months!
And, if you sign up for Amazon Prime now, you can get even better deals on Amazon Prime Day.
So, how exactly does Amazon Prime Day benefit me as a student?
Classroom Life
Laptops and Stationary
Forget going to Best Buy or the Apple Store, Amazon Prime Day offers great deals on laptops and laptop bags. But, some studies show that you retain information better if you write it down, instead of typing it. That's why Amazon Prime Day also offers great deals on fun stationary and pens that you would never find at Staples.
Backpacks
Needless to say, you'll need to carry this shit to the lecture hall. Get a great deal on a Jansport backpack.
Dorm Life
The Practical
A lot of you are getting ready to move into a dorm for the first time. Some of you are getting ready to move back to your college town. Maybe you're worried about the freshman fifteen. Maybe you don't want to spend so much money eating out. Or maybe you want to teach yourself how to cook something other than Kraft Dinner. Whether you're in first year or sixth year, it's never too late to learn how to cook. It always helps to have the right tools. Amazon Prime Day offers great deals on instant pots and pressure cookers. And, if you know the right recipe, a pressure cooker can be a magical thing.
The Fun
Let's face it, you're going to need to take some much-needed breaks from studying. And it kind of sucks to watch a billion episodes of The Office on your phone. So, you might want to try getting a good deal on a TV. Amazon Prime Day can do that for you.
The Sentimental
University and College are not just about studying, they're about making connections and making memories. If you feel like your phone doesn't capture sufficient pictures of your friends, Amazon Prime Day offers great deals on cameras—the expensive kind that the school newspaper photographers use.
Commuter Life
Whether you're commuting from a dorm or from your parents' house an hour away from campus, it's fun to listen to tunes during the commute. Especially if you're taking public transit. A great playlist can also help you get pumped up before a midterm. Amazon Prime day offers good deals on headphones. And not just any headphones- the expensive ones that audiophiles swear by.
If I were you, I'd sign up for Amazon Prime ASAP. You won't be a student forever. Plus, some of the deals have already begun.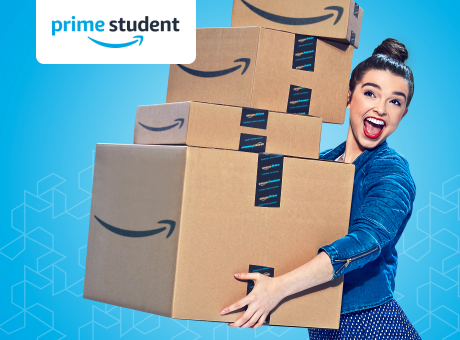 Giveaways
There's Being a Student, Then There's Being an Amazon Prime Student (It's Better)