Getting free swag and snacks at college or university often comes with a hidden cost: the time spent listening to the students offering said swag/snacks, explaining to you why joining their club or society will be the greatest thing ever.
Here's the thing: they're probably right.
I began my first year with a dream of becoming a writer. However, first-year English was not all sunflowers and daisies. I was repeatedly told that my essays were "too imaginative" and "too implausible". I felt defeated, but didn't give up—I set out to start my own writing club with one clear vision: empower fellow dreamers. By the end of the year, I had 7 executive members by my side, a published book, a photo project, and 40+ helping hands of young aspiring writers across the city.
The experience was a total game-changer.
So whether you're starting one or joining one, getting involved with a student club or society will help you in 5 ways that will dramatically improve your student experience:
1. You'll get to meet new people.
You might not identify with any club/society; you might simply want to join one to do something with your spare time. Either way, you're almost guaranteed to make new friends. If you're joining to explore opportunities within your field, you can find a way to meet professionals in companies you're interested in. Certain clubs and societies curate experiences to connect students to new people and professionals, some of whom are alumni. This could make your life a whole lot easier when you graduate and pursue a career in your desired field.
I've been able to meet amazing professionals through the society I joined. In fact, I was able to speak with an education coordinator from Microsoft at their headquarters! The opportunity helped me to better understand that I'm not the best fit for that role/company, which is just as valuable as the opposite. On another occasion, I met a marketing director at an agency. This opened up the door to an internship that left me believing that a career in marketing & public relations was what I truly wanted.
2. You get to meet people who have similar interests.
If you are someone who has no idea what they want to do with their career, participating in extra-curricular activities will bring you closer to people who have the same hobbies or interests as you. Knowing such people will might encourage you to step outside of your comfort zone and discover  new and exciting opportunities.
By surrounding yourself with people who have similar interests, you gain:
Peer Motivation. Surrounding yourself with people who are doing well will encourage you to step your game up. Their hard work, motivation, and dedication to their education and professional development will positively impact your mindset. Your friends will also push you and encourage you to study with them, attend events together, and keep you accountable.
Shared Information. Your friends will want what is best for you. On occasion, they will share with you opportunities, or information about important companies, career paths, job fairs, and professional conferences.
Empathy. You've got a stronger shared experience with your friends. You'll understand their goals, their challenges, and their feelings a lot better.
You can also use this opportunity to explore different interests. You don't need to be a philosophy major to join the philosophy club. Want to learn to dance? There's usually a club for that too. Always wanted to get into investing? No club for that? Start it yourself, and bring people together.
3. You get to meet people who want more from life—people who motivate you, and know that there is more to school than assignments, tests, and a degree.
In the words of Steve Jobs:
"Do what you love. Have the courage to follow your heart and intuition. They somehow already know what you truly want to become."
Although a college dropout, Jobs created an iconic company worth over $700 billion and initiated several paradigm shifts in consumer technology.
Joining a club or society will bring you closer to people who want to do big, creative, and imaginative things.
It's how Steve Jobs met Steve Wozniak.
It's not always easy to be motivated or to see all the possibilities ahead of you. By being around people you want to be like, it's easier to feel motivated and to know that you are on the right track. Most people around you in school focus on going to classes only to go home soon after. Therefore it's not uncommon to feel like you should do the same. By making friends and connecting with a community who are constantly striving to do more with their time, you will find it easier to do more with yours.
4. You get valuable administrative, creative, and leadership experience.
When graduation comes around, you'll quickly discover that your academic experience is not always enough. With internships, co-op placements, and facilitated networking happening all around you (and at other schools), you need to create and attain every single competitive edge you can get. It might seem like "just a club" to most people, but in reality being a part of a club entails a lot of work, including:
Team Management
Budgeting
Leadership
Volunteer Coordination
Stakeholder Management
Sales
External Relations
Event Planning
Many of these skills can be transferable to a wide variety of industries. They can be the difference between you and another candidate. Make "fail fast, fail often" your mantra; by putting yourself through more experiences, you have more opportunities to make mistakes, to learn, and to become a more seasoned professional. It's better to make mistakes while in school, while in a club, than at your first corporate job.  Get those learnings out of the way early.
Creativity is an incredibly important skill.  But being able to think differently and outside the box is not something you're born with—it's developed. Every innovation in science, engineering, music, or medicine has been a result of trying new things and being open to new ideas. However, it is not only a skill for big ideas. There are hundreds of problems that you will face every day in a full-time job, and it is your responsibility to quickly devise a solution that will create the best outcome for the organization. At the end of the day, every job is about problem-solving. And that's when creativity becomes invaluable.
5. Often times there are alumni who remain connected meaningfully to clubs and societies who you can connect with, get advice from, and even find real job opportunities through.
Speaking from experience, my society focused on connecting students to alumni who graduated with the same degree as theirs. We created events such as The Alumni Networking Night, where students met with alumni who took on jobs in industries they were interested in and can pass their experience, knowledge, and advice. Some students were even lucky enough to receive job opportunities using these connections. What made this event so important was that it made these first-year students feel comfortable connecting to the alumni. Alumni who were in the same classes as them, and went through the same struggle. Knowing that the hard work would pay off someday encouraged them to stay motivated, and continue to strive to get their dream jobs.
Another event we created was The Resume Critique night, where we invited students to perfect their resumes with professionals from various industries. Many students find it difficult to write resumes, format them, know what to omit, and what to expand on. Joining similar events can help you understand yourself better.
An if all the aforementioned reasons weren't enough for you, here's a quick list of even more reasons why you should join a club. You will…
Get to indulge in your passions and build your skills (sports, creativity, leadership, social justice).
Not end up with a blank resume when you graduate (or even before, when you are looking for a summer job or internship).
Learn and make mistakes when you are young and with fewer consequences, not in the working world.
Be able to pursue your own ideas. And you will often have funding and human resources available to you.
Learn how to communicate, work in, and manage teams.
Wear multiple hats. They say if you work in a big company, you will learn how to be a cog in a big machine. If you work for a small company, you will learn how everything works. In a club, the latter holds true even more strongly.
Be more productive. Joining a club/society can motivate you to get out of bed every day. (No one wants to wake up at 6 am for a morning class)
Experience the joy of providing meaningful and valuable opportunities to younger students.
University doesn't always challenge you in practical, hands-on ways. A club or society can. Remember: you're a student. Your coworkers are students. You all get it. You have class. It's midterm season. There are some situations that are just hard to explain or work with at a normal job. But in a club or society, you can pretty much get the best, most accommodating work experience you can imagine.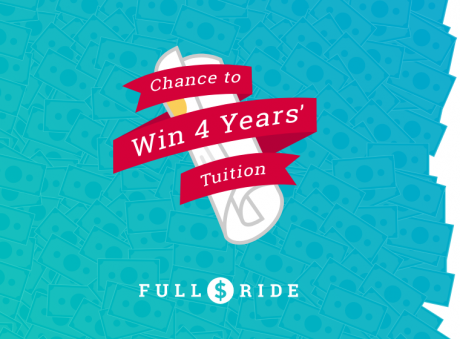 Giveaways
You could win $35,000 for tuition!