Art With Impact Canada is an organization based out of Ontario – with a flagship organization in San Francisco, California – that, in their own words, "promotes mental wellness by creating spaces for young people to learn and connect through art and media."
One of the ways the organization does this is by promoting student-made short films which approach and handle different themes of mental health. The goal is to end negative stigma through storytelling. Director/writer Sharon Nyarko's debut short film "Beyond Words", a feature of their OLIVE Film Collection, is both sombre and graceful in its acceptance of the challenge.
Twitching movements and details which slide in-and-out of focus give the black-and-white film an uneasy, suffocated sensation; a feeling exacerbated by the initial muted audio, which crescendos into a ringing. The ringing breaks with a flat-lined heartbeat and transitions into the deep and haunting cry of a cello.
Common-used words, poignant and painful for those who've heard them before, play across the screen:
"We don't believe in therapy."
"It's all in your head."
"It's probably all those weird pills he's taking."
And then, the words with their more sinister meanings; with implications about what our mental health means for our gender, for our culture, for our identity:
"Suck it up; stop being a girl."
"Real men don't cry."
"You're black; it's not in our culture."
"Beyond Words" balances it's approach to these incredibly challenging topics with the delicate and almost reverent handling of visuals and sound. A few months ago, I was lucky enough to get into contact with Sharon Nyarko. I got to know more about her process and thoughts behind the film.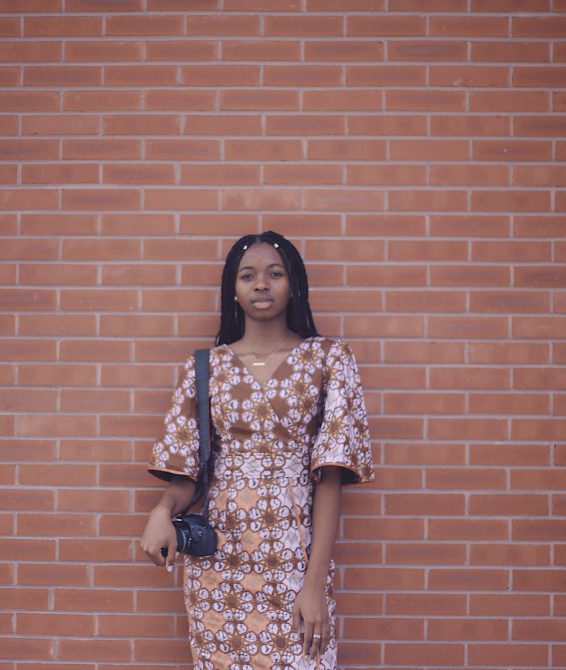 When did you know that mental illness was something you wanted or needed to make a short film about?
I've always had strong desire to contribute something artistic that would educate and be impactful. So, when I took a psychology course early this year and we were asked to make videos on concepts we'd learnt over the academic year, the idea of working on mental health sort of presented itself organically. Typically, the more you know about yourself and your short, the easier it is to develop. So, the journey from those little ideas I had in class to the final cut was pretty quick and chill. It was well-informed by people's and my own shared stories about stigma.
What was the most challenging part of producing and directing this short?
Art is interpreted subjectively. And because this short seeks to collapse enduring misconceptions about mental illness, in general, and depression, in particular, the biggest challenge would be getting the message across successfully. I have no idea how far it's been shared. But I hope that by the end of the short people are called to action to stop trivializing mental illness and to learn to be supportive of others. Also, there's the bit about trying to condense stretches of perspective and info into two minutes and making every second count. That was tough. Or, maybe, I didn't have content.
"Beyond Words" is your first publicized film. What previous forays into filmmaking have you had?
None, which is why I'm glad that it got this kind of recognition after the film competition. That inspires me to work on something on a much larger scale.
Is mental illness a theme with all your art or only some of it?
This was my first short, and it was on mental health so, yes, that so far has been the theme. And I'd love to keep focusing on that because there's so much I want to contribute to mental health advocacy.
Why do you think it's essential that we use art to approach talking about mental illness?
Well, mental health, as we know, is something that a lot of people have difficulty talking about because of how stigmatized it is. And, that usually comes from a place of enormous misunderstanding. So, art is a great tool that sort of bridges differences and, in many cases, allows us to experience and see the traits of the illness through some excellent creative work. And, for instance, several people now, at least, better understand what living with bipolar disorder is like because of Pat in Silver Linings Playbook. Or psychosis because of Nina in Black Swan. Have you seen those?
So beyond just entertainment, it's great that we can use these essential visual portrayals to teach the general public about mental illness.
Regarding creativity, do you find it more challenging to get inspired or stay inspired?
Hm, that's a great question. Fortunately, I am always inspired by the humour, intelligence, and kindness around me. I get it from different places and people, and, even more, by the word of God. With inspiration, I think that if your goal is important enough, you'll have little trouble staying motivated long enough to see its completion. And if it isn't, you'll struggle to just as I have with some of my sub-projects (not necessarily film-related).
Of course, with every project, there is the risk of taking on something you sometimes have no idea how to finish or start or commit to, really, but I find that it's important to have periods where you step back. Reflect on why you started, remind yourself to enjoy the process, develop new perspectives—and, ultimately, good work routine—and allow your projects to take form gradually.
What advice would you give to those – especially with mental illness – looking to break into filmmaking or any other creative industry?
Well, mental illness is primarily a unique, subjective experience. And it means a lot of different things to a lot of different people. So, it's just amazing that the creative industry comes with the freedom and flexibility to infuse individual stories and perspectives into beautiful, original pieces.
On film-making itself, I'd say, it's essential to get advice and feedback on your rough cuts. You want to make sure that whatever you set out to achieve is translating on screen without hindrance. You know, there's this fundamental threshold beyond which technical mistakes injure the entire production. Honestly, I look back at this short and think: "Sharon, your cut and audio placements here could've been better. I am so embarrassed for you." What's important is, this was only my first, I've drawn from my little mistakes and will make the production process less solitary next time.
Can we expect more films directed by you in the future?
I do want to direct more shorts, yes. It's so exciting that you can grab a couple of friends and be like: "Hey, let's shoot something next week." You know? And have people understand and resonate well with your ideas and want to help you see them through. Also, it'll be great to keep honing my technique and experimenting with different aspects of filmmaking.
You can also find "Beyond Words" on Vimeo, or watch other films about mental health on the OLIVE Film Collection webpage.