If you're a student preparing to live abroad for the first time, getting your finances in order is probably one of your biggest priorities. However, considering the sheer amount of financial institutions (banks) that exist in the world, it can be hard to find Canadian banks for international students that suit your particular needs.
One newcomer to Canada will win a life-changing grand prize. Enter now at

Canada's Luckiest Newcomer

.
For instance, as a student, finding an affordable financial option is key. However, as an international student, there are many factors to consider. For example, if you're still learning English or French, being able to access services in your native language can be a big help. Additionally, the ability to easily send money back home or process transactions in your home currency is another big concern for a lot of international students.
While every bank has their pros and cons, the following nine institutions are best-in-class when it comes to serving international students studying in Canada.
Account Benefits at-a-Glance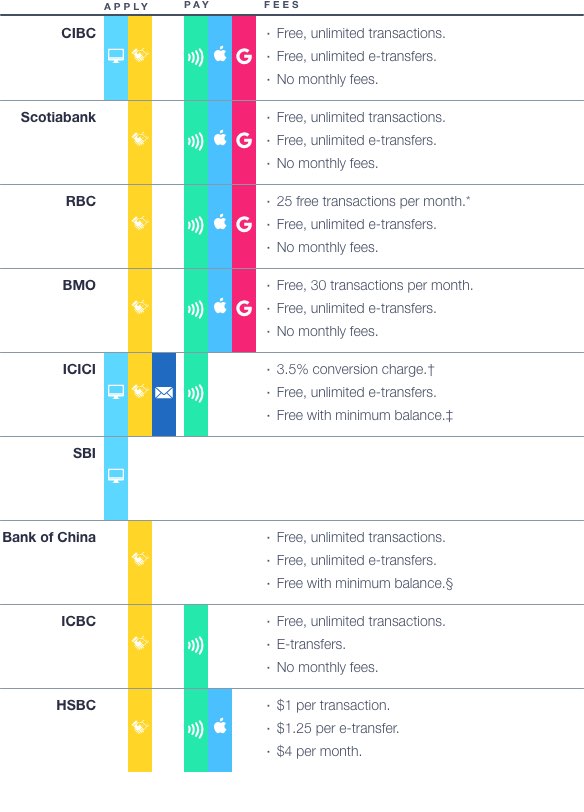 CIBC
When you're a student on a limited income, all those little service and transaction fees that most banks charge can really add up. Add in the steep tuition costs and travel expenses that come with being an international student, and you can see why it's so important to choose a bank that helps your money go as far as it can.
That's why we're really impressed by CIBC's banking options for international students. For one, CIBC's student bank accounts are basically free. There's no monthly fee, and you get unlimited free transactions and e-Transfers.
Their student no-annual-fee credit card is another huge benefit. Most banks require international students to secure a credit card with a cash deposit. But at CIBC, you can apply for a credit card without a security deposit, income, or credit history. You even earn travel or cash back rewards which you could put towards end-of-semester trips home or expenses like groceries and textbooks.
3 Services That Will Seal The Deal For Most Students:
CIBC's Student GIC Program

helps students obtain a $10,000 Guaranteed Investment Certificate (GIC) so they can apply for their student visa. This program assists international students with meeting the Immigration, Refugee and Citizenship Canada Student Direct Stream (SDS) study permit guidelines, which will provide access to money for living expenses while they're studying in Canada. For more information on GIC, read

Checklist: 11 Essential Things International Students Need To Study In Canada

. Not to mention that CIBC's International Student Pay Program allows students to pay their school fees in their preferred currency, from anywhere in the world, in just a few clicks.

CIBC's Refer-a-Friend Program is convenient and beneficial. By referring a friend to CIBC, you both receive a $25 bonus when they activate an account under the CIBC International Student Banking Offer (ISBO). It's an advantageous option for international students who want to be rewarded for helping a friend. F

riends can apply online by entering the email address you provided to CIBC in the Referral Details. Simple, right?

CIBC's Global Money Transfer service lets customers send money to someone in another country quickly and easily, with no fees. Simply choose your preferred currency, lock in a rate, and your recipient will get the money in as little as 1 business day.   
CIBC has been around a very long time—as long as Canada has been a country. They've been serving Canadian's for over 150 years with nearly 4,000 ATM's, over 1,100 branches across the country, and their award-winning mobile banking app.
CIBC at-a-Glance:

Scotiabank
Scotiabank is the third largest bank in Canada with close to 24 million customers and over 2,700 branches around the world. Their StartRight Program is designed for newcomers and international students to help make living and banking in Canada easier.
Program offers include a free chequing account with no monthly fees and unlimited debit transactions and Interac e-Transfers. Another popular feature of their student banking package is their partnership with  Cineplex's SCENE® program. If you're a film buff, sign up for a SCENE® Visa card and you can start earning free movie rewards as soon as you arrive.
Scotiabank at-a-Glance: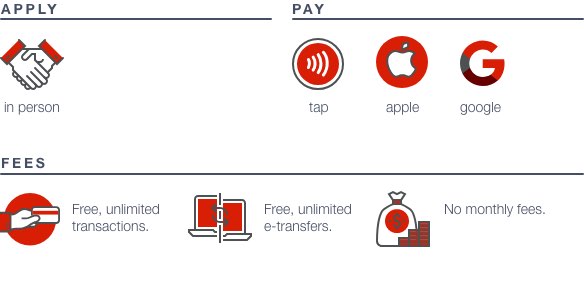 RBC
One of the biggest advantages of banking with RBC is their ATM access. RBC is Canada's largest bank and, unsurprisingly, has the most extensive combined branch and ATM network across the country. Additionally, if you qualify for a student bank account, you'll pay no monthly fees—but only for the first year.
Some other highlights include a no-annual-fee, no-credit-history-required credit card, RBC's Rewards program where you can earn points that can be redeemed at retailers like Amazon and Starbucks, and their brand new e-Transfer options that lets you send money through Siri or iMessage.
One of the biggest downsides, however, is their limited monthly transactions, which cost $1.00 each and are capped at 25 a month.
RBC at-a-Glance: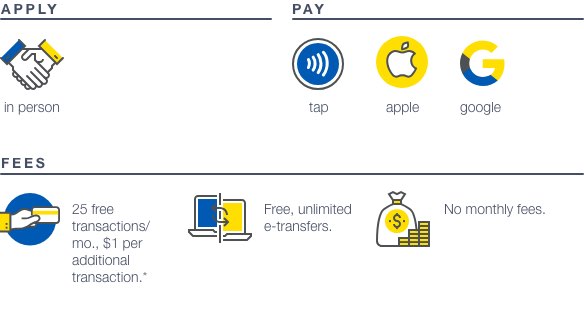 BMO
Having the ability to send money quickly and safely back home is a top priority for many international students. If this is the case for you, BMO's partnership with Western Union may be an attractive feature. Available through BMO Online Banking, their Money Transfer service connects customers with more than 200 countries and territories connected to the Western Union network.
In addition to this, BMO offers free banking for students while they're in school and for a year after graduation. Students can also receive a free SPC Card, which would give them discounts at hundreds of retailers across Canada.
BMO at-a-Glance: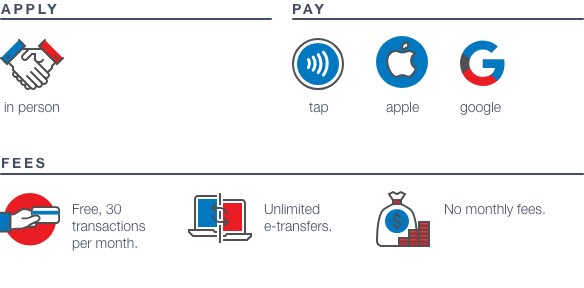 ICICI
If you're an Indian student with your sights set on attending a Canadian university or college program, you might want to look into setting up a Student's Account with ICICI. A Student's Account is an NRE (Non-Resident External) Savings Account, specially created for students, which allows you to manage your finances with ease and convenience when you are studying abroad.
Like other banks, this student account is free, but you have to maintain a monthly average balance of INR 5,000 (approx $95 CAD) to avoid any additional charges.
ICICI at-a-Glance: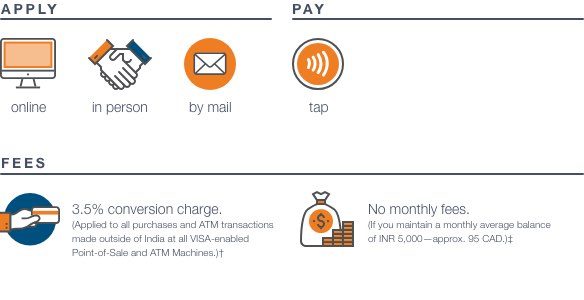 SBI
SBI's Global Ed-Vantage program is a good financial option for Indian nationals who wish to pursue full-time regular courses at foreign colleges or universities. This overseas education loan of approximately $37,000 CAD (Rs. 20 lakhs) can be applied for online and offers a reasonable interest rate. Additionally, the 15-year loan period means you have some time to pay it back after you graduate.  
SBI at-a-Glance:

Bank of China
From purchasing your textbooks to finding your classes, you'll have a million things to do once you land in Canada. That's why Bank of China offers international students studying in Canada the option to set up their banking before they arrive. If your application is approved, you can transfer funds to the account directly so they're ready to go when you arrive.
Similar to other banks, they also offer a GIC Service to eligible students, which can help speed up your visa processing. Lastly, for those who don't want to live in student housing and would rather purchase a home while in Canada, Bank of China's "Zi Xin Tong" Service lets newcomers and international students apply for a personal residential mortgage in Canada with supporting documents from China.
The catch? Their student bank account is only free if you maintain a closing balance of $5,000 or more, which can be tough for those with limited income.
Bank of China at-a-Glance:

ICBC
When it comes to international student banking, ICBC prides itself on offering seamless service, no matter where their customers are in the world. For example, similar to the Bank of China, ICBC gives customers the option to open a Canadian bank account prior to leaving the country. They also offer Chinese service at their physical outlets, convenient options like online and mobile banking, and the ability to access an account in Canada, China, the United States and 141 countries across the world. Last, but certainly not least, they have a GIC option for students looking to meet their funding requirements.
ICBC at-a-Glance: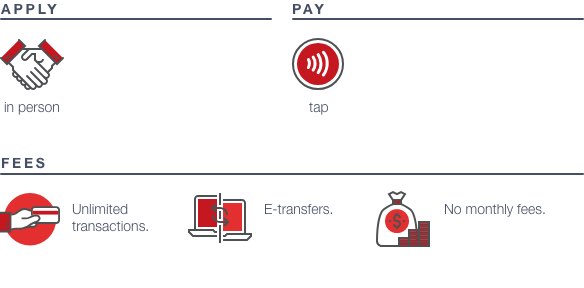 HSBC
Want $100 just for opening a student bank account? Check out HSBC. In addition to their Student Joining bonus, they offer an array of services that suit the specific needs of international students. For instance, you can access foreign currencies whenever you need them. They also have a Global Transfer feature which allows customers to transfer money between their personal bank accounts. International students can open their bank account before arriving and transfer their HSBC credit history to Canada (which can make applying for a credit card or a loan much easier). However, all of these features come with a steep price tag: HSBC requires a minimum deposit of $10,000 within one month of opening the account.
HSBC at-a-Glance: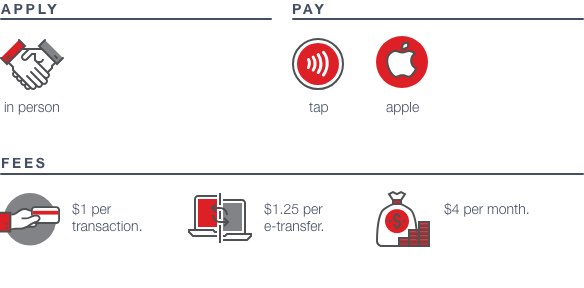 How you plan to use your student bank account may enhance the appeal of certain options over others. That's why, before you pick a bank, you need to be clear on your must-haves and nice-to-haves. For instance, do you need unlimited transactions, or are you okay with a limited number, such as 30 transactions per month? Furthermore, if having unlimited transactions means paying a monthly fee, is the fee worth it? 
Once you determine your core banking needs, you'll be in the best position to look at all the banks for international students and choose the right international student bank account to handle your finances. 
---
This article was sponsored by CIBC.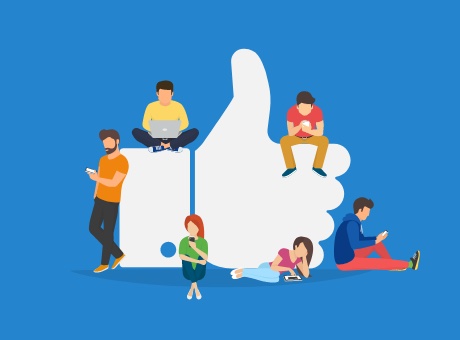 Student Life Network
Access more content for international students