Marlee Liss was raped. And that's the word she wants us to use. Now, she's working to change the conversation around sexual violence.
"I think it's really important to stop making all of this so taboo," she said. "That plays such a role in keeping victims silent."
Marlee broke her silence and turned her pain into a book and movement. But, before we get to how she's changing other people's lives, let's talk about how a stranger flipped hers upside down.
The night it happened.
In August 2016, a few weeks before diving back into her Social Work studies at Ryerson, Marlee went out to a Toronto bar with her squad.
The plan was to crash at her friend's place, but they were drinking–a lot–and ended up getting separated.
A stranger at the bar came up to Marlee and offered to help her find her friends. No luck. By total fluke, he lived in the same condo as the friend she was staying with and offered to split a cab there.
"I just wanted to go home," she said.
When they arrived, Marlee couldn't remember her friend's suite number and she wasn't answering her phone. "I felt intoxicated to the point where I was near passing out," she said. "I didn't know what to do."
"Within 30 seconds, he pulled my pants down and started touching me."
The guy, whom Marlee believes is in his late 20s, said she could hang out in his condo while she figured things out. She laid down on his bed and he walked in the room with a glass of water.
"Within 30 seconds, he pulled my pants down and started touching me." She says she repeatedly told him to stop, but he didn't.
"I just kind of froze," Marlee recalls, her voice quivering.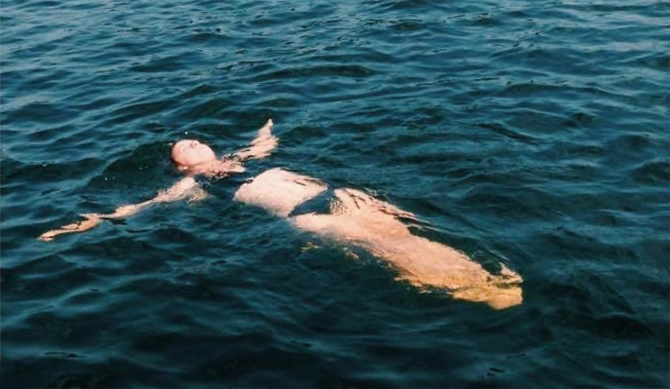 "The whole time he was apologizing," she said. "He was like, 'I'm so sorry. This is so fucked.'"
She remembers him pacing around the room, having a really intense internal struggle.
But he didn't stop. He continued assaulting her for hours.
He left the room and came back with a condom. That's when he started using penetration.
"He finished and went to the bathroom for a while and I was still frozen," Marlee said.
Moments later, she snapped into reality, grabbed her stuff and ran out. She put her shoes on in the elevator and took a cab home.
After a few very deep breaths, Marlee told her roommate what happened. The two went to the hospital to get a rape kit and reported the incident to police.
The next time Marlee saw the guy was in court, which was a few weeks ago. The case is ongoing.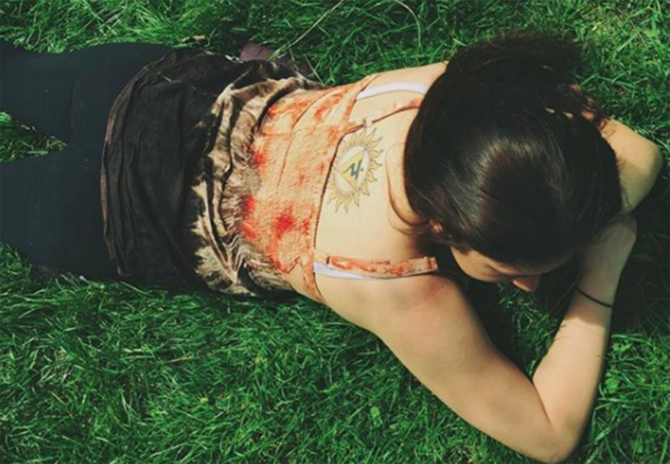 The unexpected aftermath.
"I obviously knew that rape would immensely impact a person, but I didn't know that extent of that," she said. "I became really, really depressed and felt like all of my world views were smashed."
Now, the 23-year-old Ryerson student is using her pain to change the conversation around sexual violence and helping others heal.
"After that experience, I didn't know what to do with myself. Normalcy felt really weird and I just started writing for my own sake to process things and for an outlet."
And she didn't put her pen down.
"It became a really important therapy for me and allowed me to take all these destructive thoughts and turn them into creations."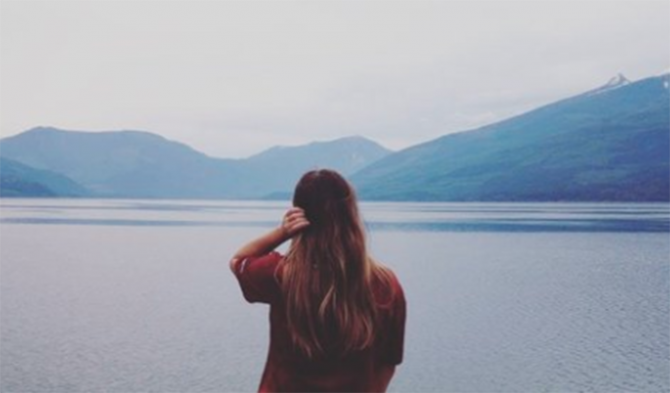 After a while, she mustered up the courage to share her raw and painful journal entries with her mom.
"I was just sort of blank and it was really hard. I felt like there was this void and I was alone in that," she said. "And then I realized that if I shared my writing with her, that would kind of be a translator, like this bridge for us so she could see where I was at."
After witnessing how helpful her writing was to her mom, she shared it with her sister and a few close friends.
"My words started resonating with people for different reasons," she said. "They come from my experience of sexual assault, but touch on the painful outcomes of objectification culture."
Mental health, body image and victim blaming were topics that bubbled to the surface for readers.
Marlee connected with an editor and ran the manuscript by her. The feedback caught her off guard.
"My words allowed her to remember her own repressed experience of sexual trauma and she was immensely grateful and it helped her understand herself."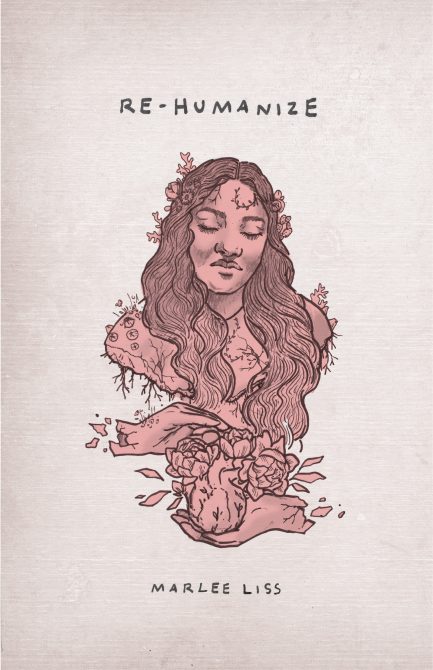 The birth of Re-Humanize.
In November, Marlee turned her journal entries into a book called Re-Humanize.
"At a time where I was really, truly depressed and navigating suicidal tendencies, this book kind of became my child and I was so dedicated to sharing it and getting it out into the world," she remembers. "I just felt it was so important to my healing journey."
Poems, vulnerable thoughts, and insightful questions written just hours after the incident fill the pages and aim to inspire healing.
Her book has grown into the "Re-Humanize Movement." Marlee organizes dance, yoga and advocacy events to benefit End Rape On Campus, an organization whose mission is to end sexual violence through support for survivors, prevention through education, and policy reform.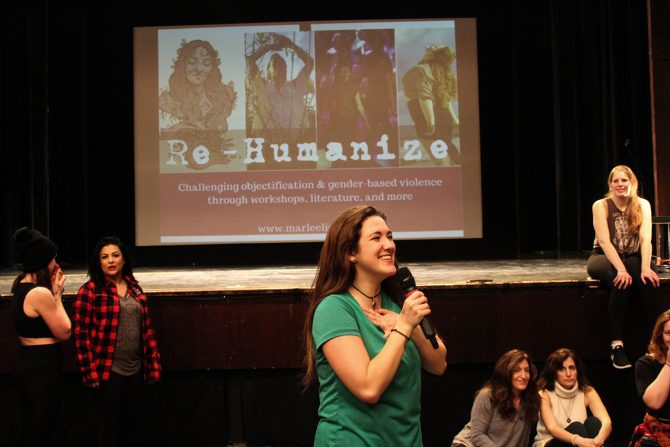 Marlee on the #MeToo movement.
Like her book, Marlee says the #MeToo movement is hard to look at.
"I feel like we've swept sexual harassment and violence under a rug for centuries, and now we're finally looking under the rug and there's a huge mess."
She says the #MeToo movement is like shouting, "Hey everybody, look at this mess!" through a giant megaphone.
She believes now is our opportunity to truly clean up that mess.
"I think what's really important is a 'What's Next?" movement," she says. "A lot of people are staring at the mess. Male-identified folk are struggling with a lot of guilt and identity crisis and what role they've played in objectification culture."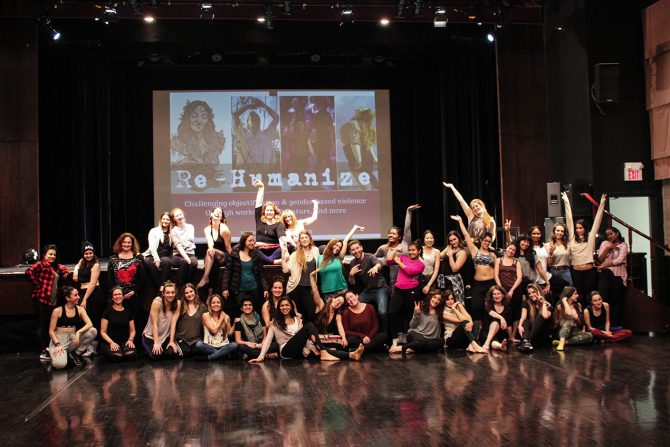 For survivors who are afraid to tell their stories…
"It's important to remember that there's no set healing path," Marlee said. "You have to do what feels good for you and know that your story matters."
She says the grief and injustice that survivors experience can teach others about trauma and "propel our collective culture," even if it makes people uncomfortable.
"Never apologize for using your voice if that's what you choose to do."
If you need help reporting a sexual assault on campus, refer to our guide.
You can learn more about Marlee and Re-Humanize at www.marleeliss.com. Follow her journey on Instagram @MarleeLiss