A chance at $50,000 in life-changing prizes can be a lot to take in, which is why we're here to help you figure out how everything works, from extra entries to daily challenges, so you can understand how to win Canada's Luckiest Student.
Enter the current round of Canada's Luckiest Student right here.
2021 marks our 10th(!) Canada's Luckiest Student contest. To make things a little easier, we've put together this handy little guide, so you know what you're in for and how to win it all. Whether you're a CLS vet or a first-timer, we're going to put you on course for your best chance to win that life-changing $50,000 prize bundle.
PRIZES (What you're really here for)
Money, trips, rent, tech, groceries, and more—it all adds up to a one-of-a-kind reward worth over $50,000 (and counting).
Canada's Luckiest Student is not some ordinary contest. The grand prize bundle will be packed with $50,000 of value. If you're the lucky winner, you'll get to take home every single prize you've added to your bundle. That means the more prizes you add, the more prizes you can win—so make sure to add them all! As of right now, you could win…
$20,000 from CIBC to help make student life a little easier
$5,000 for all your groceries and snacks from Sobeys
An 'Italian Espresso' trip to Europe from Contiki for you and your BFF
Rent money for one year from H&R Block
$5,000 to kickstart your success from Student Works
$2,000 gift card for The Source
50,000 AIR MILES® Reward Miles
There's more on the way, so make sure to check out your feed regularly and keep your eyes on any emails from us to see when new prizes become available.
EXTRA ENTRIES (Your shortcut to victory)
Why settle for only one entry to win Canada's Luckiest Student when you could have hundreds? There are all sorts of different opportunities in your feed to increase your total number of entries in the grand prize draw. You can visit us on social media, complete surveys, and even enter other contests to earn extra entires. Check out the full list of available entries on your CLS feed.
The biggest opportunity available? You can double your total (and all future) entries just by letting us know you bank with CIBC. This is available throughout the entire contest, so if you decide to open a student account later on, just come back to let us know and double your chances to win.
DAILY CHALLENGES AND CODES (Hope you like riddles)
We've got all sorts of word puzzles, riddles, and brain-teasers for you to check out in the Daily Challenge section at the top of your feed for extra entries every single day. But be quick—each challenge (and challenge code) disappears after 24 hours.
Of course, there are other places to find codes as well. You never know which blog, email, or social media post will have a code hidden in it. When you find one, just head over to the Entry Codes page on your feed, enter it, and watch the entries roll in.
BONUS CONTESTS (Even more stuff to win)
We run all sorts of bonus contests, giveaways, and offers throughout Canada's Luckiest Student that give you more chances to earn extra entries and more opportunities to win other great student prizes. Things like free premium memberships, event tickets, and cash offers are constantly up for grabs. You can always check out your CLS feed to see what else is going on at SLN. Seriously, it's worth it, we give tons of stuff away.
YOU'RE READY (You're basically a Canada's Luckiest Student pro)
Phew, that's it, that's the major rundown of what you need to know if you're hoping to win Canada's Luckiest Student. It can seem like a lot but once you get into it, everything will quickly feel like second nature. If you've still got questions, you can always check out our FAQ or shoot us an email. Good luck!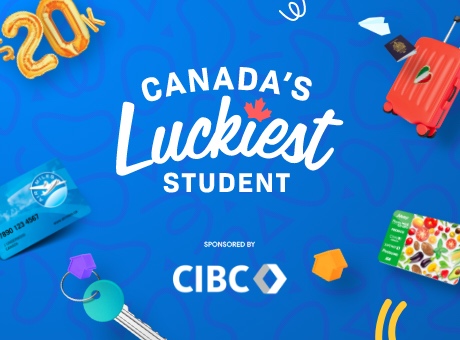 Giveaways
Are you Canada's Luckiest Student?