Are you an ambitious young entrepreneur? Considering starting a business of your own? We found a podcast to help inspire and educate you.
Every week, the Leaders of Tomorrow podcast brings inspiring interviews to young and ambitious entrepreneurs and shares behind the scenes tips from their 8-figure business, the Student Works Management Program. Their goal: to help you create the future you know you deserve and give you what you need to become a leader of tomorrow.
You can listen to one of their best episodes right here or keep reading for a short recap with some surprising business tips for students.
How to Take Calculated Risks and Build Multiple Streams of Income with Peter Bendevis
In this episode, Student Works head coach Chris Thomson interviews Peter Bendevis. This self-confessed nerd built up his confidence and communication skills through a stint with the Student Works Management Program. 
They explore the dilemma of choosing between starting a business or working in a corporate job. Furthermore, they consider why true entrepreneurs don't have to settle for doing just one. Thanks to his foundational entrepreneurial experience at Student Works, Peter did both.
Peter then walks through his unique career path, from joining a small accountancy firm to ultimately quitting to pursue his passion full-time and focus on his photography business.
From there, he discusses strategies which enabled him to build up a client portfolio in his first year of businesses. Student listeners may find it particularly interesting to learn that he successfully scaled up his business by always keeping a focus on sales and customer relationships.
LISTEN NOW: Give Leaders of Tomorrow a listen to see how it motivates you to take action.
Finally, Peter also shares the incredible story of how he invested $750,000 to buy an East Side Mario's franchise. How did a college student with almost no credit history manage to pull that off? The only way to find out is to listen to the podcast and hear it for yourself. Maybe his successes can inspire you to implement your own great idea despite a lack of funds.
If Peter can juggle a corporate career, personal business, and large-scale restaurant at the same time—thanks to the skills he picked up with Student Works—then so can you.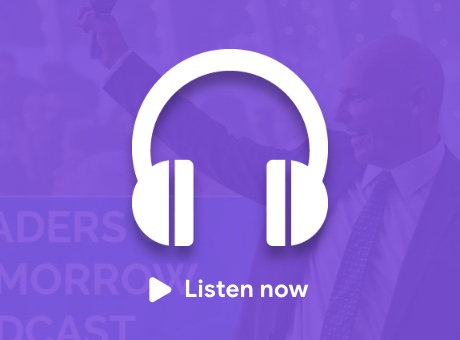 Podcasts
Check out the full podcast