With school ending and the global pandemic in full effect, it's getting extremely hard to stay focused. This simple and easy-to-implement system will take you less than 15 minutes and help you get more done, be more productive, and lessen your anxiety. 
Sean Covey, author of The 7 Habits of Highly Effective Teens, wrote that weekly planning is one of the essential habits of high performing students. 
He stated that daily planning is too narrow of a focus, and monthly planning too broad. Instead, he encourages you to set aside 15 minutes per week (1/4 of a Netflix episode) to outline the next seven days of your life. 
You can watch me break down this practice for you in the exclusive video I made for SLN or keep reading for the written version of how to hack your productivity.
The idea of weekly planning was first shared with me when I was 16 years old by an NFL player named Niyi Sobo. At the time, he was mentoring me and filling out a weekly planner was a requirement before getting on a call with him each Monday. 
Since then, weekly planning became a habit, and now I rarely go a week without filling out my planner. I have filled out hundreds of these things…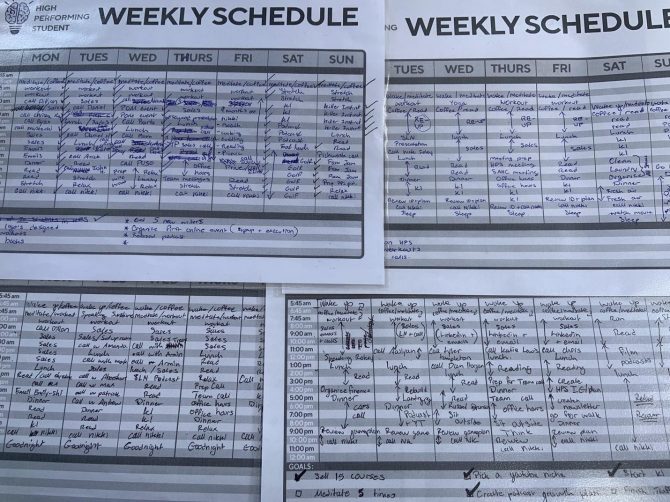 Anyway, enough with the origin stories…here is the 3-step process you can follow to plan your week. (You don't need to use the free planner included at the end of this article, but make sure you have something that works for you)
1. Make a list of the top priorities for the coming week
What are the things that you MUST complete? What are the things that NEED the most attention and effort right now? Make a list of all these things. 
2. Start filling in the weekly planner with the non-negotiable tasks
Non-negotiable tasks refer to the things that you have no control over moving around in your calendar. As a student, this would include going to school. As an athlete, this would consist of practice and games. Ask yourself what you cannot move around in your schedule; this is non-negotiable.

The important thing here is to place this in the calendar first, so you don't end up scheduling something else at the same time. 
3. Next, fill in the planner with the top priorities you outlined in step one
Now that you have filled in all the non-negotiables, you want to make sure you fill in your top priority tasks next. Once you finish the former, you should have a ton of blank space on your calendar. . . go nuts! ☺

There you have it! The process you can follow every Sunday to help you get more done, be more productive, and lessen your anxiety. 
Before you download your planner, here are a few small tips that will help you get the most out of this tool:
Review your planner every morning to give you a visual of what the entire day will look like. 

Check off each task as you complete it to keep yourself on track and accountable. 

Don't be too hard on yourself if you don't end up doing exactly what you said you would. This planner serves as something to strive for consistently.

And lastly, if you're bold like me…bring the calendar with you throughout the entire day to remain on task as much as possible. 
Enjoyed this article and want to give weekly planning a shot? Access your free planner.
To watch my videos on being more productive, subscribe to my YouTube channel.
Still itching to get more done? For more on productivity, check out these SLN articles.