We're so excited about #PromIsOn2020 but understandably, you likely have some questions. After all, you probably haven't been to a virtual prom before (and honestly, neither have we). We're still hammering out all the details, but here are the answers to some of the most frequently asked questions we've been getting.
What exactly is a virtual prom? 
This event is a one-of-a-kind online experience to give students like you across Canada the opportunity to celebrate the end of your high school journey. What initially started as a small idea to put something on Instagram for students who had their proms cancelled has snowballed into a cross-country, week-long event. If you RSVP, you'll receive an email each day with the details on what unique thing is happening that day.
For the main event on May 22, there will be celebrity appearances, a guest DJ set by Loud Luxury, exclusive giveaways, and even more that you can engage with from home. So dress up (if you feel like it…more on that below), tune in, and participate in any way you want.
Why do I need to RSVP?
RSVPing is the only way for you to be eligible to win any of our giveaways. It's also the only way to get the invite links to the live stream on May 22 and all the events leading up to it. Last but not least, for every RSVP, CIBC will make a donation to Kids Help Phone.
When should I RSVP by?
The earlier you RSVP, the more you'll get to take part in. It only takes 10 seconds, so even if you're busy, it's worth doing right now.
Does this cost anything?
No, the event is completely free! In addition, our brand partners like Kernels, Disney, Smashbox, Glamglow, and Unplugged Beauty are donating a TON of prizes that we'll be giving out in the days leading up to #PromIsOn2020, as well as during the main event.
That said, if you have the means and would like to make a donation to Kids Help Phone, you can do so here. Just drop #PromIsOn2020 in the survey question about what motivated you to donate.
Can any student join?
Yes! While this event was created for Grade 11 and 12 students across Canada, ANYONE can take part. If you've got friends, family, teachers, or even a pet who wants to join in, bring 'em!
What will happen at #PromIsOn2020? 
All the stuff you'd expect from a normal prom…and some magic stuff you probably wouldn't ordinarily get.
We've got music, dancing, awards—even a prom king and queen. But we also don't want to just settle for the basics, which is why we've set up some can't-miss celebrity shoutouts, jaw-dropping surprises, and unbelievable student giveaways.
Do I dress up? Will people see me?
Our stream will be one-way (us to you). So you can put on your prom outfit or just kick it in your PJs.
If you DO decide to dress up and want to share your prom look with all the other students who are celebrating, read the next question…
How can I connect with students on May 22?
If you want to connect with your friends and classmates, we suggest setting up a watch party on Zoom, FaceTime, Messenger, or whichever service you prefer.
BUT if you want to connect with thousands of student across Canada (much more fun TBH), you have the opportunity to show off your prom look, share a shout out, or even just say hi. All you have to do is post to Instagram or TikTok and tag @studentlifenetwork using the hashtag #PromIsOn2020.
Where do I tune in on May 22?
RSVP and keep an eye on your inbox. We'll send you a link before the event starts.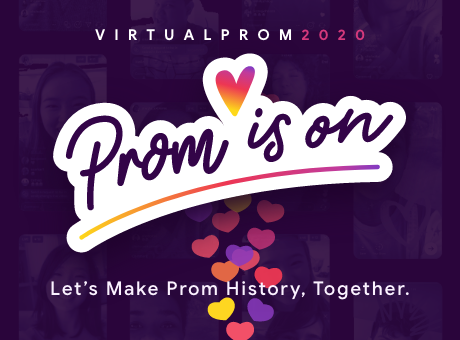 Event
Ready to celebrate?