The Canada's Luckiest Student winner will take home $50,000 in life-changing student prizes. Will that winner be you?
Ever since we announced that Canada's Luckiest Student was closed to new entries, we've been getting questions from students all over Canada. "Did I win?" "Have you drawn a winner yet?" "What's it really like to win?"
Good news, as of today, we have drawn a winner!
But as you may know, there's a bit of a twist. See, we don't just announce a winner. In fact, planning the big reveal is our favourite part of Canada's Luckiest Student. We get to surprise one of you with the kind of prizes we dreamt of having when we were in school, like $20,000 from CIBC, rent for a year from H&R Block, a trip to Europe from Contiki, and that's just to start.
In other words, you'll have to wait just a little longer to see if you've won.
Can't take the waiting? Need a few hints to know if the Canada's Luckiest Student winner could be you? Want to know how the reveal planning is going?
You're in the right place, as we'll keep updating this page with new details. Here's what you need to know for now.
For updates on the 2021 Canada's Luckiest Student winner reveal, go here.
UPDATE 4 (June 16, 2020): Congratulations to Madelyn Schalk of Lambton Central Collegiate & Vocational Institute, the winner of Canada's Luckiest Student! Watch how we surprised her in the video below. And stay tuned, Canada's Luckiest Student will be back…
UPDATE 3 (June 10, 2020): The winner will be revealed during our live stream on Tuesday, June 16 at 8 PM (ET). You can watch it all as it happens on our YouTube channel. Subscribe now so you don't miss a second.
UPDATE 2 (June 4, 2020): The big cheque is being printed, the camera batteries are being charged, and someone very close to the winner has already been contacted about our plans.
UPDATE 1 (May 27, 2020): We're in the midst of planning our first-ever virtual winner reveal. Stay posted here, we'll be posting more details about the live stream event soon.
Have you drawn the Canada's Luckiest Student winner?
Yes! But for now, the winner's identity is a mystery. The only copy of their name exists in a secret vault, guarded night and day by a squad of rogue monkeys, armed with pool noodles. But seriously, the winner has been drawn.
Have you revealed who the winner is yet?
Not yet. Stay tuned for hints to their identity.
When does the next round of Canada's Luckiest Student start?
Very soon! We love rewarding you guys and Canada's Luckiest Student will be back. We're just gathering up some new prizes to surprise you with. Keep your eyes out for any emails or social media posts from us as you never know when the announcement of a new round of Canada's Luckiest Student might happen.
What else can I win while I wait?
In the meantime, take advantage of all these amazing student opportunities, contests, and offers we have for you:
Good luck! Maybe we'll see you soon.
1. The Smart for Student $60 Offer begins on February 29, 2020 at 12:01 a.m. (ET) and ends on October 30, 2020 at 11:59 p.m. (ET). Offer only open to Canadian residents who are not holders or joint holders of a CIBC chequing account. To qualify, open a CIBC Smart Account with Smart for Students and provide your email address. Within two (2) months, you must: (i) register for and sign on to CIBC Online Banking or CIBC Mobile Banking; and (ii) complete at least three (3) eligible Visa Debit purchases from the CIBC Smart Account for students. Offer cannot be combined with any other offer, reward or rebate, unless otherwise indicated. The cash reward will be deposited into your account five (5) months after you have completed the required transactions. Other conditions apply. Visit a CIBC banking centre or visit cibc.com/smart-student.
2. NO PURCHASE NECESSARY. Open January 1st, 2020 to December 31st, 2020 to legal residents of Canada who are sixteen (16) years of age or older and are current students of an accredited Canadian university, college or secondary school. One (1) Grand Prize available to be won consisting of: one (1) cheque for $8,750 made payable to the winner; one (1) 1-year GIC for $8,750 opened in the winner's name; one (1) 2-year GIC for $8,750 opened in the winner's name, and one (1) 3-year GIC for $8,750 opened in the winner's name. Odds of winning depend on number of eligible entries received. Math skill testing question required. Full Contest Rules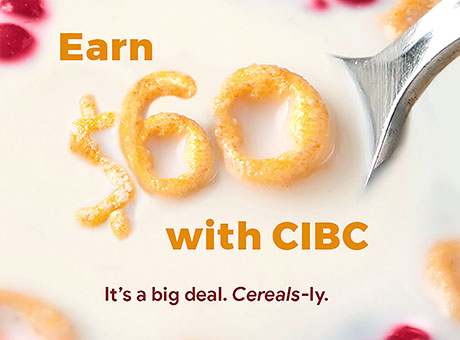 Deals
You don't want to miss this student offer.