The Canada's Luckiest Student winner in 2021 will take home $60,000 in life-changing student prizes. Are you that lucky student winner? Only one way to find out…
"Do you know who the winner is yet?" "Did I win?" "What's it like to win?" These are just some of the questions we've been hearing from excited students all across Canada ever since Canada's Luckiest Student closed to new entrants.
Good news, we have a winner!
But as you may know, we aren't about to just casually announce the winner in a blog post. You see, we kinda love planning epic reveals to surprise each Canada's Luckiest Student winner. That means you'll have to wait just a little longer to see if you've won all the prizes. Speaking of, here's what the Canada's Luckiest Student winner will receive if they added all the prizes:
$20,000 from CIBC
Rent for a year from H&R Block
$5,000 for groceries from Sobeys
50,000 AIR MILES® Reward Miles
Trip for 2 from Contiki
Phone + 1 year of service from Fido
$5,000 tech bundle from Student Works
Disney prize packs for you and 5 friends
$3,000 stay beautiful package from Garnier Green Labs
$2,000 gift card from The Source
$2,000 campus grant from WWF-Canada
You're in the right place to get updates on the Canada's Luckiest Student winner reveal. Check back often for new hints to the winner's identity. Here's what you need to know for right now.
UPDATE 5 (June 16, 2021): Congratulations to Afrida Sayeara from the University of Calgary, this year's Canada's Luckiest Student! The reveal video is coming soon and Canada's Luckiest Student 10 will launch on July 12, 2021.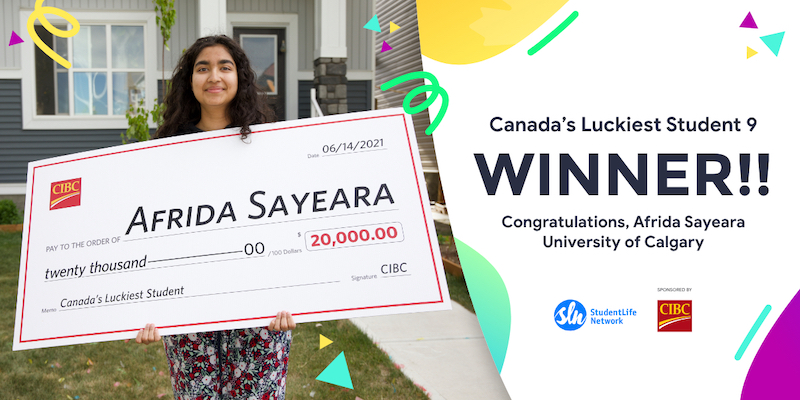 UPDATE 4 (June 14, 2021): All 15 student finalists are confirmed for tonight's game of "Guess Who's Canada's Luckiest Student?" hosted on Zoom by Stephen Sills. By late tonight, Canada's Luckiest Student will know they've won, and by tomorrow, we'll be able to share who they are with all of you. Stay tuned for the next update (it's a big one).
UPDATE 3 (June 10, 2021): Just did our first walkthrough of the virtual reveal event—super exciting. The real deal is going down on Monday and invites for the students involved have already been sent.
UPDATE 2 (May 27, 2021): Big progress is being made! We've got a camera crew lined up, confetti cannons loaded, and maybe even a digital sign truck involved. Now to prepare the virtual event itself…
UPDATE 1 (May 19, 2021): We just had our first official planning meeting! Looks like the concept for our surprise reveal is set, now it's game on as we sort out all the details.
Have you drawn the Canada's Luckiest Student winner?
Yes! But their identity is still a mystery. Their name is written down on a slip of paper, locked in a secure underground vault, guarded by an elite clan of hardened samurai and their trained fox sidekicks. Okay, but yes, the winner was drawn.
Have you revealed who the winner is yet?
Not yet. Keep checking this article for hints to their identity.
When does the next round of Canada's Luckiest Student start?
UPDATE: The next round of Canada's Luckiest Student will launch July 12, 2021!
Sooner than you think! We love rewarding students and Canada's Luckiest Student will return shortly. We're just gathering up some new prizes first. Keep your eyes out for any emails or social posts from us as you never know when the announcement of a new round of Canada's Luckiest Student might happen.
What else can I win?
Take advantage of all these amazing student opportunities, contests, and offers we still have for you:
Good luck! Maybe we'll be surprising you soon.
1. Offer begins on January 29, 2021 at 12:01 am (ET). Offer only open to Canadian residents who are not holders or joint holders of a CIBC chequing account. To qualify, open a CIBC Smart™ Account with Smart for Students and provide your email address. Within two (2) months, you must: (i) register for and sign on to CIBC Online Banking or CIBC Mobile Banking; and (ii) complete at least two (2) eligible Visa Debit purchases from the CIBC Smart Account for students. Offer cannot be combined with any other offer, reward or rebate, unless otherwise indicated. The cash reward will be deposited into your account six (6) months after the account was opened. Other conditions apply.Full offer details.
◊◊ NO PURCHASE NECESSARY. Open January 1st, 2021 to December 31st, 2021 to legal residents of Canada who are sixteen (16) years of age or older and are current students of an accredited Canadian university, college or secondary school. One (1) Grand Prize available to be won consisting of: one (1) cheque for $8,750 made payable to the winner; one (1) 1-year GIC for $8,750 opened in the winner's name; one (1) 2-year GIC for $8,750 opened in the winner's name, and one (1) 3-year GIC for $8,750 opened in the winner's name. Odds of winning depend on number of eligible entries received. Math skill testing question required. Full Contest Rules.
*Trademark of Visa Int, used under license.
The CIBC logo is a trademark of CIBC, used under license. All other trademarks are owned by CIBC or related entities.
Offers
We're lifting a weight off your shoulders.