Positive COVID-19 stories are happening, like these med students going above and beyond to help out their colleagues.
In a good way, it feels like there are too many stories of students doing incredible things to help out during the COVID-19 pandemic to mention them all. With so much doom and gloom out there, we wanted to remind you that there are positive COVID-19 stories happening all over Canada thanks to the ingenuity and dedication of students that deserve to be applauded. Positive COVID-19 stories just like this one.
With classes cancelled, medical students from the Schulich School of Medicine & Dentistry at Western University wanted to help but were unable to assist in hospitals as they were either pre-clerkship or had their clerkships cancelled. Rather than take a well-deserved break or go home to their families, many of them have stepped up to help their colleagues. These students created a list of their peers who were willing to babysit children or help care for/deliver to elderly family members of other healthcare workers to enable them to keep working on the frontlines.
We spoke to Chris Zhang, one of these amazing student organizers in question, to get the details on everything they're accomplishing.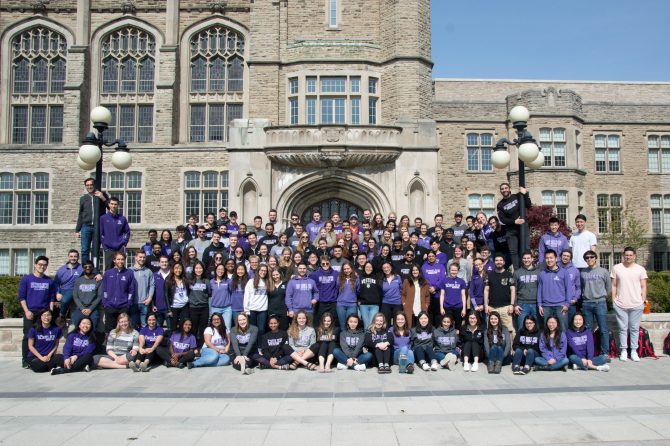 Tell us a bit about yourself. Who are you?
My name is Chris Zhang and I am a second-year medical student at the Schulich School of Medicine and Dentistry. I am one of the student organizers of the volunteer initiative for medical students to provide childcare and other volunteer services to healthcare workers in London, Windsor, and surrounding areas during this COVID-19 time of crisis.
What exactly are you guys doing?
We are organizing students to provide free in-home childcare, elderly check-ins, running errands, and other volunteer services for healthcare workers in London. Windsor and the surrounding regions. With the closure of public schools until April 3 (at least), many parents with children are left with no other options for childcare. These services are being offered not only to frontline healthcare workers but to all the hospital staff who are now working tirelessly to keep the hospitals running. Our colleagues all across the country are also running similar programs to support healthcare workers wherever we can.
What inspired this idea to help out and how did you get involved?
The same day as the province announced the closure of public schools, our classes and clinical learning were all suspended indefinitely. The uptake of this initiative was phenomenal. I saw it start as an idea, as a Facebook post by one of my classmates, early Saturday morning. Within a few hours, it had become a schoolwide initiative, sooner after we learned that other schools were also organizing similar programs and by the end of the day national organizations had heard about it and were prepared to endorse it to help liaise. I've never been a part of something that caught fire so quickly like this.
I think the reason so many people were interested in this idea was because there was a need in our community that we students were in a position to fulfil. As medical students, we're taught to be leaders and to serve our community. Even though we don't yet have the medical expertise to help out during this crisis, there are still things we can do in the spirit of our profession that can help make a difference.
How has it been going so far? Any successes? Any roadblocks?
The response from both the healthcare community and medical students has been overwhelming. We've received tremendous support and interest. As of this weekend (March 21), students and healthcare workers who were able to participate in the program were matched together. The initiative officially begins on Monday (March 23) when our volunteers will start helping their healthcare workers.
Organizing an initiative of this scale, on this acute time frame, and under these circumstances has been no easy task. This was entirely a student-run initiative, and we had no prior structure of guidance to build from. We essentially designed and executed a brand new program in the span of a week while maintaining an extreme focus on safety and ethics. Every day was full of new challenges and obstacles, but I was privileged to work with a team of student leaders (Yashoda Valliere, Gali Katznelson, Nadeesha Samarasinghe, Montana Hackett, Jessica Garabon, Rebecca Barnfield), who worked tirelessly around the clock to ensure the initiative would be a success. We are also incredibly grateful for the support we received from public health and legal experts to ensure we were doing things safely and ethically.
The hardest thing has been turning down people. Unfortunately, our capacity was quickly overwhelmed and there were many people we were unable to help.
How many students are participating and how many people are they helping?
We had over 150 students sign up to offer volunteer services. However, due to public health and safety concerns, we put in place a stringent policy that restricted the number of students eligible to volunteer. In the end, we matched approximately 70 students to provide support to over 30 families of healthcare workers. These restrictions were necessary to ensure what we were doing was both safe and ethical. The last thing we want to do during this situation is cause harm when we are intending to help.
Separate from this initiative, there are also students providing support in many other initiatives.
If there is one silver lining I take away from times of crisis, it is that they can bring communities closer together and remind us about what is truly important in life. It is often in the worst of times that we see the best of the human spirit shine through. I am inspired by the generosity of my colleagues in this initiative, and indeed in the efforts of everyone who is doing their part to overcome this crisis.
What does the forecast look like for what you're trying to accomplish?
This program is intended to be a bridging program for the next two weeks while classes are cancelled. We have put student volunteers in a position to support healthcare workers for the next two weeks. The situation is rapidly evolving and changing every day. We are constantly reassessing and re-evaluating our next steps and will continue to do so.
How can ordinary students reading this do their part and help out?
The best thing everyone can do right now is practice social distancing. No one is happy about the pandemic and the only way we are going to beat it is to limit the spread of the virus and the best way that can be done is by following the guidelines set in place by public health and country leaders. The guidelines are rapidly evolving so it's important for everyone to stay up to date as best they can and follow best practice.
I acknowledge that volunteering in this way goes directly against social distancing. That is why we put so much thought and care into taking steps to ensure everything we were doing minimizes risk as much as possible while still providing support to families who may have no other option during this time.
In the next few weeks to months, I am certain there will be other initiatives for students interested in taking a more active role in their communities. I would advise students to keep their eyes out for a need that exists and one that can be reasonably and safely fulfilled. I also recommend students look to their student leaders for initiatives they can support. Above all, I would like to stress that students ensure that initiative they get involved in is acting in a safe and ethical way that doesn't unintentionally increase the risk of transmission. The last thing you want is to cause harm when your intention was to help.
It can feel like everything is doom and gloom out there so stay positive, stay safe, and keep looking for positive COVID-19 stories like this one!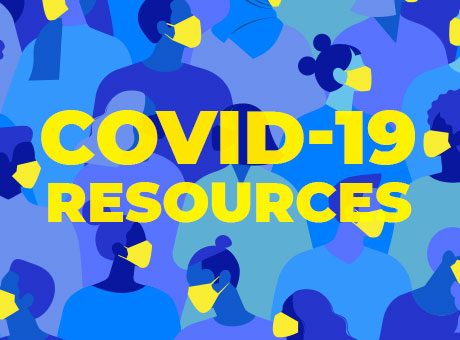 COVID-19
SLN is here for you