No matter your experience, you too can help build a sustainable future as a Living Planet Leader.
When it comes to the environmental crisis happening around us, it feels like a lot of the people making a difference are from our generation. Students are coming forward to help tackle our planet's biggest challenges—walking the walk in their daily lives, lending their time and energy to grow sustainable campus and community initiatives, even helping to make connections to sustainability in their programs.
WWF-Canada has actually created a certification that gives students who are taking action for the planet the recognition they deserve: WWF's Living Planet Leader designation.
Meet the first students who have achieved their WWF Living Planet Leader certification. These are students who challenged themselves and those around them to build a sustainable Canada and help nature thrive through self-guided efforts in their schools and communities. Tailoring the certificate's requirements to their interests, they had fun and built their resumes while doing it.
You have what it takes. Apply to become a leader here.
Muzhi (Maggie) Chang, Environment, Resources and Sustainability, University of Waterloo, 2021
"Perhaps the most exciting part for me is the community I am part of thanks to this certification; a visible network of young people passionate about caring for our planet who are acting on their beliefs."
Wanting a way to show her lifelong dedication to environmentalism and demonstrate the impact young leaders can have, Maggie became a Living Planet Leader. Leading projects like a second-hand clothing sale to promote sustainable fashion habits helped her gain experience in leadership, event management, and applying coursework beyond the classroom.
Samantha Casey, Environmental Governance, University of Guelph, 2019
"The largest success is that through my participation in the Living Planet Leader program, the University of Guelph Sustainability Office where I am now employed is beginning a partnership with WWF-Canada's Living Planet @ Campus student engagement program. I now get to share my experience from this program, supporting other students through this journey."
Participating in WWF's Designing Change for a Living Planet competition and designing a plastics bottle depository system, Samantha wanted to further her passion for biodiversity conservation. In tailoring activities and experiences to further her career path and engage with other students, she found herself developing skills in event coordination and thought leadership.
Joe Perez, Supply Chain and Operations Management, George Brown College, 2019
"The journey to complete the certification was nothing short of life-changing. Once you are inspired to lead a more sustainable and conscious life, it's easy to explain to your network why it makes sense for them to, too. To say that it changed the way I live would be an understatement."
Joe is someone who really found the impact of his actions through the completion of his Living Planet Leader requirements. His most notable accomplishment was organizing a conservation-themed documentary film event as part of WWF's Designing Change for a Living Planet student competition. He's currently working to create a workshop that would highlight having a sustainable mindset as a career skill.
Erika Bolliger, Biodiversity and Conservation Biology, University of Toronto – St. George, 2019
"Living Planet Leaders apply their unique skill sets to contributing to conservation and through the program, they are encouraged to develop their skills further to become more effective."
With the goal to share her own environmental journey and inspire others, Erika became the Executive Events Lead for the Jane Goodall Institute Roots and Shoots chapter at U of T. One of her biggest initiatives was organizing a No Waste November campaign, which educated her peers on participating in a massive global change through small actions.
Bradley Staite, Industrial Design, Humber College, 2021
"This designation encourages you to think creatively. It is a certification I am proud to have met and continue to implement in my future studies and professional development."
Wanting to give back to his community and learn more about taking action towards sustainability, Bradley pushed himself to work outside of his comfort zone with both school staff and even corporate partners. Using the skills he learned, he built towards environmental stewardship with a campaign on the impact of plastics called Take Back the Tap.
Haley Mcrae, Environmental Technician, Mohawk College, 2021
"It means being part of a network of people that all have the same goal: to help the environment in any way they can."
Looking to be a part of something bigger, Haley found personal development in the Living Planet Leader program. In an effort to gather a network of students with a similar goal and encourage peer participation, she put together a clothing donation drive on campus, raising awareness about making sustainable life choices.
Connor Thompson, Master of Sustainability Science and Society, Brock University, 2020
"The LPL program has a powerful message and is a great way to show my commitment to environmental sustainability at home, in the workplace, and on campus."
After educating himself about making small daily changes like using a reusable container for drinks, Connor took it to the next level by doing a co-op and then volunteering with Ocean Wise. He created engagement opportunities for his community in Hamilton to participate in protecting their local ecosystem by making them a part of the Great Canadian Shoreline Cleanup.
Simon L'Allier, Master of Biology, York University, 2020
"Becoming a Living Planet Leader is an opportunity to show everyone why it matters, to show that organizations care about people switching to a more sustainable way of life. And most of all showing that it is possible, and that it is a positive experience to do so."
After researching the behaviour of vervet monkeys in Lake Nabugabo, Uganda, Simon wanted a way to boost his communication skills on sustainability with his peers. While pursuing his Living Planet Leader designation, he applied for and received a WWF Go Wild School Grant to bring to life a project to reduce bird-window collisions on his campus, going so far as to even host a conference on the issue.
Robert Monico, Master of Sustainability Studies, Trent University, 2020
"The Living Planet Leader certification is a confirmation that I am successfully working towards both my career and life goals. This certification will serve as a reminder to me during the duration of my master's and as I enter the workforce, that with perseverance people can overcome any obstacle."
As the Sustainability Projects Coordinator for Fleming College, Robert had to balance his role, his master's program, and his Living Planet Leader certification. By creating a guide for elementary school teachers that incorporated resources for sustainability, he improved his professional writing and communication skills, in addition to the value of being able to self-reflect on his own experiences.
Tyler Boswell, Business Law, Carleton University, 2021
"It's an honour to be in the inaugural class of WWF's Living Planet Leaders. Earning this award reflects my own and a whole community's accomplishments from young leaders that are leading the charge on environmental issues."
Leading the organization of a campus sustainability fair, Tyler connected students to local campus and community sustainability initiatives. Through this experience, he found that motivating others was a learnable skill and developed it, along with soft skills like teamwork, organization, time management, and event planning.
Reversing the decline of wildlife takes all of us, together. Your actions on campus and in your community can help protect our diverse ecosystems and have impacts for generations. Learn more about how you can develop your skills and make an even bigger difference as a Living Planet Leader here.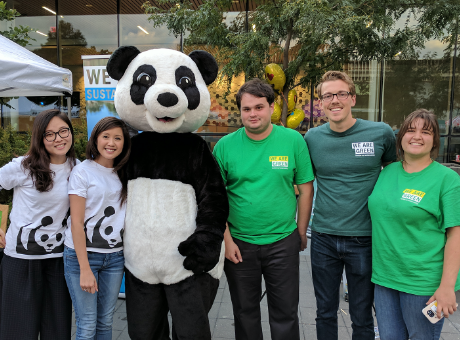 Opportunities
You have what it takes to make a difference