SLN Creators is featuring Satesh Mistry, a fourth-year illustration student at Sheridan College. Satesh shares his advice on getting into the Sheridan illustration program, what tools he uses, and what sites, apps, books, and creators inspire him.
What advice do you have for student creators applying to an Illustration program?
My advice is simple: focus on 6–8 diverse pieces of work in your portfolio. Lead with your second-best piece and end with your best one. Place your weakest work in the middle. Easy peasy. Oh, and definitely show some process work.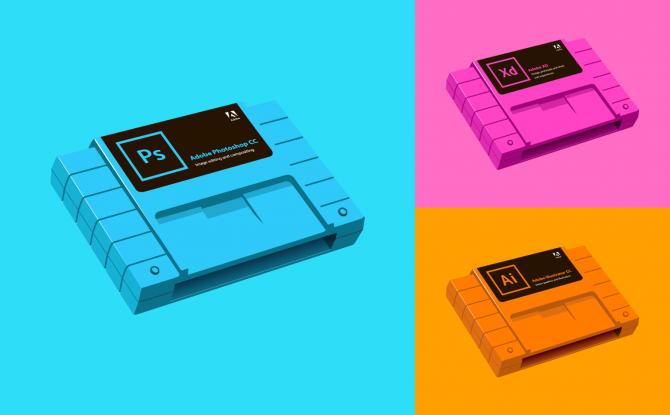 What pieces of work are you most proud of?
I have a few personal art projects of mine that I really love to look at. These may not necessarily be my best pieces but they are some of my best concepts and ideas and I think that's what I'm most proud of here.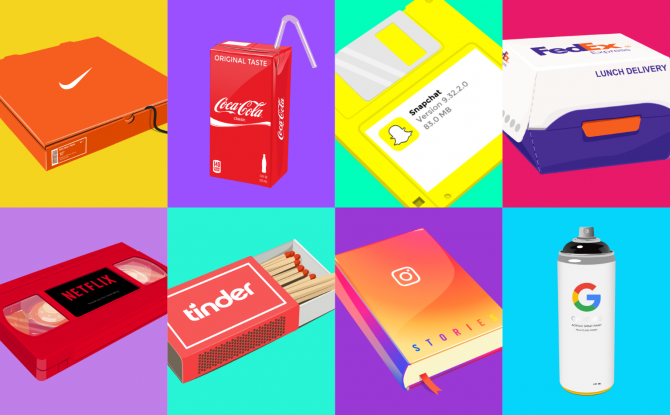 There's my BrandNew series that juxtaposes brands with the products they sort of represent. There's my LMNOProject where I illustrated a letter of the alphabet every day for a year. There's my poster of the alphabet made to look like the worlds from Super Mario. And there's my Adobe X Nintendo project.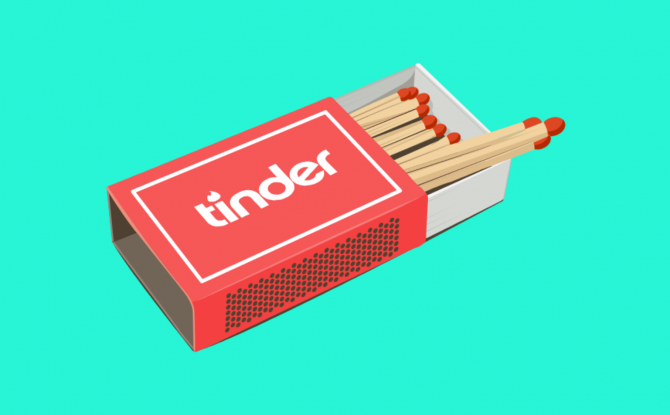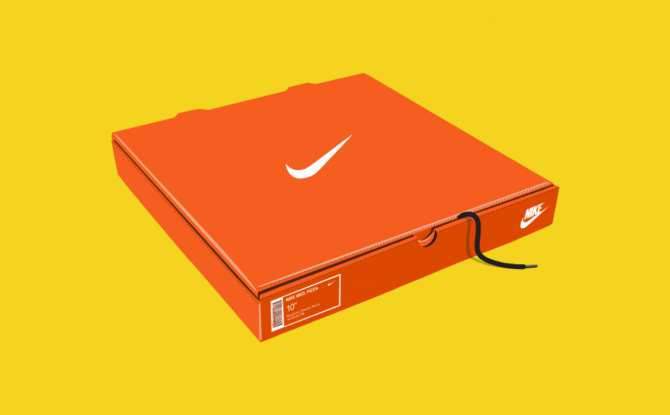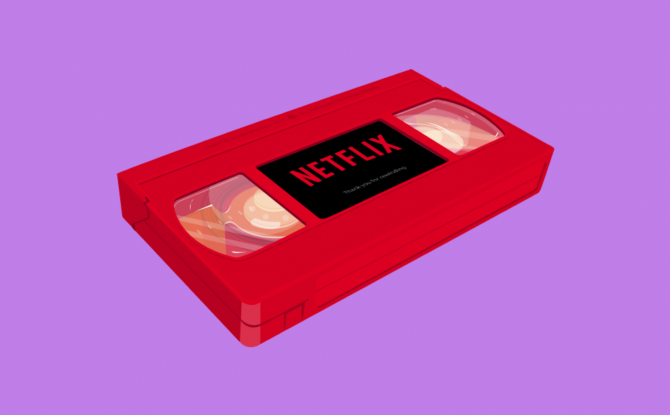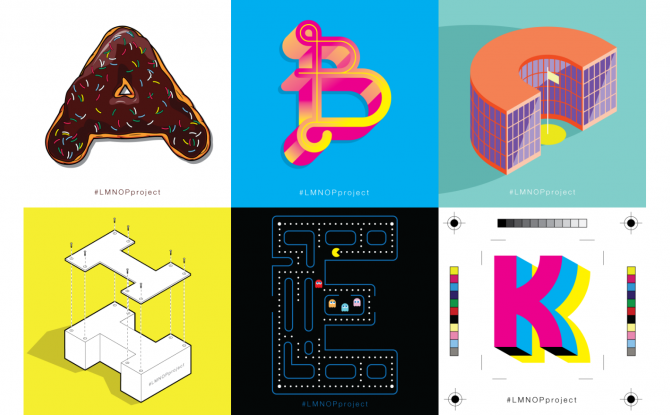 What does your creative process look like?
My workflow and process vary from project to project. Sometimes I just do my own thing and ignore every process that I was taught in school. Sometimes I'm very by-the-book and follow a strict list of steps. You just gotta find what works for you and you'll be fine.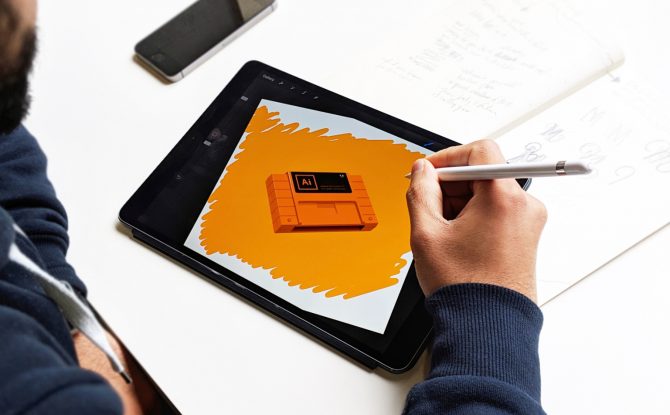 Most of the time, I go straight into Illustrator and start exploring digitally without ever touching pencil to paper. When it comes to logos or lettering projects, I spend half an hour or more sketching ideas and creating a huge grid of thumbnails. Sometimes the perfect concept comes straight to me and I'll be done that piece within the hour.
What are your go-to tools of choice to create?
Like most creators,  I have my shiny iMac loaded with the usual apps like Illustrator, Photoshop and Adobe XD. Believe it or not, I don't use a tablet. Never been a fan and I just prefer the mouse. I do have an iPad Pro with the Apple Pencil that I use with the Procreate app, so I guess maybe that qualifies as a tablet replacement?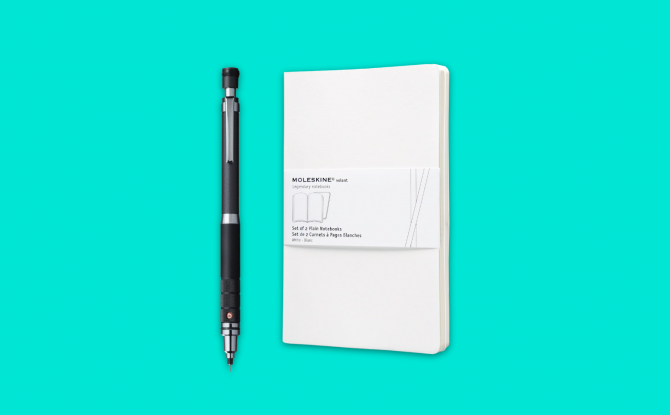 The Moleskin Volant 5″× 8 ¼″
is my go-to sketchpad because it's the perfect size for commuting. I'm not a fan of large sketchpads. Check it.
Kuru Toga Mechanical Pencil
I also love this Kuru Toga mechanical pencil because the lead rotates as you draw and the point stays continuously sharp. It's brilliant. Check it.
Where do you go to get inspired?
When I'm online, my browser default page is set to the Muzli extension for Chrome. This feeds the best of the best work from sites like Dribbble, Behance, and Awwwards, plus many others, to your home page. I usually spend about 20 minutes on here whenever I need a kick of inspiration.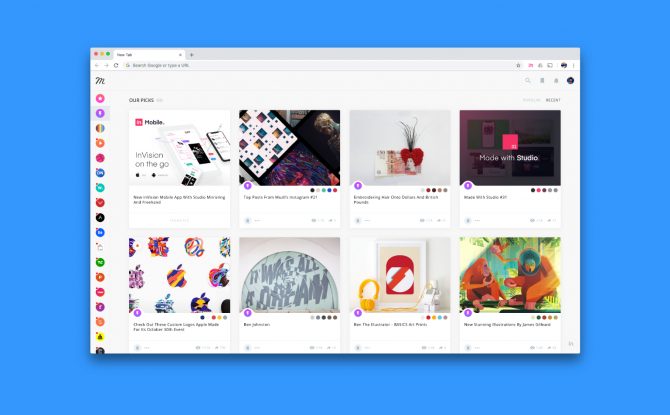 One of the sites that I'm on every day is underconsideration.com/brandnew for logo and rebranding projects and teardowns. And while technically not a site per se, the community of artists and designers on Instagram blows my mind.
What three books would you recommend student creators?
Here are just some of my favourite books, websites, apps, and Instagram accounts that inspire me and I recommend to other student creators.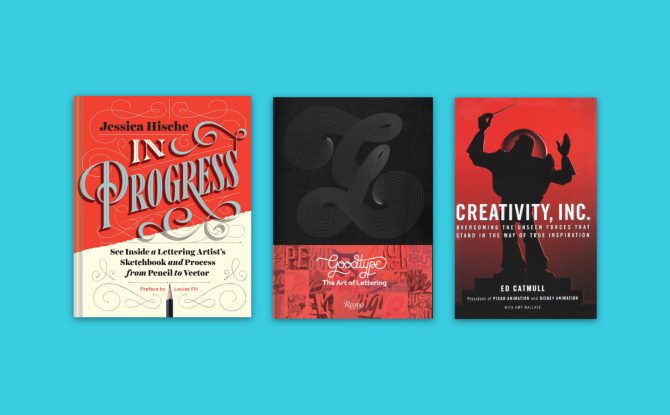 GoodType Volume 2: The Art of Lettering
This is the book that got me into letter design. It made me realize that I absolutely love the process of bringing illustrative letters to life. Check it.
Jessica Hische: In Progress
This book is a creators secret weapon. Jessica Hische is my favorite letter artist. Her book is amazing for teaching process and showcasing the tools she uses. Check it.
Creativity Inc.
If you love Pixar, you'll love the crazy story about how they became the company to create the first computer animated movie. Check it.
What apps would you recommend student creators?
I've experimented with several different apps over the years. The ones I've listed below are my favourite apps that I use every day to bring my work to life. I highly recommend all of them.
Procreate (iPad Pro): $13.99
This is an excellent app if you're into digital painting, sketching, and lettering. There are so many brush, pen, and inking options you could literally spend all day trying them out. The layout is clean and professional, and the app, in general, is super easy to use. You can save layered files as PSDs so going back and forth between Photoshop is a breeze! Highly recommend! Get it.
Adobe Draw (iPad Pro): Free
It's a mini version of Illustrator. It does have a lot of the same features as Procreate (digital painting, sketching, etc.) but you can save your layered files as Illustrator files, which is great. The layout is a little different but once you get to know how to use the built-in touch gestures, creating your art is an awesome experience. Get it.
Adobe Lightroom CC (iPad Pro): Free
If you're the type of creator that's into photo editing and photo retouching, Lightroom CC is definitely an app you need. I would say this app is almost as powerful and rich in features as its desktop companion. You can quickly import or export photos from your library, and even publish photos straight to your social accounts! Pretty sweet. Get it.
Adobe Photoshop Express (iPad Pro): Free
Like Lightroom CC, PS Express is a really nice on-the-go version of Photoshop. You can quickly edit your photos, save, export, or even publish straight from the app. One of my favourite features is the ability to sync to your preferred cloud storage app (Google Drive, Dropbox, iCloud, etc.) so if you're traveling or can't get to a computer, accessing your photos is just a click away! Get it.
VSCO (iPhone): Free
This is the only photo editing app I use on my iPhone for when I publish stories or posts to Instagram. It has everything you'd want in a mobile photo editor. You do need to take some time to get to know the features and tools (it's way more advanced than what Instagram offers), but once you get comfortable with it, your Instagram game will be off the charts! Another thing that sets VSCO apart is that they post quick tips and tricks from influential photographers every week or so. It's always cool to learn from industry professionals and to apply what they teach into your own photography. Happy snapping! Get it.
What three Instagram accounts would you recommend that student creators follow for inspiration?
I definitely have more than three Instagram accounts that I would recommend to other creators. This is tricky. I guess my top three accounts that I love almost all their posts are;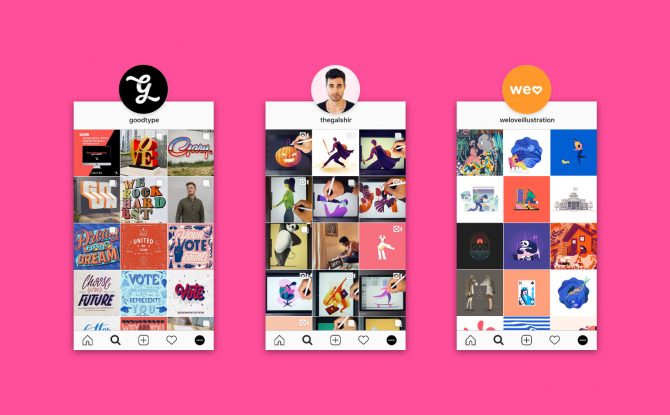 Goodtype | Strength In Letters
For the love of letters from A to Z, connecting all strokes with all folks.
Grab a seat to one of our upcoming Goodtype Workshops.
@goodtype
Gal Shir
Designer & artist ? making illustrations, animations, and digital artworks galshir.com
@thegalshir
Illustration Inspiration
Our goal is to get YOU inspired. Daily illustration inspiration.
@weloveillustration
Where's the best place to find your work and hire you?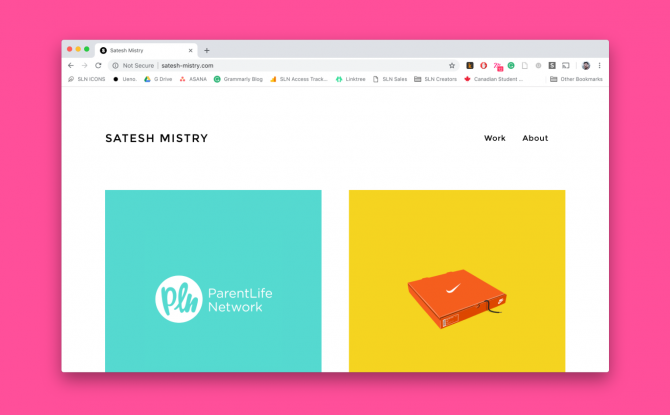 You can find and contact me on my portfolio site at satesh-mistry.com. You can also find me at dribbble.com/sateshmistry, Instagram @sateshmistry, and good ol' email satesh.mistry@gmail.com.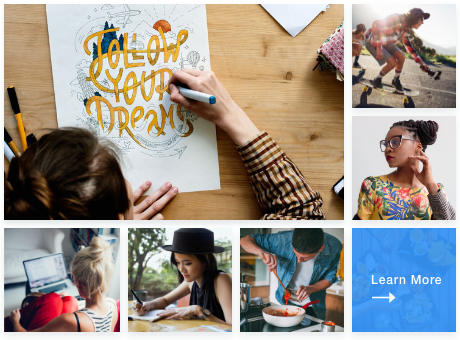 SLN Creators
Join SLN Creators to have your work featured.