Student Life Network recently sat down with Chantal M., a successful graduate from triOS College who is gainfully employed in her field of study.
Chantal M.
Program: Medical Office Assistant
Campus: Windsor
Occupation: Office Assistant @ Windsor Sleep Disorder Clinic
Here's what she had to say about her journey from triOS College, all the way to her dream job:
What exactly was it about triOS College that convinced you to study there?
Chantal: I have a degree in Music, but I needed a marketable skill to actually be able to pay the bills, and so a college like triOS was perfect fit for my needs.
Describe your first few weeks at triOS College. What was the transition like?
Chantal: I think the important thing to know is that I love being a student, and I love learning. So transitioning back into a college/learning format was something that was fairly simple for me. I think having Amy as our first teacher was a massive help as well, because she's just so awesome. I wasn't too great at the sciences in high school, but Amy made it interesting and easy to understand, so that made a huge difference.
Who were some of the people that helped you make the most of your time at triOS College? Were there any helpful resources that you relied on?
Chantal: I relied heavily on Amy, as a teacher. I can't say enough how much I loved the first months with Amy. She was helpful, kind, knowledgeable, interesting. And I know that all sounds like a cookie-cutter answer, but it really felt like our class was our little moment in the morning. My class was quite small, so we all got very close, and were able to bounce ideas off of each other, and help each other out without fear of being judged or anything like that. And I think in large part, that had to do with who Amy was as an instructor, and as a person.
What was the best part of your time at triOS College? What achievement/moment were you the most proud of?
Chantal: I made a pretty dope powerpoint. The powerpoint presentations in Bruce's class were so fun to watch and to make. I had a great time with that. We were given a slide limit for our shows, and I didn't want to listen so I fit like… 10 slides in each slide. So I'm pretty proud of that. Bruce can only blame himself for teaching us how to do it!
How did a triOS College education prepare you for your current job?
Chantal: It was mostly the environment. Everyone was really pragmatic and straightforward about what would be expected of us in the real world, and it really helped to prepare for working.
Tell us about the application/interview process. What was that like?
Chantal: I made an appointment to meet with one of the interviewers. To be honest, at the time of my interview, I was already fairly certain of what I was going to do, so any information just made it better. We talked about my schooling history, we talked about why I wanted to go back to school, and what I was looking to achieve. It was like having a conversation with a friend. And then after we went over the mechanics of the course, we did a short tour of the facility. We got to say hello to some of the teachers and other students, and then I was on my way to talk over what had happened with my parents, and get my package together to bring back for the next day.
What do you love best about your current job? What gets you up out of bed every morning?
Chantal: This is where I think I'm a bit of an outlier. I make spreadsheets for fun. So Medical Office Administration is right up my alley for something I find fun. Computers and organization are my passion, so helping to run an office, and assimilating into the system that they already have is exactly what I like to do.
What advice would you give to a fellow triOS College graduate who is interested in joining your team?
Chantal: Ask questions. So many questions. Its better to ask and be a bother than to make mistakes that need to be corrected later.
What advice would you give to your first-year self?
Chantal: My course was what, eight months? And I….technically am my first year self in the field currently. So I'm not sure I can 'look back' to a first year that I'm currently inhabiting.
Steve Jobs once famously said, "Your work is going to fill a large part of your life, and the only way to be truly satisfied is to do what you believe is great work. And the only way to do great work is to love what you do. If you haven't found it yet, keep looking." Chantal worked hard to discover her calling, and then applied herself day-in and day-out. Today, she is gainfully employed and quickly moving on up in her industry.
Will you be triOS College's next rising star?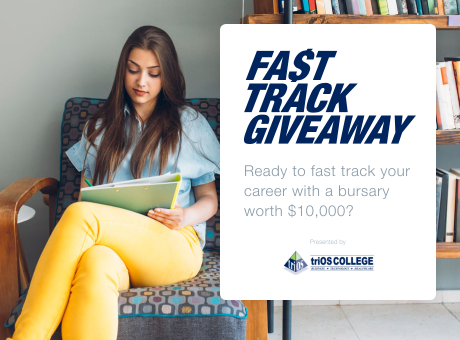 Giveaways
Get a richer, more rewarding future.