Meet Maddie Theresa, a high school student in Niverville College. She also happens to be the Founder of Social Clothing, a brand created to inspire a stronger sense of identity in and around Manitoba.
We recently sat down with Maddie to learn more about her, Social Clothing, and what's next.
---
What inspired you to create Social Clothing?
I have always wanted some type of clothing brand that was unique to Manitobans. Clothing that is designed by teens for teens unlike how most company's clothes are designed by adults for teens. The whole "Manitoba" theme is inspiring. Many people don't see the uniqueness and culture that Manitoba has. There is a story behind the name Social Clothing. The word "social" comes from Socials in Manitoba. Manitoba is actually the only province that has socials. It creates a unique aspect to our brand.
And how's business?
So far, we have over $2400 in sales in only 6 months and we have gained over 1100 Instagram followers. Hoodies have been sold everywhere in Canada, ranging from Edmonton, Brandon, Winnipeg, and small Manitoban towns.
Awesome! What sorts of roadblocks have you run into?
At first, this company started as a simple Grade 11 project but has evolved into a full-fledged brand. At first, we had 8 people involved in the brand. That was way too many. It was difficult to find jobs for everyone because at first since we were such a small company. Currently, we have 3 people involved in the company, including myself.
So what's the plan? What's next for Social Clothing?
Next, we are working on our Fall/Winter collection that is being released soon. This collection will have hoodies and long sleeves along toques a couple of weeks after the main collection is released.
The environment is something really care about, and we decided to help with our brand. Early next week we are implementing a program where with each item sold, a tree will be planted. This will happen by using Tree Canada. I am very excited about being able to help the environment while making people happy with our clothing.
Tell us about some of the other people or resources in your life that have helped with this.
Someone who has helped me so much throughout this journey has been my teacher Suzanne Mathieu. She is the one in the first place who got me to start this company. She has helped me so much through the ups and downs. I have learned so much from her.
How are you managing to balance full-time school and Social Clothing?
To manage school and Social Clothing, I keep a little black planner in my backpack. I write down everything I need to get finished in there. I colour code each thing I need to do according to which ones are a priority. For example, after I write all the things down, I highlight yellow for everything that is 1st priority, orange for 2nd, and pink for 3rd.
How do you unwind?
I unwind by going on bike rides on my red cruiser bike (complete with a bell, a horn, and a basket!) I love biking around town and seeing the architecture and landscape surrounding the town. There is something extremely peaceful about biking.
How do you deal with rejection when it comes to Social Clothing?
To deal with rejection I try to separate my personal self from my business. I always keep in mind that critics are not criticizing me personally. If my self-confidence was affected by every business rejection I got then Social Clothing wouldn't be where it is today.
What skills are helping you to make this dream a reality?
I find that the number one skill that is helping me make this dream a reality is passion. Honestly, if all you have is passion, then you are going to go far. Passion is what drives people to want to learn, grow, and be better as a person.
What advice would you give to your fellow student who wants to follow a similar path?
Try something new. Getting out of your comfort zone is super scary but it is the best thing for you. It's the unique things in life that draw people in. You also do not need an immense amount of money to start a business. I started Social Clothing with $72 and a dream. If I can do it, you can too.
Any books or articles you'd recommend other young people/students to check out?
I recommend the book F**k It – Do What You Love by John C. Parkin. This book taught me how to take risks, achieve my dream, and be successful. I bought this book when I was in Chapters one day. What's funny is that I never even read what the book was about on the back! I only bought it because I was fascinated by the egg on the front cover. As fate would have it, I ended up loving it.
What's something you wish you knew before you started?
I wish I knew how important marketing and social media really is. Social Clothing would have been much bigger today if we started advertising the second the business started. I also wish that I didn't undervalue myself as much as I did. I didn't think the company was worth it and that anyone would want out products. My confidence level was low, looking back, I would have got a lot more done if I had more confidence.
Who inspires you? Who are some of your role models?
To be honest, I don't have any role models. I kind of just do my own thing.
Finally, what is the best piece of advice you've ever received?
No one will do the work for you.
---
The SLN Creators series by Student Life Network showcases creative students across the country who are working on awesome things. From aspiring artists to programming prodigies and everything in between—we shine a light on Canadian students whose drive, creativity, and innovation can inspire us all.
Do you know any creators who'd be perfect for this series? Reach out to editor@studentlifenetwork.com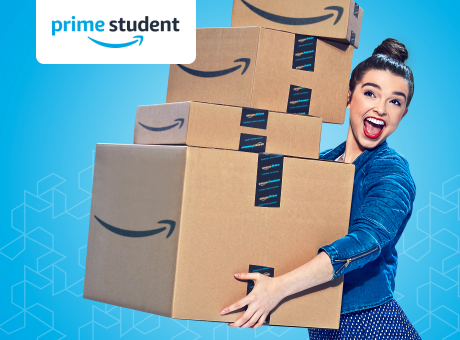 Giveaways
There's Being a Student, Then There's Being an Amazon Prime Student (It's Better)