The surefire way to impress the CEO of Microsoft? Two Canadian students figured it out.
The Olympics of Technology
The first step to meeting Microsoft's CEO and getting articles written about you across North America? Simple, just win Microsoft's Imagine Cup.
The Imagine Cup, for those curious, is an annual startup competition for students that acts like 'the Olympics of tech'. Over 40,000 student competitors applied until the field was whittled down to three teams at the finals in Seattle last week.
Did we mention what the winners get? A $85,000 USD cash prize, a $50,000 USD Microsoft Azure grant to keep developing their invention, and a personal mentoring session with Satya Nadella, the CEO of Microsoft. That's a pretty nice haul.
Give Them a Hand
Speaking of the winners, they're a couple of local boys, Samin Khan, a cognitive and computer science student at U of T and Hamayal Choudhry, a mechatronics engineering student at UOIT and an intern at Tesla (sounds like a pretty good internship).
They're behind smartARM, a new prosthetic limb that uses a camera in the palm to better adjust the hand to grip items. Their goal is for their AI system to learn from experience and adjust all other arms accordingly.
They realized that there was a market for this kind of invention when they saw that most prosthetic arms were either prohibitively expensive or purely aesthetic and lacking functionality. They wanted to make a cheap model that still worked.
There's still plenty of logistic questions about how they'll make this product the best it can be. That said, for now it's a great start.
Smarter Than the CEO of Microsoft
Nadella joked that the competition was so fierce that he "definitely wouldn't have made this final." He further suggested that he didn't even know what advice he could give to students who had already accomplished more that he had when he was their age.
He likely saw how groundbreaking these students were when unleashed with the full power of the resources around them.
To impress the CEO of Microsoft is no small feat for anyone, let alone a couple of 20-year-olds. Huge props to Samin and Hamayal for the confident presentation and brilliant creation.
Why Didn't I Think of That?
Okay, so not everyone is a tech genius, that's cool. A huge part of why they won was because they saw a real problem and created a solution for it.
In short, the best inventions are the ones that make you think "that doesn't exist already?" They seem so painfully obvious that you probably just assumed they were already a thing.
The best solutions are sometimes the simplest ones. Is there some sort of product or service you can envision to help solve a problem in your life? Even if you don't implement it, a spec version of the design or a write-up in a personal blog can be a great thing to add to an application when applying to schools or jobs.
Of course, you could always go for it and try to make your idea a reality like these guys did. Who knows what could happen? Maybe you could impress a big-time CEO as well.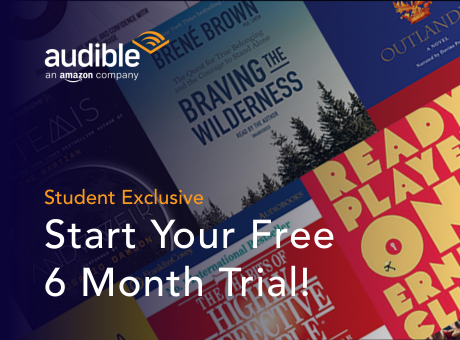 Giveaways
Get 2 free audiobooks when you sign up