So you landed the interview and prepared for it. Great. But are you ready show up to the interview and nail it? Just like how we did for our first and second ebooks, we reached out to the pros and asked them to give you advice on how to rock an interview with your dream company.
We broke down the art of making a lasting impression and packed our quick guide with tons of actionable advice. Our goal is to have you walking out your next interview like a boss, confident in the knowledge that you're a top choice.
Who is this book for?
Do you struggle to make small talk and build rapport?
Think the interviewers aren't impressed by your qualifications?
Feel like you can't express why you'd be an awesome hire?
Don't worry – we got you.
We want to make your life less stressful. We want to teach how to nail a job interview at your dream company. And we want to do it for free.
What's in the ebook? 
→ A simple framework to tell the interviewers what you've done (and why it matters).
→ Insider tips, tricks and hacks to appear confident, competent, and charismatic. Fake it until you become it, right?
→ A tell-all look at the modern recruiting process to help you understand what's holding you back.
Nailing The Interview, The Book
You've prepared for the interview. Now what?
Our free ebook will teach you about confidence, etiquette and how recruiters decide who to interview.
Did we mention it's free?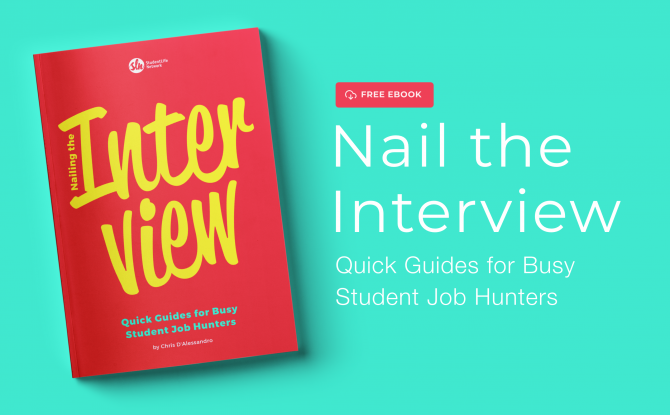 PS 
Did you find the book helpful? Did it help you get a job? Or do you still have burning questions for us to address? What would make this book a better, more helpful reading experience?
You can let us know. Seriously.
Email us here: contact@studentlifenetwork.com