In the viscious "How the hell am I going to pay for school?" cycle most students go through daily, more and more are coming to one answer: sugar daddies.
Jenny* is a 19-year-old first-year student at Mount Royal University in Alberta. She goes to school full-time for Business and works a part-time job in retail.
She also has a sugar daddy who cuts her a $1,500 cheque each month to help pay for school.
"School's expensive," she said. "I'm working and it's still not enough to cover all the bills."
Ok, before we get too deep, let's answer some questions that might be floatin around the ol' brain.
How old is this guy? 30
Do they have sex? Yes
Do they do things other than have sex? Yes
Do her friends and family know about this dude? No
Jenny met this "engineer who's too busy to settle down" on the dating website Seeking Arrangement six months ago. If you haven't heard of SA, it connects sugar babies (mostly young broke women) with sugar daddies (mostly older men with money to burn).
And she's far from the only one looking for a ballin benefactor to make bank.
More Canadian students looking for sugar daddies.

 
According to a recent report released by Seeking Arrangement, nearly 250,000 Canadian university students have signed up in hopes of finding a "mutually beneficial" relationship.
They even ranked which universities have the most sign ups: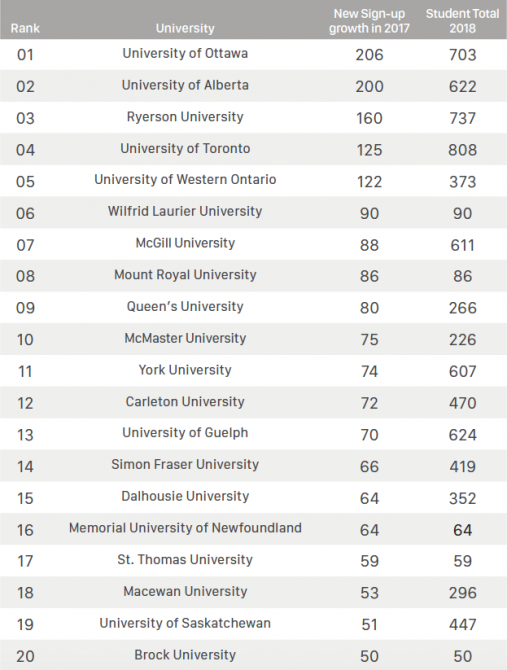 The numbers on this list are based on students who signed up using their school email address. The overall number of students (250,000) is much higher because they counted anyone who signed up using the occupation "student."
Not HUGE numbers, but still, it's strange to think an entire lecture hall's worth of your peers are dipping their toes into the "Sugar Bowl."
Not Breaking News: School is expensive.
According to Statistics Canada, tuition for undergraduate programs for full-time students is up 3.1% since last year, and up more than 40% over the previous decade.
"Once they graduate, they're already behind the curve and so much in debt they're almost like, 'Why did I even go to college?'"
With the average student loan debt in Canada sitting at $22,084 per student, it's no wonder some are looking for creative ways to pay the bills.
Seeking Arrangement spokesperson Alexis Germany told SLN students are treading water since the costs of school, living expenses and textbooks continue to climb.
"Students are trying to find a way to alleviate that financial strain instead of taking out more and more loans," she said. "Once they graduate, they're already behind the curve and so much in debt they're almost like, 'Why did I even go to college?'"
Sugar Baby University.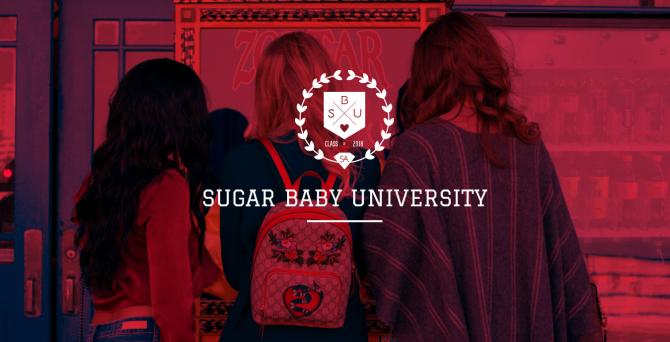 The student section of SA is called "Sugar Baby University" and their advertisements make it seem like a romantic fantasy.
"No minimum GPA required. Join today and get your education paid for by a generous sponsor."
The numbers are pretty damn enticing. Germany said the average monthly allowance sugar daddies give to sugar babies is $2,850. On top of that, there's usually gifts and travel.
A 20-year-old sugar baby from Toronto we spoke to via a sugar dating forum said she doesn't even have to go to school. She has two sugar daddies who each pay her $5,000 a month.
Dayummmm. That's some serious cash.
But what price are these young women paying?
The sugar babies we spoke to say they're just having fun and could stop any time. But, easier said than done when those cheques stop rolling in.
Haters will say it's prostitution…is it?
Jenny doesn't think so.
"I guess, to me, prostitution would mean you're just having sex with the person. We do all kinds of things together like a normal relationship, not just sex."
Seeking Arrangment works like Tinder or Bumble, where people match and start chatting. Actual "arrangements" happen offline. People caught making deals for sex on the actual site (e.g. escorts looking to score new clients) get the boot.
"It's a form of legitimized sex work."
Judith Taylor, associate professor at the University of Toronto's Women and Gender Studies Institute, says she understands the stress students are under to stay financially afloat, but at the end of the day, this is prostitution.
"It's a form of legitimized sex work," she said. "Your tuition is getting paid and you're doing some number of things for a person that they deem to be sexual in nature, whether that's to accompany them or to actually have sex with them."
She says Seeking Arrangement engages in consent because it tries to get people to admit what they want up front. But, on the other hand, it's perpetuating a stereotype that older men can date and pay for young women.
"Women have to be really honest with themselves about what they think $3,000 is worth to them. I don't know if heterosexuality really trains young women in particular to be honest with themselves about what they are willing to do, what they think they're worth, what they think sexual exchange is."
A symptom of chronic underfunding in Canada.
The sugar dating influx was news to Megan Boler, a professor in the Department of Social Justice Education at the Ontario Institute of Studies in Education.
"It speaks volumes about the impoverishment of public funding for education, if this is what young women are needing to do in 2018 in Canada."
"That's a huge price to pay with their bodies, time and energy for what should be a publicly funded good."
She said she has no desire to blame the victims in this narrative, but finds it disturbing that individuals would go this route as opposed to collectively organizing about the cost of education and fighting for improved financial aid like they did during the 2012 Quebec student strike.
"That's a huge price to pay with their bodies, time and energy for what should be a publicly funded good. It's absolutely outrageous."
*Names have been changed to protect the privacy of the individuals.