Last Tuesday, May 16th, a few members of the SLN team and I went over to the Hudson's Bay on Young and Queen in Toronto to shoot some prom attire videos, with the help of student models and the Bay's personal stylists.
In the midst of trying to find visually-interesting backdrops to film against, organizing the models and making sure the shoot ran smoothly, I also got a chance to dabble in the styling and fitting process.
As I was checking in with one of the models, one of the Hudson's Bay personal shoppers said to me, "Shoes. She needs shoes. Can you get me at least six pairs of shoes? Black, nude, silver. Sizes 38 and 39. Strappy sandals. Open toed."
My first thought: How the heck did she know what kind of shoe was necessary for that model's look, exactly? So I asked her.
Her response? "It's a full-length dress. You never wear closed-toe shoes with full-length dresses."
I was not aware of this rule. I then thought that if I don't know the "dos and don'ts" of prom fashion, there are likely many students that are suffering from the same struggle.
So, I've compiled a list of pointers to assist the fashionably illiterate in their search for a prom outfit.
For the "hour-glass" shape:
You've got sophisticated features and an itty-bitty waist. WWKD – what would the Kardashians do? Love 'em or hate 'em, the Kardashian women are experts at making the hour-glass body look AMAZING.
A few things that they do?
Cropped tops with a matching skirt. A look like this will accentuate your curves by highlighting the natural waistline.
Dresses that cinch at the waist. Again, a dress like this will compliment your shape by hugging your curves.
For the long and lean:
You're tall and lean, you've got options to show off your favourite features.
Dresses with cut outs. If you are tall and lean, you could try a dress with side cut-outs. Such look will highlight the waist, making the hips and chest look full.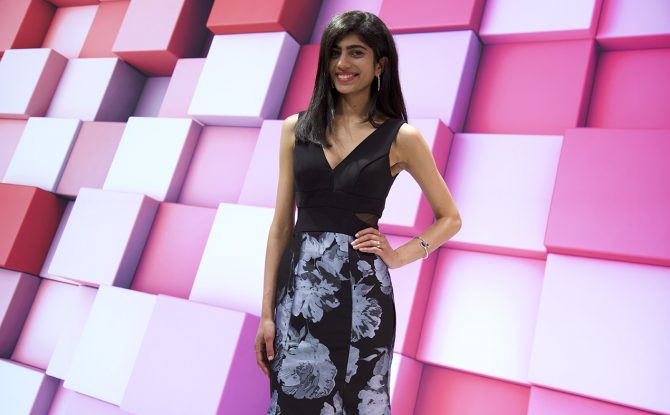 Pantsuit. I don't know about you, but I am loving the idea of women wearing pantsuits to formal events. The post-presidential, "I'm with her" vibes are trickling into this season's spring fashion trends. What better way to assert your agency and lady-power than to wear an edgy pantsuit to prom? I don't know, just some food for thought.
When you literally can't even: 
If you "literally can't even" fathom the idea of searching for or paying for an expensive prom dress, just keep it simple. You can't go wrong with a "little black cocktail dress" because it looks good on everyone and can likely be re-worn for several occasions.
Check out the Hudson's Bay for an abundance of suitable black evening dresses (and other colours too!).
What about accessories? 
My trick is to always pick one or two items that speaks to me. Whether your accessory of choice is a statement "costume" piece, or a small silver pendant that your grandmother gave you, let it shine without over crowding it. Less is more. Always.
And of course, for the men.
For narrow shoulders:
Colors and Prints. Its always fun to experiment with combinations of bold colours and fun patterns. Both styles together will give the illusion of shape, but also it just looks cool.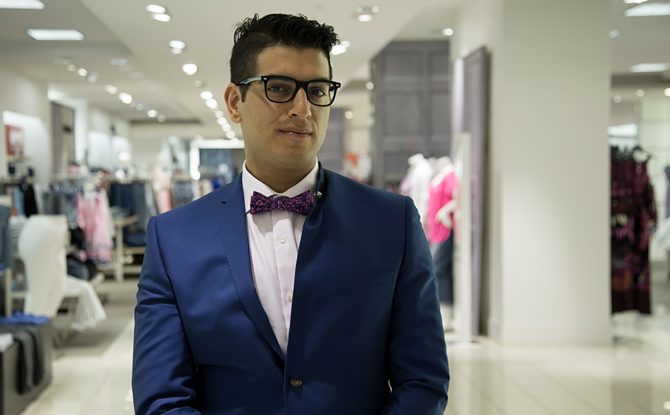 Vertical stripes. Remember that TLC show, What Not To Wear? (Is that show still running?) Stacy London always STRESSED the fact that horizontal lines made the body look wider. If you want to look particularly put together this prom season, stick to vertical stripes. Always.
For the "V" or inverted triangular dudes:
Fitted jackets. Show off with a nice, clean, structured suit. If you're looking to make a statement, try a classy but edgy coloured suit as an alternative to original black.
Horizontal stripes. Okay. Stacy might give you a pass on this one if you have a "V" body. Horizontal stripes will help balance your broad shoulders with your torso.
When in doubt:
Layering. Add some definition through layering. Maybe this means layering different prints with solids, or maybe it means wearing a vest underneath your blazer.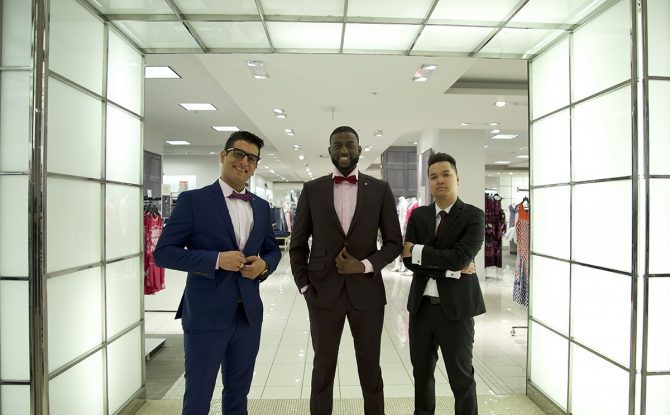 Skinnier pants. Another way to add definition and shape to your look.
Okay, hope these tips help! If you're still looking for ways to complete your prom look, check out Hudson's Bay for fine-tuning details such as shoes, accessories, hand bags and more.