Nine students. Nine innovations. Nine reasons to regain some faith in humanity.
Canada is home to numerous young people who continuously strive to make a difference in the world. From social activism to charity, the good-spirited go-getters of our country have done a lot to pay it forward and use their talents for great things. And we're proud of every single one of them. We recently featured six kickass students who have performed wonders in the realms of business, social justice, and medicine—we're introducing you to nine more fine young adults who have made astounding contributions to the scientific community and earned their places as nationally-recognized thinkers. Several of them have been recipients of the Manning Innovation Awards, and if that doesn't convince you of their awesomeness, just check out their stories below.
Dan Alferov | London, ON
A.B. Lucas Secondary School
17-year-old Dan Alferov, named a Manning Young Canadian Innovator, found a way to use patients' facial expressions to diagnose potential mood disorders. His research, which he conducted as a volunteer at the Brain and Mind Institute at Western University, has led to the development of a supplementary test that can greatly assist in confirming mood disorder diagnoses. His work has been deemed by the Manning Awards' judges to be not only innovative, but better than current methods for identifying and diagnosing mood disorders.
Aisha Parven | Toronto, ON
Notre Dame Catholic Secondary School
Manning Innovation Awards recipient Aisha Parven, a Grade 11 student, created a project entitled "Combining Gold Nanoparticles with Indium and Panitumumab to Inhibit Cancer." The title may appear intimidating, but the impact that it can have on the recovery of cancer patients certainly isn't. With Parven's method of using non-radioactive heavy metals and antibodies (indium and panitumumab respectively), she was able to kill 65% of cancer cells within just one week. Her research is not only promising, but could alter the future of cancer treatment within the foreseeable future.
Alex Deans | Windsor, ON
Académie Ste. Cécile
A recipient of the 2015 Weston Youth Innovation Award at just 18 years old, Alex Deans invented a novel piece of technology to assist the visually-impaired. He cleverly dubbed it the iAid, and it allows those with vision problems to more easily navigate their surroundings and avoid mobility barriers—it uses ultrasonic sensors to assess the user's surroundings. The technology works both inside and outside. His idea began to blossom at age 12 when Deans witnessed a visually-impaired woman trying to cross a road. Six years later, the concept manifested into the iAid.
Aditya Mohan | Ottawa, ON
Colonel By Secondary School
Aditya Mohan is a young boy with a real penchant for intensive research. At the tender age of 18, Mohan won the Sanofi Biogenius Canada competition, which recognizes high school students' achievements in biotechnology. He essentially manufactured a virus that can target harmful cells in a human body and destroy them while ignoring healthy cells. Not only would this treatment be ideal for sufferers of cancer, but for patients with other autoimmune diseases. At the age of 15, he ceaselessly emailed professors attempting to receive help with his research; his request was finally accepted by Angela Crawley, a researcher at the Ottawa Hospital Research Institute.
Arjun Nair | Calgary, AB
Webber Academy
When Arjun Nair found out that multiple sclerosis patients can avoid being placed in wheelchairs if they receive earlier diagnoses, he went straight to work on a solution. At 17 years old, Nair developed a computer program that uses statistics and artificial intelligence to analyze patients' genes in order to see if they have MS. For this stellar breakthrough in multiple sclerosis diagnostics, he won an innovation award at a science fair held in Waterloo.
Sandrine Bayard | Sept-Îles, QC
Cégep de Sept-Îles
After Sandrine Bayard's grandmother experienced intense pain while removing bandages on a burn wound, she resolved to invent something that would make the lives of all burn victims more painless. "Le pansement qui pense" (The Bandage That Thinks) is a special medical bandage that is able to detect the presence of bacteria beneath the material; this prevents the early removal of bandages, as it lets patients know the moment they must be changed. Bayard earned herself a Manning Innovation Award for this achievement.
Austin Wang | Vancouver, BC
David Thompson Secondary School
Austin Wang sought to create a cleaner method of producing energy. He accomplished this feat by employing the use of special bacteria to generate electricity; the process involved analyzing the genes of microbial fuel cells (MFCs) and detecting which were suitable to produce efficient and effective energy output. Wang "[screened] possible genes that could be inserted into the genome of Exoelectrogens, a specific type of energy-producing bacteria used in the MFC." His research won him the Manning Awards' $2,500 Best Project Award.
Gayashan Tennakoon | Ottawa, ON
Cedarview Middle School
At the tender age of just 13 years old, Gayashan Tennakoon decided to challenge the methods used to extract bitumen from the Alberta oil sands. Rather than using the current water-based system of obtaining the oil, Tennakoon suggests that using organic compounds (such as Kerosene and Toluene) is far better and "could reduce negative environmental impact of wastes." He won four awards for his achievement: the Excellence Award gold medal (grades 7 and 8), the junior-level Challenge Award for resource-based projects, the Carlson Wagonlit Award for travel-based projects, and an entrance scholarship to the University of Western Ontario worth $4,000. He is currently looking to contact larger oil companies so he can pitch his ideas to them.
Samna Aziz | Hamilton, ON
Westmount Secondary School
Grade 11 student and Manning Innovation Awards recipient Samna Aziz conducted strong research on osteoporosis, which 1 out of 10 Canadians over the age of 40 suffer from. Her goal was to discover a better way to replace weak bones in patients, as the current materials used in bone cement might contain toxic materials that can adversely affect the body as the cement ages. "The basis of my project is on redeveloping standard acrylic bone cements into biodegradable materials," Aziz said; she did just that by creating a cement mixture that is not only biocompatible, but free of toxins and very similar in strength to a real human bone. Her mixture will soon be run through clinical trials and may therefore replace the bone cement currently in use by doctors.
Now For a Quick Reminder…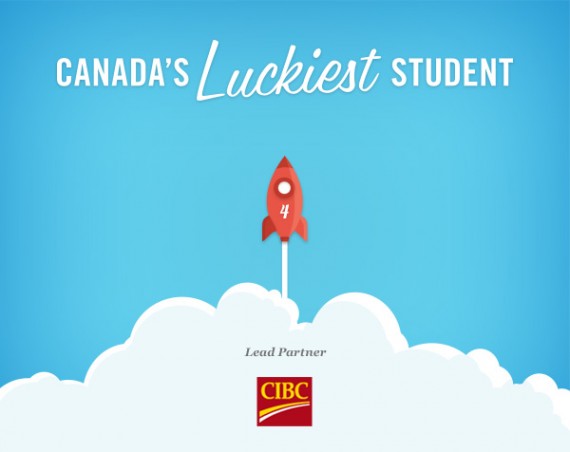 At this point, you've read up on some of the most astounding young minds in the country. You probably feel quite informed—wise, even. And you'll probably feel even wiser if you head over to the new Canada's Luckiest Student website and sign up for your chance to win a $20,000 GIC from CIBC, free groceries for a year, $4,000 in textbooks, and much, much more. Remember to opt into each prize to secure your chance to win 'em. You may not be the science type, but we'll bet you're the winning type.