Whether you realize it or not, you network every day of your life. You text your friends, call your parents, connect online through social media, or chat up that cute barista. But networking is integral when building your career or hunting for your dream job. Done correctly, it could gain you information on what's going on in your field of interest, the names of companies who are hiring, and even tips on how to get that job.
You'll become that person that says, "Don't worry, I know a guy."
Unfortunately, many people—even some adults!—have no idea how to properly network. Never fear, dear SLNer, for I have created a guide just for you! By practicing, you'll be able to make a connection with almost everyone, and who knows what amazing opportunities they'll lead you to! (i.e. dream job).
Know Thyself
I get it—you want a job, or a better one. Unfortunately, networking is not as simple as standing there and begging people to help you out. You need to give people a reason to turn your way, to take interest in you. What are your talents? What are your skills? Do you currently have any connections that others could use? You need people, but people will only want you if you show them your worth.
Do Your Research
Think about the kind of people you would like to meet, who would work best with you and vice-versa. If you can determine some specific names, that's even better. You can also try asking people in your direct network to put in a good word for you if they do.
Once you've lined up some possible leads, figure out if there are any upcoming events that these people will be attending, like office parties, corporate and/or charity events. If your friend has pulled through and made a connection for you, plan an in-person meeting over coffee.
Be Prepaaaaaaaared
Before actually meeting these people, email them to briefly introduce yourself and let them know that you'd like to talk to them. This makes the introduction in person less jarring. You should also create a LinkedIn profile and a solid business card for people to use to contact you afterward. Nothing yells "professional!" like LinkedIn and a fancy card with your name on it.
Practice Makes Progress
Have a plan of attack. Will you be looking for multiple people at a big event, or is this a one-on-one meeting set up by a friend? Don't even think about winging it. Take the time to consider the impression you'd like to leave. What's your story? Why are you at this event? What are you hoping to achieve? On the flip side, try not to sound too rehearsed. They're looking to work with a human, not a teleprompter (unless that's the job you're looking for, in which case chase your dreams!)
It's Not All About You
Everyone has a reason for being at an event, but nobody's going to get very far if they're thinking of themselves all the time. Yes, you should remember your goal, but you should also be open to the ideas and interests of others. Maybe you'll find out that someone is looking for a certain job, and while you can't help them, you know someone who can! Playing connect-the-dots with the interests of the people in your network not only helps others, but also expands your network. Not to forget the fact that being selfless makes you look pretty good.
Warm Welcomes
People tend to see you before they hear you, so remember to smile and have relaxed, open body language. And because you won't be the only nervous person, be friendly to everyone you meet, whether you want to talk to them or not. You can't dismiss others as unimportant just because you don't need them now, doesn't mean you won't need them or one of their connections later. Listen to what everyone has to say and ask appropriate questions. People love to talk about themselves, so let them. You'll have your turn to strut your stuff.
Words: Wield them Wisely
Master the art of small talk to make first conversations light and easy. While you're there for business, it's best to let people get to know you a little better before getting down to the nitty-gritty details of your goals. If you haven't already, start reading the newspaper when your old man's done with it. They're a great source for conversation starters.
Another good skill to hone is handing out compliments, which makes people relaxed and more comfortable with you. As with everything else, you have to sound sincere, so be careful not to lay it on too thick. You don't want to sound too desperate.
Remember confidence. Avoid self-deprecation and only apologize if you've actually done something wrong, like accidentally knocking that cupcake onto your co-worker's white blouse.
Exit Stage Left
When you've exhausted a conversation, or see someone else you'd like to speak to, have a polite plan to move on. Give them your business card and remind them to find your LinkedIn profile you created earlier (you did do that, right?) Let them know that they should not hesitate to contact you whenever they need or want to, and that you yourself will keep in touch with them.
Don't linger around an event longer than absolutely necessary. If you're just sitting at the side, sipping on your drink of choice, you probably don't need to be there anymore. If you've already spoken to everyone you wanted to, then you're good to go, networking pro.
Congratulations to Jordan Roberts, Winner of Week 2 in CIBC's $10K Study Break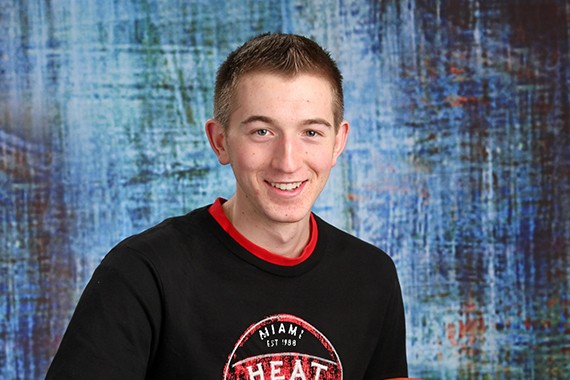 Enjoy that $1,000 study break, Jordan! For your chance to win, see this week's challenge.