"I have 422 friends, yet I'm lonely."
So runs the beginning of Gary Turk's spoken poem "Look Up," which has gone viral with more than 49 million YouTube views. The video goes on the attack against smartphone overuse and social media. It warns that we're at the beginnings of an antisocial society.
We've likely all heard this song and dance before. "Smartphones are ruining our relationships, creating isolation"… the list of negatives drags on. Maybe you're thinking, "OK. OK. But are you asking me to live without my phone?"
The fact is, smartphones are cool. They're incredibly useful. They're part of everyday life now. To contact all the people you know with a few taps of your finger. To network. Suddenly we're connected to friends around the world without having to step outside the front door. But do smartphones really make faces obsolete? The problem above arises from the fact that 87% of teens would rather communicate via text than face-to-face.
Here are ways I swap texting with in-person communication—and discover that faces do take "social life" to a whole new level.
A Room Full of Strangers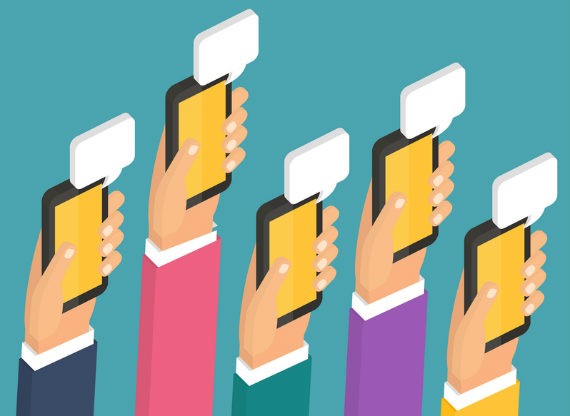 Sometimes, when I'm at a party, my mental alarm system goes off. Too many strangers. Too many strangers. Activate instant escape. And out comes my phone. Sometimes, I mute the alarm system and look around. There's usually someone who has the same blank look on their face. We start talking.
Voilà, I've met someone new!
Turn off notification chimes. One article suggests that hearing notification chimes gives us a sense of urgency to check our phones. Turning them off can help you stop looking at your phone (every 45 seconds) and more at the people around you.
Leave your smartphone at home—on purpose. Yes, you will survive. Start by leaving it at home for one hour. Then build up the phoneless hours slowly. Soon you'll be able to handle any meet-and-greet sans texting.
Good Ol' Fashioned Face-to-Face
Facebook and texting are great for small chats ("What was that paper on again?"). But when it comes to long conversations with close friends, it pays to meet up. A big laugh together can't be reduced to "LOLs." A good cry about a breakup can't be summed up by a sad-face emoticon. You miss the emotion. And chances are that there will be miscommunication on serious issues by simply texting emoticons back and forth.
Arrange times to catch up. Talk with your friend about how often you both want to meet up. Once you've decided on a meeting, stick to it. And when you do get together…
Avoid phubbing. Snubbing other people in favour of your phone is not cool. One way you and your friend can steer clear of this is by setting out your phones so you can both see them—and catch each other reaching for them!
Group Projects
Confession: I'm often tempted to communicate with my group members solely online. At university, where everyone has their own schedule and may live cities away from each other, this option looks like the convenient one. When I do meet up with my group, though, the atmosphere is powerful. We talk about things other than the assignment at hand. Suddenly group members become real people, not students pressing towards a grade.
Exchange schedules before numbers. It's always good to know if and when each member is available to meet up. Set up group appointments the day the project is assigned to avoid last-minute scheduling conflicts.
Forget the library. Coffee shops have free Wi-Fi for research projects. When it's nice out, parks are great for discussions and brainstorming. Or try exploring your campus for a work spot that you all like.
My call to SLNers and students is this: If you think you spend more time online than you do talking to people in person, don't stress out about giving up your phone entirely. Instead, try a few of these tips for facing some faces. I was rewarded by some awesome socializing. I hope you'll be too.
Got more tips to stop phubbing? Share away below.