I finally cracked around the four-week mark.
Setting down my abundantly annotated stack of assigned readings, I buried my tired face into my palms and wondered if I was the only one who was struggling this badly with the coursework.
Once my train of thought inevitably veered into self-sabotaging questions of whether or not I belonged in graduate school in the first place, I knew it was time to get out of my head and talk this out.
"Does anyone else feel like their brain is broken?" I half-jokingly asked my classmates.
Enthusiastic nodding, snapping, and digital clapping ensued. Our Zoom chat swelled with a cascade of agreement.
Weeks earlier, I was thrilled to be accepted to York University's Joint Graduate Program in Communication & Culture—one of the only programs of its kind in the country, with a strong track record of producing career-ready graduates.
And I had many good reasons to believe that I would be a top student. For starters, I held an Honours Bachelor of Arts in English Literature. I was also a mature student with more than a decade's worth of marketing & communication experience under my belt. And if that wasn't enough, I was also a highly-rated college & university instructor.
All things considered, I felt like this program was tailor-made for me.
Yet here I was, barely into my first semester, feeling like an absolute fraud and failure. Far from a walk in the park, I felt lost in the woods.
Once it became clear to our professor that almost every student in the class felt the same way, she paused the lecture to give us a pep talk.
"What you're all experiencing is perfectly normal," she calmly assured us.
"It's part of the journey."
She was right. As it turns out, there's even a psychological explanation for this phenomenon of illusory superiority:
"The Dunning-Kruger Effect."
This effect is a cognitive bias in which people with low ability at a task overestimate their ability.
Here's a diagram of how it plays out over time: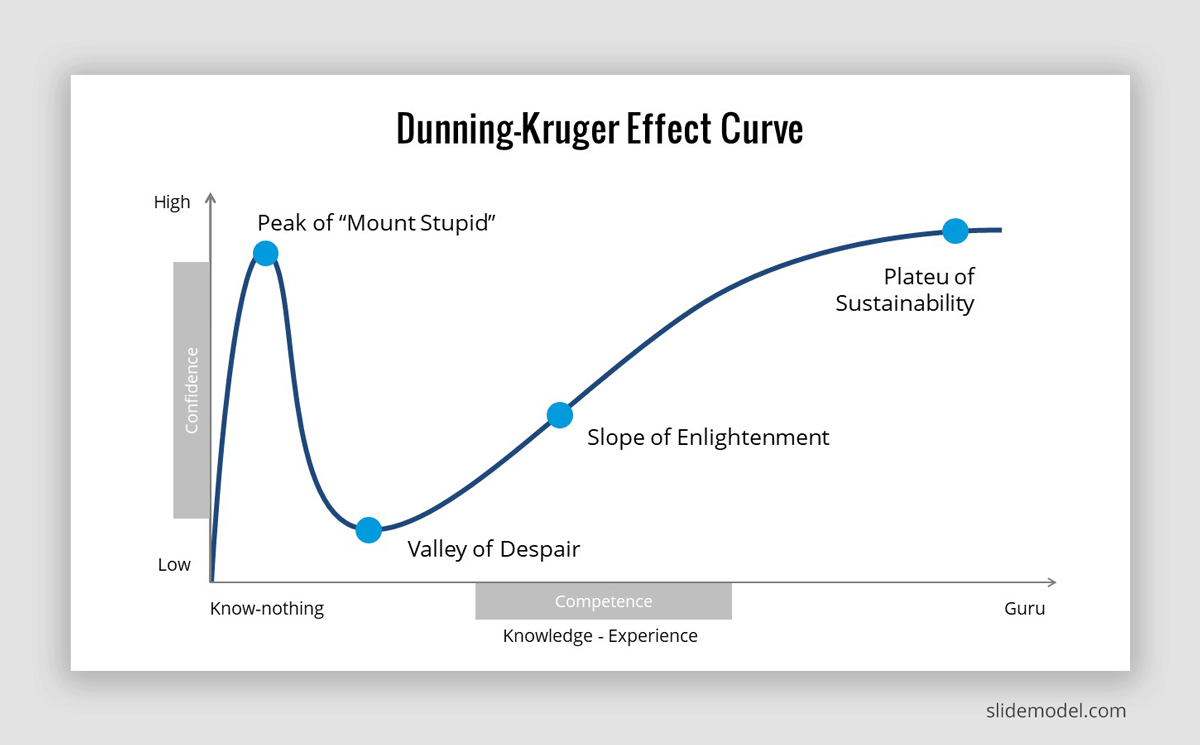 Equipped with the knowledge of The Dunning-Kruger Effect and my professor and classmates' validation and support, I began to see the forest for the trees—
In retrospect, I experienced a momentary spike in confidence during the first three weeks of class. Having built momentum with some of the more comfortable introductory readings, I quickly reached "The Peak of Mount Stupid"—a point at which my confidence was high and my competence was low.
But by week four, when I had trudged through enough dense readings and came to terms with how vast and complex the landscape of thought appeared to be, I found myself tumbling deeper into "The Valley of Despair"—a point at which both my confidence and competence was low.
This depth was not the end of my journey, as I previously believed. Looking back, I had barely begun. I owed it to myself to see just how far I could go.
By my fifth week, I finally noticed the amount of support offered by the program. Supports, as it turns out, that had been there all along: every week, I'd receive detailed program updates from our cheerful program coordinator; whenever I'd miss a class or deadline, my professor would check in on me; my classmates created a supportive Facebook group and held regular virtual meetups; my jovial faculty advisor worked with me to craft a plan of study.
Even though I found myself at the base of The Valley of Despair, staring up at The Slope of Enlightenment, squinting to see The Plateau of Sustainability, I was hardly alone.
And so I pulled my face out of my hands, picked up my papers, and resumed the journey.
Did the readings suddenly get easier? No. In fact, they got harder and harder. But I trusted the process. I cast aside my need to appear competent and relearned how to be a proper student.
I stopped living up to the expectations of being an honours undergraduate student; I stopped living up to the expectations of being an industry expert/thought leader; I stopped living up to the expectations of being a post-secondary instructor.
Once I let go of all of my self-imposed expectations of being a mature student "who should know better" and accepted my role as an open-minded and hardworking student, my experience completely changed.
I would read and re-read. And then I would read some more. I would ask questions over and over again, even if they seemed annoying. I did all my homework, I showed up to every class, and tried my best to participate meaningfully.
I immersed myself as fully as possible into the diverse & welcoming community, powered by amazing faculty motivated by a true desire for positive change.
I gave it my level best. And slowly, I began to see the milestones on this journey in the form of grades:
95.
80.
85.
At the time of writing, I'm on track to finish my first semester with an A.
Yet, despite every indication that I'm making progress in the right direction, I still don't feel completely ready to make the long journey from novice to expert. But unlike at the start of the semester, I no longer allow those feelings to get in the way of trying. Instead, I'm employing a handy trick to deal with imposter syndrome: do the opposite of whatever your inner imposter is telling you to do.
Rather than falsely believe that I'm a fraud and failure, rather than drop out of the program, I will continue to trust the process. I will continue to rely on the support of my amazing professors, my socially-conscious classmates, and my top-ranked program. And I will emerge from The Valley of Despair and complete the trek to the convocation stage.
All of this is to say: don't sabotage yourself before you even start.
Just remember—there's a positive and welcoming community of like-minded people out there who are waiting to pick you up when you fall down.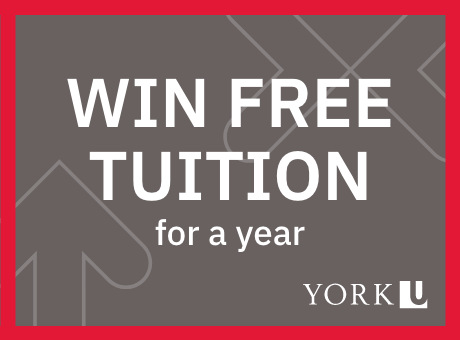 Contest
Enter for a chance to win a year of free tuition from York!