York University was established in 1959 and currently has an enrollment of over 55,000 students annually. I knew I wanted to go to York because I wanted to stay at home, and it was the closest university to where I lived. In addition, I also chose York University because of the BBA program at Schulich, which I knew would give me a solid foundation in Business and is also a reputable program. What I did not know was how supportive and accommodating York University is for students.
It took me a few years to learn about all of York's wonderful resources and support available for students and how to use them. York University provides a supportive environment by hiring amazing professors and TAs to teach classes and provide students with the knowledge they need to prosper in their studies. But it is not just the professors and classes that York offers, there are also other services, including the writing center and accessibility services, to help students receive the help and support they need to succeed in their careers.
1. Amazing Professors
York University has some of the most amazing and accomplished professors from around the globe. I have had the opportunity to be taught by some of these amazing professors in my career who were willing to sit down with me to explain complex problems and allow me to succeed in the course. I remember meeting with my professor for statistics class after I did poorly on the midterm. It was a heart-breaking moment because I am usually quite good at math, but she was willing to meet me during her office hours, address my concerns, and help me to succeed in the course. I learned that it is important to get to know your professors and use their office hours. These professors are experts in their fields and have the education and experience to help you succeed in their course. In addition, professors could also help you with employment. For example, one of my accounting professors was promoting an internship at a boutique accounting firm specifically to her students. Overall, York University has selected amazing professors for your academic studies so get to know them and go to their office hours because they could help you with applying to graduate school or furthering your career.
2. Writing Centre
York University offers a writing centre on the third floor of the Ross Building that is free for all students. They offer 50-minute one-on-one appointments where you can sit down with a writing instructor to go over your work together. The instructors range from PhD students to retired professors and all are eager to help. One thing to note is that appointments fill up quickly, so make sure to book your appointment in advance to secure a spot. In addition, the Writing Centre offers 15-minute drop-in appointments to see an instructor to discuss a question or concern. I have been going to the Writing Centre since I was in my first year and it has improved my writing skills as well as my grade on assignments and essays. Getting that support and acquiring new writing tools paid off as I even made it on the dean's list.
3. Accessibility and Counselling Services
This is a service that not many students know about unless they came from high school with accommodations. Accessibility services offer academic accommodation and support to students with disabilities. This service is available to students with temporary or permanent disabilities, enrolled in full-time or part-time studies at York's Keele campus, registered in undergraduate or graduate studies and/or enrolled in the School of Continuing Studies. Student Counselling and Development at York University offers a range of support to students which can be found on each of the sub-tabs under "Student Support". These include the following: Walk-in Counselling, Emergency support, short-term counselling, group counselling, and workshops. I have used the Counselling service personally and they are amazing at what they do. They take the time to listen to students, understand their issues, and provide feedback and tips to help. It is also confidential so everything said between the meeting is not shared with anyone. All these services are free and available to all York University students.
York University provides a supporting and welcoming environment for students to prosper in their studies and receive the education they need to succeed in the future. York University offers amazing professors and TAs, a Writing Center, and accessibility and counselling services so that students have the resources they need to be successful in their studies and change the world when they leave. Even though my time here is coming to an end, York has made a huge impact on my life and I am grateful for the education and overall experience I had being taught at this amazing institution.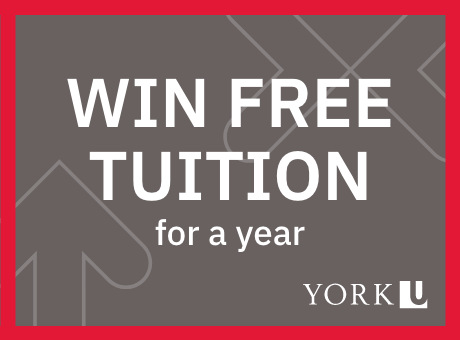 Contest
Enter for a chance to win a year of free tuition from York!