Discover how you can start on your entrepreneurial path, right now. Even if you're still a student, your digital entrepreneurship doesn't have to wait.
Young business leaders and student entrepreneurs keep listening to the Leaders of Tomorrow podcast. What are they hoping to find in hearing these interviews and insider tips from the 8-figure Student Works Management Program? Our best guess: everything they need to become a leader of tomorrow. And now you can too.
We picked out one of the best episodes to listen to right now. Or, you can keep reading for a recap with some serious advice on how to succeed as a student entrepreneur.
How to Run a Profitable Airbnb Business in the Wake of COVID with James Svetec
In this episode of the podcast, Student Works Management Program head coach Chris Thomson interviews James Svetec, a Student Works alum, former Carleton business student, and owner/founder of the BNB Mastery Program. Currently, James helps others earn a full-time income by managing Airbnb properties. Ironic, since he was once getting those same kinds of business tips from Student Works.
In fact, those entrepreneurial skills he picked up during his time at Student Works laid the foundation he needed to succeed as a digital entrepreneur, whether it be managing Airbnb properties of getting into online coaching. Perhaps that's why he's so keen to keep passing that knowledge forward.
As an online coach, James saw first-hand the value of being able to dramatically scale up his business. But, he also realized that his systems would never all be perfect from the start and that it's important to prioritize progress over perfection or risk stalling out.
LISTEN NOW: Leaders of Tomorrow could give you the missing advice you need to succeed.
In particular, James speaks to an interest in a topic that students might take on today with Student Works: social media ads. He proceeds to share his own expert tips and tricks for running successful ads. Specifically, he talks about letting the data tell the story of what's converting and not getting too emotionally attached. 
He then further explores the difference between paid traffic and organic traffic. In part, he looks to his new YouTube channel and ponders whether organic traffic from there can lead to more profit for his business.
Finally, James and Chris discuss insulating your business against losses and running it within your means. In this case, referring to how Airbnb has handled things in the wake of a massive decline in tourism.
These lessons and more are all waiting for you inside the Leaders of Tomorrow podcast.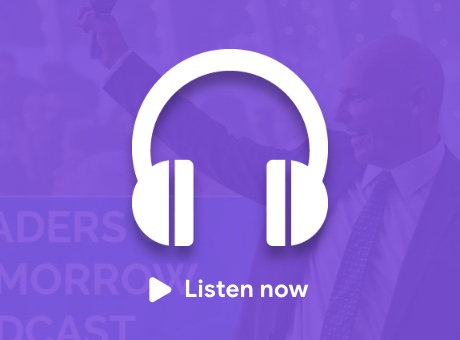 Podcasts
Check out the full podcast