Get a chance to win a next-gen system of your choice, accessories, and much more! Enter Canada's Luckiest Gamer today.
EDITOR'S NOTE: This round of Canada's Luckiest Gamer is now closed. To enter the current giveaway, click here.
You read that right.
Look, SLN has a lot of gamers. Not just our members but our staff too. Between our gaming crew in the office, we're currently attempting to 100% Assassin's Creed: Odyssey, getting destroyed in Call of Duty: Modern Warfare, replaying The Last of Us yet again, and climbing up the NHL 20 online leaderboards.
Understandably, we wanted student gamers like you to have a chance to win a truly epic gaming prize bundle. The kind of thing we all wish we could have won when we were students. And that's why Canada's Luckiest Gamer was created.
What Is Canada's Luckiest Gamer?
Canada's Luckiest Gamer is your chance as a gamer to win a custom bundle of all the brand new games, must-have gear, and yes, even entire consoles that you want.
One student is going to walk away with an unreal gaming prize bundle. We can't wait to see who it is and what they win.
What Can I Win?
If it's on Amazon's Top 50 Gaming Bestsellers list, then you could win it.
Looking for a new console like a PlayStation 4 Pro, Xbox One X, or Nintendo Switch? Done. Had your eyes on a new game like Call of Duty: Modern Warfare, The Legend of Zelda: Link's Awakening, or Death Stranding? It's yours. Curious about something new like a year of Google Statdia or a VR headset? We'll hook you up.
You get to pick. You just have to win.
How Do I Enter?
For starters, this is a completely free, random draw that you can enter for a chance to win in just two minutes.
Here's the thing, though, this giveaway has a BIG twist. Gaming is more fun with friends…and so is winning. That's why you have the ability to level up your potential prize bundle and give yourself the chance to win every single console and then some. You just need a little help from your friends…
How Can I Win More Than One Prize?
For every friend you refer to Canada's Luckiest Gamer, you'll get to claim another prize item if you win.
So if you refer, say, your Fortnite squad and you win, you'll get to claim three prizes instead of just one. Your Destiny Fireteam could score you an additional five prizes. If you don't stop there, you could earn every single item on the Top 50 list.
And don't worry about the extra competition. If one of the people that you refer wins, then you win too!
So the more people you refer, the more prizes you could win and the more chances you'll have to win. Sound good? Enter Canda's Luckiest Gamer right now for a chance to win it all.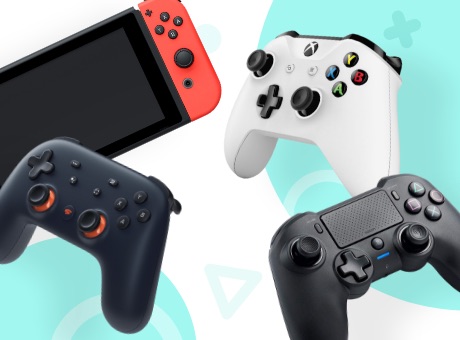 Giveaways
Want a chance to win every console?