At Student Life Network, we understand what it's like to be a student and that thinking about the future can be overwhelming. We have had the opportunity to speak with some young individuals about shaping the future, and they gave us an inside look into Canada's tech industry.
Lianne Lardizabal graduated from Computer Science at UBC and spent a lot of her free time enjoying various sports and all things tech. Now, she is working as a Software Engineer for EA Worldwide Studios. 

From a kid to a student and then to a young professional, how did you end up in Canada's tech industry?
My love for technology stems from childhood. At 3 years old, my hobbies were painting, drawing, and playing video games. I was fascinated with video games as an interactive art form and wanted to learn how to make my own. In elementary school, I went to my local public library every day to use the computers. I would research how to "hack" video games, which developed my interest for problem-solving and introduced me to the capabilities of technology.   
Fast forward to university where I studied Computer Science at the University of British Columbia (UBC). During this time, I worked in areas such as back-end development, machine learning, and operating systems. I also attended major computer science conferences across North America because of scholarships I won from Google, Grace Hopper Celebration, Society of Women Engineers, UBC, and more. 
After attending several computer science conferences that support women in STEM, I was inspired by the influential women who made a huge impact on technology through their work. Instead of passively pursuing a standard career as a Software Engineer, it became my goal to defy common stereotypes and actively inspire young girls to seek a career in a field that I am greatly passionate about. As a lover of technology, sports, and art, I paved my way to Electronic Arts (EA) as a Software Engineer. Now I am always challenged and pushed to improve every day.
Was it always the tech industry for you? How did you go from an athlete to a software engineer for EA?
I had an aptitude for using technology at a young age. Receiving my own computer at a really young age played a huge role in my willingness to learn new things because of how accessible and simple it was to look up new information. However, I also grew up playing sports. Outside of my life as a Software Engineer today, I actively train in jiu-jitsu. Both technology and sports continue to be great passions of mine!
Can you tell me how you went from a degree in Computer Science to working on FIFA 18/19?
During my studies at university, I took advantage of the different opportunities offered by my school. I did the co-op program. I also conducted research in Computer Science with some professors. These experiences helped me build my skill set. In my last year of studies, I applied to EA, went through the interview process and, right after graduation, started working on the Development and Release Engineer team that supports FIFA.
What were some of your biggest obstacles throughout that journey and how did you overcome them?
One of the biggest obstacles I faced was figuring out what area to focus on in my career. Computer Science is a really big field with limitless applications. I was interested in many areas but I was uncertain which area would be a good fit for me based on factors such as level of expertise or industry demand. By accepting all kinds of opportunities and taking on unfamiliar challenges, I built my confidence in adapting to new situations and technologies. I learned that I don't have to be fixated in a particular area for the rest of my career. In fact, it's more important to be adaptable since technology changes rapidly.
What advice can you give students and recent grads alike? 
For students, I recommend taking advantage of all the career opportunities available at their school. Schools have so many resources such as career counselors, student groups, resume building workshops, career fairs, and more. Build tangible skills by developing side projects or doing internships. For recent graduates, I recommend a serious preparation for technical interviews. Practice coding problems every day, conduct mock interviews and speak to others who have gone through the interview process for additional tips. Interview preparation is a large time commitment itself, so dedicate ample time for studying before an interview.
Is there a main thing you can credit to your success today? What is it?
I owe a lot of where I am today to the resources offered by my university. These opportunities gave me access to internship opportunities and projects that helped me build my portfolio. I also give credit to my mom, family, and friends who always support me in pursuing my passions.
What can you thank Canada's tech industry for?
I am grateful to be part of Canada's tech industry because I can contribute to the future of technology from a country that is multicultural and supportive of all kinds of communities. Having a diverse workforce is important for the growth of technology. This is because we can better understand the impact and needs of all consumers who use these tools.
Where do you see yourself going next?
My goal is to continue becoming a more senior software engineer. I want to tackle bigger and more complex technical problems as I gain more experience. I also aim to become a bigger leadership figure so that I can make impactful decisions that affect a business's growth in a positive way. Through my career journey, I hope to inspire the future generation of technologists to pursue this exciting field.
Thank you so much for chatting with us, Lianne. Your journey and advice is nothing less than inspiring and we can't wait to see where you go next!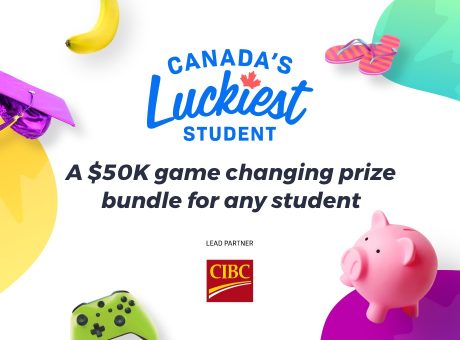 Giveaways
Canada's Luckiest Student includes a $2,500 gaming prize.