Organization isn't something that comes naturally to everyone. Thankfully I was blessed with the natural ability to stay organized and prioritized. Whether you're an organized person or not, organization is a key tool to be successful both as a student and in your eventual career.
If you have trouble staying on top of things, there are tools and apps out there that can be a real lifesaver to help manage everything you have going on. Even if organization comes naturally to you, you don't always have to figure it all out on your own.
Here are some of the best organizational assistants you should look into.
These are two separate tools with very similar functions. Both are used to keep track of your to-do lists and you can easily add or share these lists with team members for group projects. Trello or Asana can be a great tool to keep all your to-do items in one place. Plus, you can access them via your web browser or right on your phone through their apps. This will ensure you have all your reminders and to-dos with you, wherever you go.
This brilliant app automatically tracks your habits based off your location, your input and its sensors to help you save time by determining where you're spending the most time. You can manually edit or add how you're spending your time. But even if you don't, Smarter Time will still track it and make educated guesses based off where you are and your habits. Then, you can take a look at where your time is going. This will give you a better perspective on how you can cut back on time wasters and start spending your time more wisely.
Building productive and healthy habits can be challenging. That's why they made an app to make it easier. Set your goals and this app helps your stay focused, motivated, and on track. Habit List gives you badges that are coloured based on how much you've achieved or slacked on reaching your goal. This process keeps you on track to get yourself there. Habit List  can help you with anything from completing school projects to reading that chapter of your textbook to personal goals like meditating every night. It'll remind you each day about milestones or goals you have set and let you view trends over time.
This is a tool that shows up on almost every list of organization tools and apps. Evernote is known as one of the best note taking apps around. It allows you to capture everything in one spot from class notes to simple to-dos. You can access your notes and manage them from any device both online and offline. You can collaborate with team members, and keep everything in one place so you feel much more organized and on top of things.
30/30 is an app that helps you tackle your time management at a micro level. The app focuses on the concept that most tasks in a day fall into 5-30 minutes portions. You can break down your day into manageable 30 minute chunks which are less overwhelming, making it easier to accomplish your goals.
Keeping your life organized and on track has a ton of benefits. Not only is it a valuable skill but you'll be less stressed and have more time to focus on the fun things. Whether you want to find more time to hang out with your friends, or just do the things you seem to "never have time for," try out one (or all) of these tools to get more done.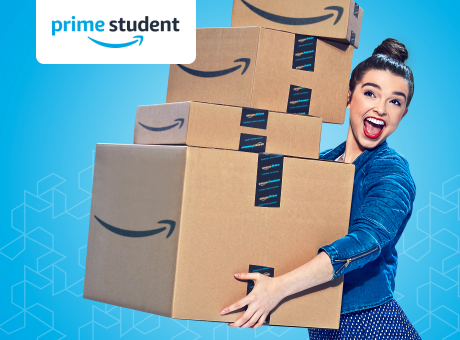 Giveaways
There's Being a Student, Then There's Being an Amazon Prime Student (It's Better)