Our bizarre neighbours south of the border have found a creative way to solve their student loan problem—a game show.
1. What is Paid Off?
a) A new game show on truTV
b) A way for Americans to pay off their student loan debts
c) A ridiculous solution to a ridiculous problem
d) All of the above
If you answered "all of the above", congrats. Unfortunately, you aren't winning any money to help pay off your student loans like some of these Paid Off contestants will.
Paid Off premiered this week on truTV and the new game show is already making waves. Themed around the student debt crisis, the show features three contestants competing each week to potentially win enough money to pay off their student debts.
Because why should anyone bother providing basic financial support to students when they could win it on TV instead?
2. How did actor, host, and show creator Michael Torpey help pay off his wife's student loans?
a) He won it on a game show
b) He modelled in an underwear ad
c) He got a role on a soap opera
d) Trick question, he never helped her pay any debt
That's right, Torpey took care of those debts when he booked a sweet underwear campaign. But since most people don't have one of those on standby, he thought this might be the next best thing.
The show's setup is simple. It's got a traditional quiz show format with a bit of student twist (think trivia about student jobs), with a physical set that includes a fake bank vault, and contestants that carry heavy amounts of student debt.
Despite some criticism that the show is making a mockery of a serious issue, they insist that's the point. Torpey describes the whole thing as "an absurd show to match an absurd crisis."
3. What can you do to manage your own student debt?
a) Build up good credit
b) Get a job to pay it off
c) Enter a contest to win your tuition
d) All of the above
Damn, this is the easiest quiz ever. It's "all of the above," but in a way, it's also none of the above. To be fair, there's no perfect way to get rid of your student debt, although there's a lot of different things you can do to mitigate the costs. Find a method that's right for you and make the most of it.
Or you could just wait until Canada gets a debt-paying game show of our own.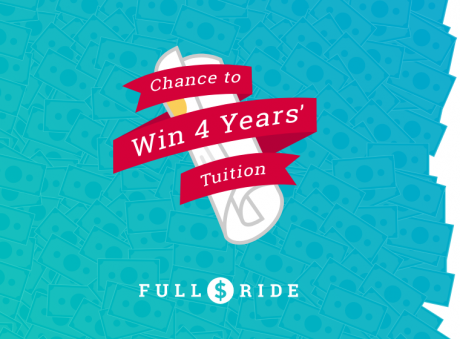 Giveaways
You could win $35,000 to pay for school.