I applied to university with little-to-no idea what I was going to study, and I decided on my major a few hours before the confirmation deadline. Going to university was just a given—I didn't think that I had another option. I mean, it's what I was apparently working towards my entire life. So I rushed into it. I sat at my desk, staring at my laptop screen, and very nearly decided on a totally different subject than what I'm currently pursuing. And while it's not a good idea to regret your life choices, I can't help but wonder: what would it have been like if I took a gap year?
A gap year, if you aren't familiar with the term, is basically taking a year off after high school to pursue other interests like work, travel, or goofing off. Would I have been able to avoid making regretful mistakes if I took a break? Could I have been a better student?
I can keep on wondering even though I can't change the past. However what I can probably do is help you with your future life choices. Whether you think a gap year is for you or not, there are quite a few reasons why I think taking a year off is probably a good idea.
1. More Time To Research
I knew deep down that I wanted to study English Literature, but I had no idea what I could do with a degree in it. All I knew was that I would get to read books and then talk about them. But what the heck do you do afterwards? Where did studying English Literature take you? Did I need to pair it with another major? Maybe two minors? I started first year as an English Literature, major minoring in Geography. I realized that this was a complete mistake as soon as I got back my first marks.
Had I taken a gap year, I'd have time to research and look into what the university of my choice had to offer. And it wouldn't have taken me two years to eventually discover my second major. I wouldn't have had to cram credits into summer school and take a maximum full course during my last year. Having some time and space before enrolling into post-secondary would've offered me the opportunity to look more deeply into what I was getting into. Taking the necessary time can make a huge difference, and in turn save a lot more time.
2. More Time, In General
Time was a real struggle during my first year in university. Between fast approaching deadlines, commuting, and late night study sessions, I always felt as though time was slipping to slip away from me. From the predictability of high school, I felt thrust into finishing off a four-page essay on a bus ride, minutes before it was due (true story). I rarely had time to practice my hobbies, or participate fully in extracurricular activities. I joined student clubs much too late and hardly attended any meetings.
Everything felt so rushed.
A gap year just might be the time you need to take up painting, join a softball team, or catch up on Netflix. Then, when you start your first semester, you might feel a bit more relaxed than you would arriving home after a family trip three days before classes began (another true story).
3. More Time To Make Money
I didn't work the summer before university because I believed that I deserved some time off from the whirlwind that was high school. And so I stepped into university life as a nearly broke, inexperienced student with no money to her name. And with the sudden surge of university-level homework, I felt that I didn't know how to manage working and studying at the same time.
A gap year allows time for you to try out different jobs, earn some pocket money, and put some experience on your resume. Landing a good job may even help with planning out your future choices. It can help you determine  what you really want to study, or what job you might want to pursue in the long term.
4. More Time To Travel
I don't like saying "if" all the time—but if I took a gap year, and if I saved up some money, I'd most definitely have travelled before I started university. While I did a bit of exploring here-and-there during high school, I never had a solo travel experience. What I realized from my limited exposure was that travelling is a great opportunity to broaden your worldview. It's important to start university with an open mind, eager to learn about new things.
Travelling is one of the best ways to do just that. It also enables you to learn more about yourself and gain a sense of independence—two important qualities to have before starting university. Travelling also offers opportunities to work/volunteer in other countries. Plus, if you're planning on studying internationally, it'll give you an idea of what it feels like to be away from home. Maybe you just might find a country you really want to explore further, and possibly even study there.
I didn't take a gap year between high school and university. And while I'm thankful for my university experience, I do regret not looking into the option of having some time off before continuing my educational career.
Maybe you're not sure what you want to do in college or university. Maybe you just need a break before another four years of school. Whatever the reason, know that a gap year is a valid option. It's nothing to be ashamed of. Take your time and don't rush into things you're not completely sure about. You'll get there eventually.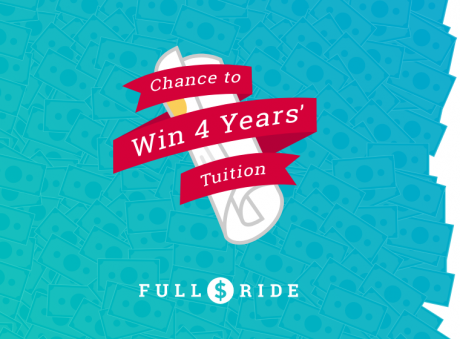 Giveaways
Take Care of Tuition With a $35,000 Prize