It's almost Father's Day, and that makes this the perfect opportunity to write your dad a letter in Thank You Mom & Dad to get a shot at winning the $20,000 prize.
To celebrate all the fathers (and father figures) out there for Father's Day, we're showcasing some of our favourite dad-centric letters that we've read so far in Thank You Mom & Dad.
The common theme? There's a lot of love going around! It's incredible to see how many of you have powerful stories to tell about your father figures.
Now check out this all-star lineup of popular papas.
Rachel's dad inspired this sweet poem.
You guys, it's a poem! These letters keep getting better, and the creativity of the SLN community surprises us daily. It even rhymes and everything. Best of all, check the comments—dad himself shows up to approve this beautiful story.
"Thank you dad for raising me right.
Through the good and bad, you were always there tucking me in at night.
The woman I am today,
Is a reflection of the words you used to say" – Rachel Kubitz
Kaitlyn's dad was her constant symbol of home.
It's one thing to read your letters. It's another experience them. Kaitlyn paints such a vivid picture of growing up with her dad that's it's easy to imagine being right there alongside them. (Which is especially impressive since picturing her dad without a photo of him is tricky.) Seeing how hard she still clings to that feeling can bring tears to your eyes. And it's clear why she wants to create those same memories for her future children.
"I want to thank my dad because of autumn campfires and motorcycle rides. I want to thank my dad because of that smell attached to his shirt when he walks in the door, a mix of dying leaves and motorcycle gas…he reminds me of home in a way no words ever will." – Kaitlyn Vanderschoor
Shannon's dad was there through thick and thin.
He stands up for her, he works hard for her, he's patient with her—these are just some of the reasons Shannon cherishes her dad. She talks about how his values and actions have shaped the person she's become, and we think there's no higher compliment that you can give to a father.
"I want to thank my dad because he has helped me through thick and thin. I got into an accident on the road last week, and he selflessly bought me another little car. He didn't have to search for another vehicle for me in his spare time. I am overjoyed that he cares that much about me to help me fix up another one so I can go to work." – Shannon Dubreuil
Mason's dad raised his boys on his own and still found time to attend night school.
It bears no repeating the difficulties of being a single parent. Being able to provide for children on your own is hard enough. Mason's dad did that and still keep pursuing his goals. Now that's extra-worthy of some attention. Here's a dad who never stopped, who kept following his dreams, even when circumstances worked against him, and we're so thrilled to see it recognized by Mason.
"He was a single dad to me and my brothers for 4 years and while he was being an amazing parent he went to night school to become a teacher. The way he works and serves other people is inspiring to me and makes me want to become the man he is today." – Mason Anderson
Anna's dad always went the extra mile for everyone else.
We all know someone like this, a kind of special person who puts others before themselves. Even when he's down, Anna's dad still makes sure to always take care of those around him. That takes a particular level of character you don't find in most people. It's clear that even something as small as dropping off a forgotten lunch can have a tremendous amount of impact.
"He is that person who will call me and say he is in front of my work (25 minutes away from home) to drop off a lunch I had forgotten in the fridge.
To this day, I don't know if I will ever meet someone who is so special to me." – Anna Chevalier
Katie's grandpa stepped in to fill her dad's role.
It's heartbreaking to hear stories about dads who weren't there, but that makes letters about father figures like these all the more special. Katie's grandpa stepped up, even when it wasn't his responsibility, and became the dad she needed. It's an inspiring story of fighting to move forward, a value we're glad he was there to instill.
""Go get 'em!" It is these three little words of inspiration that I wish to thank my Grandpa for saying to me throughout my entire life. From the day my father left me at the age of 3, you have always been there for me, acting like both a Dad and a Grandpa." – Katie Davidson
This Father's Day, say thanks.
Don't forget to do something sweet for dad this weekend (it doesn't have to be expensive). It can be as simple as writing him a letter, one that could also win you $20,000.
Submit your letter today to let Dad know what he means to you and for the chance to win big.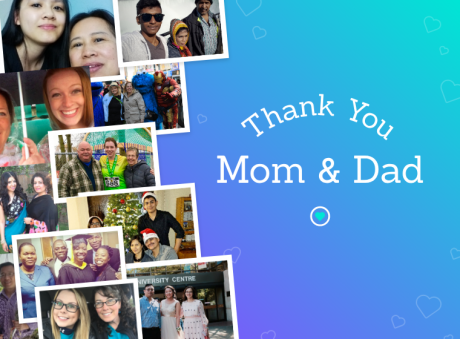 Giveaways
A chance to win $20,000 for the most important people in your life