It's time to prepare for your next job interview and we want to help. So, we reached out to the pros and asked them to give you advice on how to prepare effectively.
Then we compiled it into this awesome free ebook for you to download. We dive deep into the art of interview preparation and jammed this quick guide with loads of useful advice. Our goal is to have you walking into your next interview with swagger and confidence so you're ready to crush it.
If you haven't downloaded it yet, we recommend you grab our first ebook that helps you land more job interviews.
Who is this book for? 
Are you freaking out because an employer emailed you back?
Have you totally bombed interviews because you weren't ready?
Feel anxious about what they might ask you?
Sup? We're talking to you.
We want to make your life less stressful. We want to teach how to prepare for your job interview at your dream company. And we want to do it for free.
What's in the ebook? 
→ Email templates you can steal to lock in a date/time for your interview (or reschedule).
→ Insider tips, tricks and hacks to arm yourself with as much company knowledge and talking points as possible to ace your interview.
→ A tell-all look at the modern recruiting process to help you understand what's holding you back.
Interview Prep, The Book
You've landed the interview. Now what?
Our free E-Book will teach you about confidence, etiquette and how recruiters decide who to interview.
Did we mention it's free?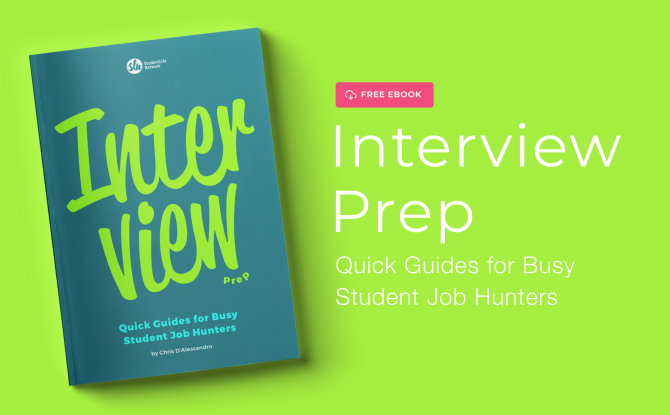 PS 
Did you find the book helpful? Did it help you get a job? Or do you still have burning questions for us to address? What would make this book a better, more helpful reading experience?
You can let us know. Seriously.
Email us here: contact@studentlifenetwork.com