We wrote an ebook designed to help you get more job interviews. Did we mention it's free? Download it now.
Yup. It's real.
After endless coffee-fuelled nights, dozens of interviews with top experts in their field and many, many discussions about the cover, our first ebook is ready.
It's about helping you score more job interviews.
Who is this book for? 
Tired of blasting out dozens of resumes into the void?
Only getting the occasional job interview, at a place you don't actually want to work for?
Feeling like the underdog when it comes to landing a full-time job?
Sup? We're talking to you.
We want to make your life less stressful. We want to teach how to land a job interview at your dream company. And we want to do it for free.
What's in the book? 
→ Email templates you can steal to connect with influencers and mentors inside companies.
→ Insider tips, tricks and hacks to position yourself as the most appealing candidate in the eyes of a recruiter.
→ A tell-all look at the modern recruiting process to help you understand what's holding you back.
Oh, and Podcasts.
For real.
We recorded three new podcasts to support the book.
They'll help you connect with more people inside companies, land an interview and crush your internship.
Job Interview DOs and DON'Ts

Networking Your Way to Your Dream Company

The Secret to Crushing Your Internship

How to Land a Job Interview, The Book
Struggling to a land a job interview?
Our free ebook will teach you about personal branding, networking and how recruiters decide who to interview.
Did we mention it's free?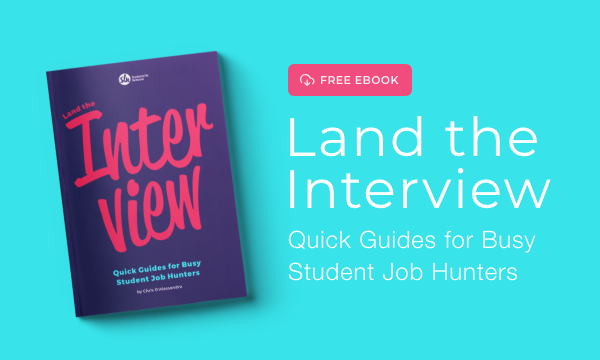 PS 
Did you find the book helpful? Did it help you get a job? Or do you still have burning questions for us to address? What would make this book a better, more helpful reading experience?
You can let me know. Seriously.
Email me here: chrisd@studentlifenetwork.com