Back-to-school means parties. Lots of parties.
We've compiled the very best on-campus parties and events happening across the country, sorted by province and school for your convenience.
Scroll through, find your school and start planning how to kick off this new school year with a bang.
University of Lethbridge
"Fresh Fest"
Sept 9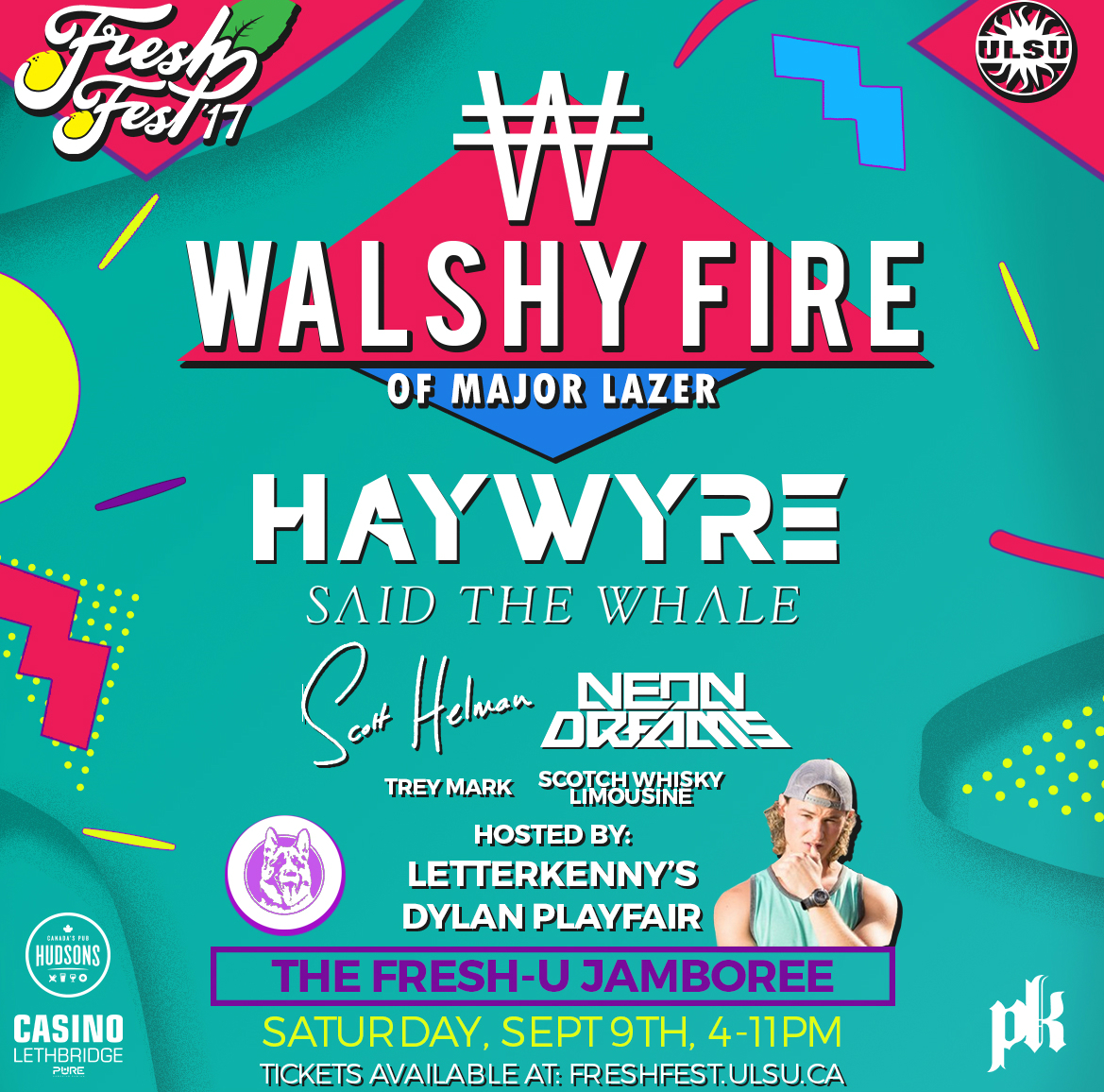 Fresh Fest is 3 days of awesome. Currently celebrating it's 10 year anniversary, it features; a Luau with a 100ft slip n slide and astro-jumps, a bbq, a big screen movie night, a cabaret, and tops off with a giant outdoor festival on campus.
TIPS: The outdoor events are all rain or shine, so dress for the weather, sun screen up and stay hydrated! Things not to forget: your Student ID, Government ID, pick up your Fully Fresh package before the events begin Sept 7th. If you have a jamboree ticket, make sure you have your confirmation email either printed or saved on your phone when you check in on the 9th. And above all else make sure you bring your dancing shoes 😉
Presented by:
University of Lethbridge Students' Union
Connect via:
Facebook 
Twitter
Instagram
Southern Alberta Institute of Technology (SAIT)
"Welcome Week 90's Party" 
Sept 8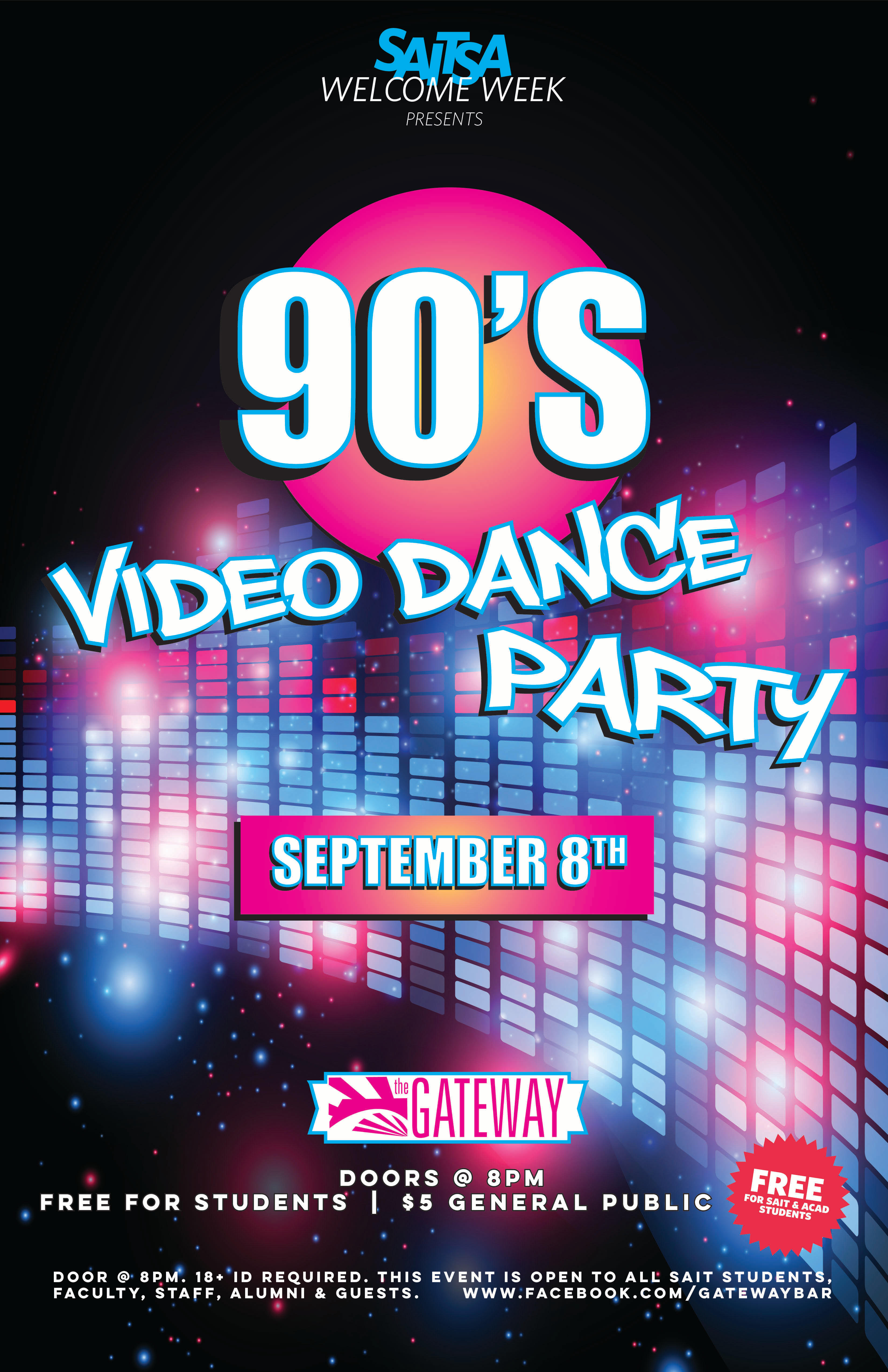 If you are a student (anywhere) simply show up with your student ID, as well as government issued ID (18+ only) and you're in! This event is open to all SAIT students, faculty, staff, alumni & guests.
TIPS: Keep the 90s theme going and dress in your best 90s tv shows 90s candy and toys, and of course 90s music! Besides your favourite scrunchy,remember to bring your government issued ID and student ID if applicable.
Presented by:
SAIT Students' Association
Simon Fraser University (Burnaby Campus)
"Fall Kick Off"
Sept 22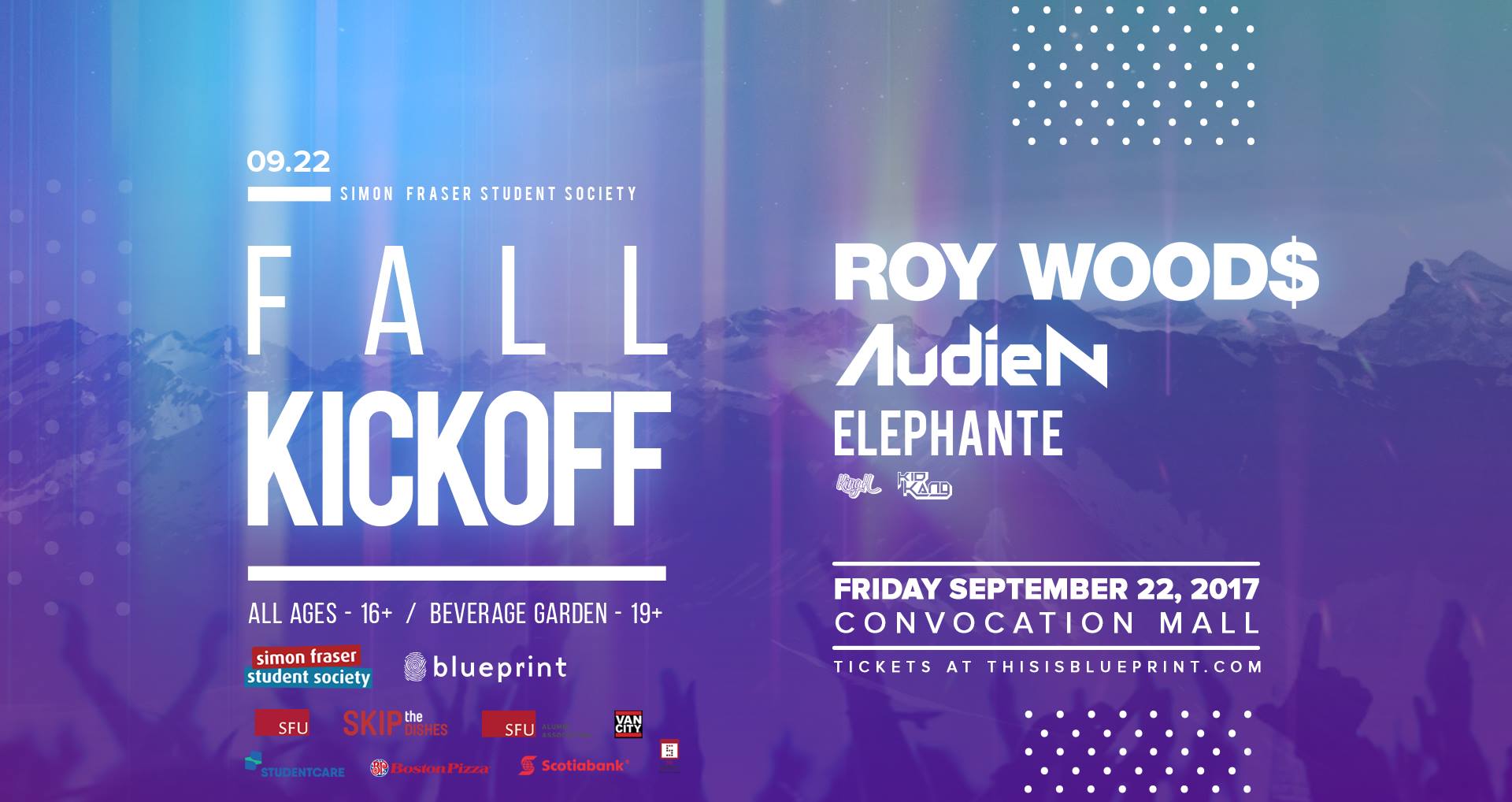 A concert featuring Roy Woods, Audien and Elephante. Tickets can be purchased online or at the SFSS General Office at the Burnaby Campus. The event is 16+ and there will be a 19+ beer garden.
TIPS: Stay hydrated! Stop by a water booth for some H2O! Get social! This is the biggest events of the year at SFU, over 2000 students will attend. It is a great chance to meet new people and potentially make life long friendships. Have fun. Let loose and enjoy a night of great music with great people. ID needed for 19+ Beer Garden.
Presented by:
Simon Fraser Student Society
University of British Columbia
"The 33rd Welcome Back BBQ"
Sept 8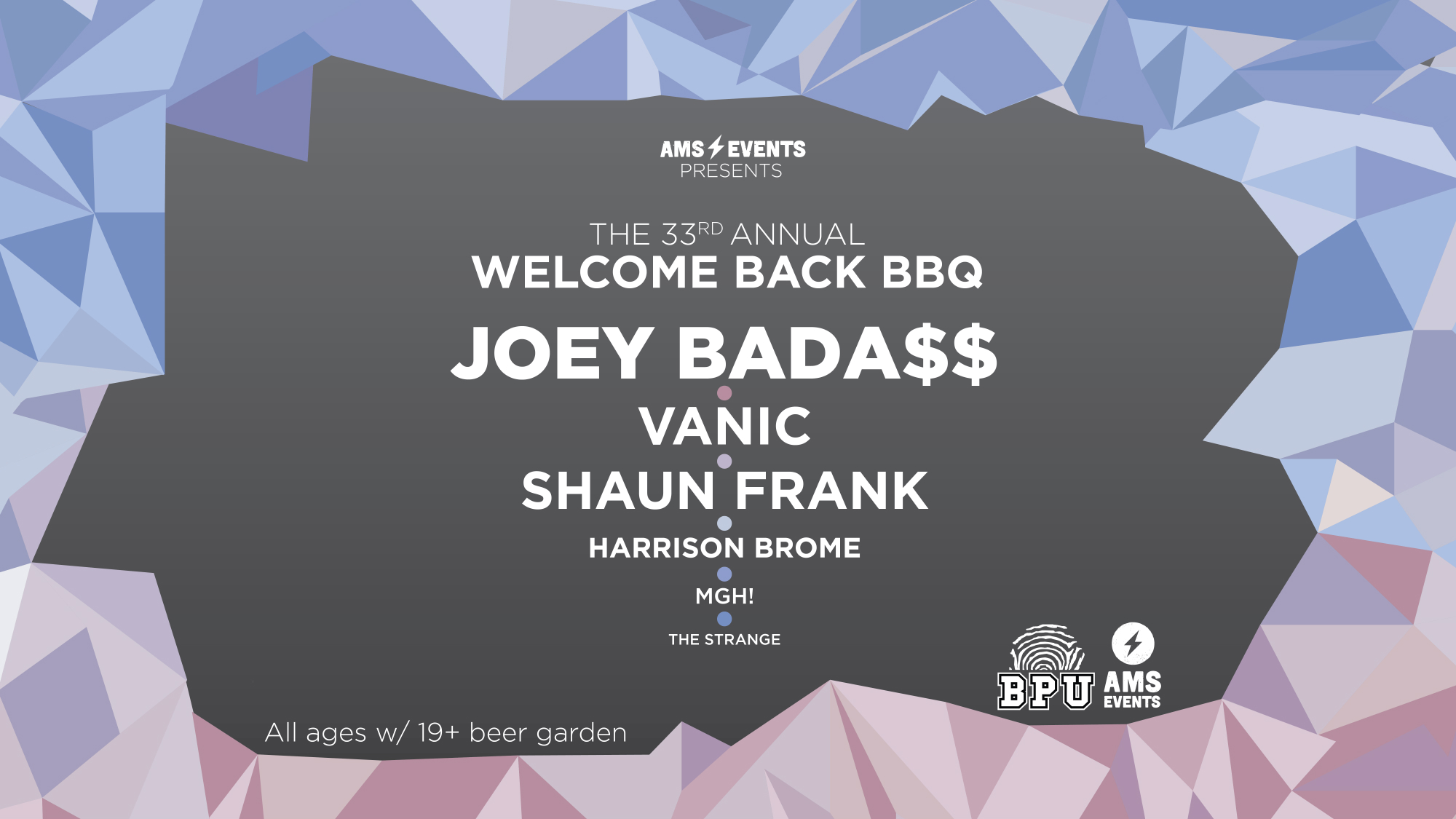 Welcome Back BBQ is a massive outdoor music festival in the heart of campus. 5000 UBC students attend this all ages event. This year's artists include Joey Bada$$, Vanic, Shaun Frank, and Harrison Brome.
TIPS: Bring a jacket (you never know when Raincouver will strike) and water bottles for the FREE refill station. No outdoor drinks (besides water) allowed in. No cameras, phones accepted. Your UBC student card is your physical ticket. No ins and outs. If you need assistance, look for the people in the AMS Events or AMS Firstweek shirts. Bring cash for food trucks and beer garden. Avoid bringing a backpack to speed up entrance times and there is no coat check. If you're 19 or older, two pieces of valid ID are required for the beer garden.
Presented by:
AMS Student Society of UBC Vancouver
British Columbia Institute of Technology (Burnaby Campus)
"SA September Fest"
Sept 19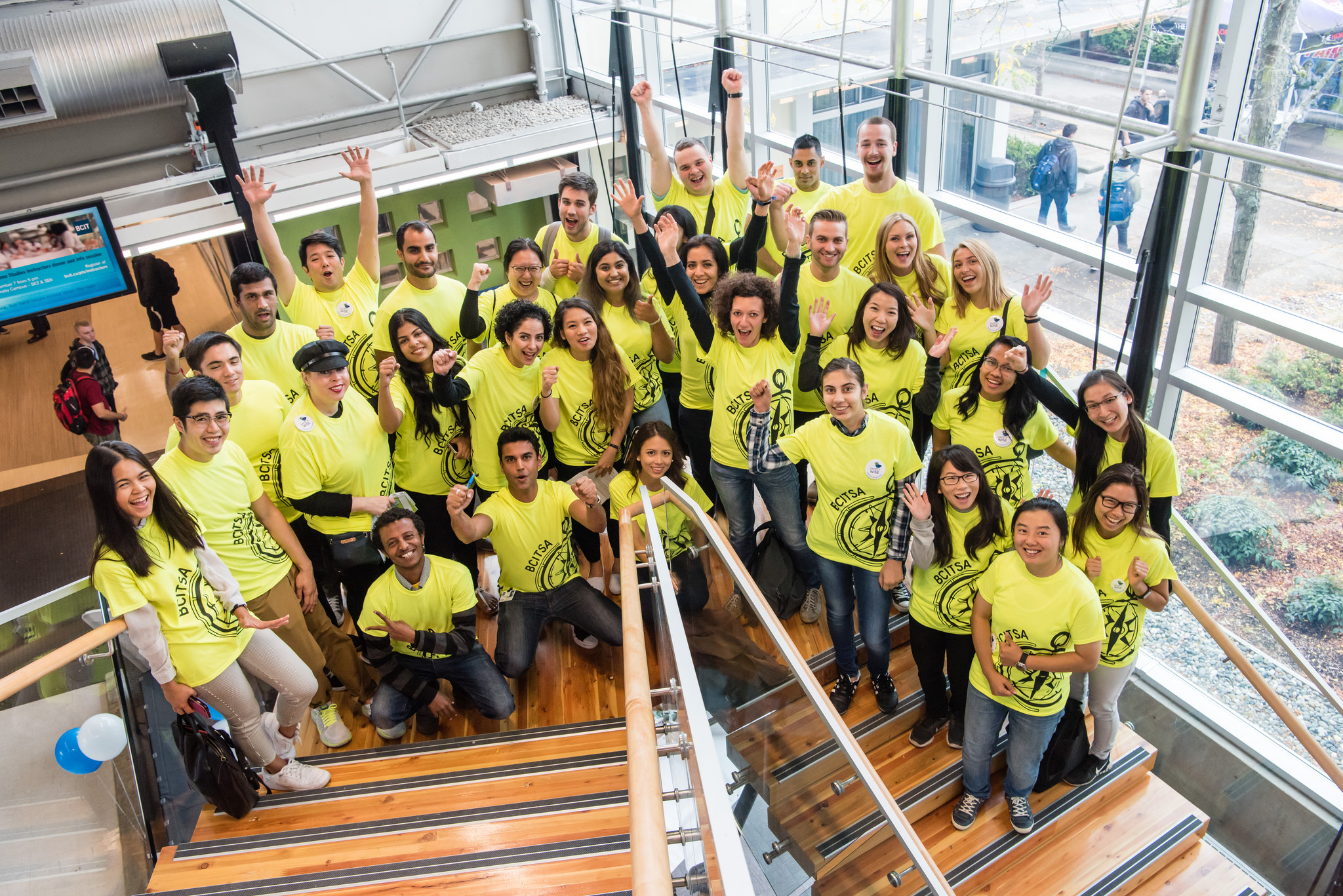 From 11:00am to 1:30pm in the Great Hall (SE2)! Enjoy free food, games and prizes, while learning about the SA services available to help you succeed. Drop in any time! Event is free.
Presented by:
BCIT Student Association
Langara College
"Semester Kickoff"
Sept 7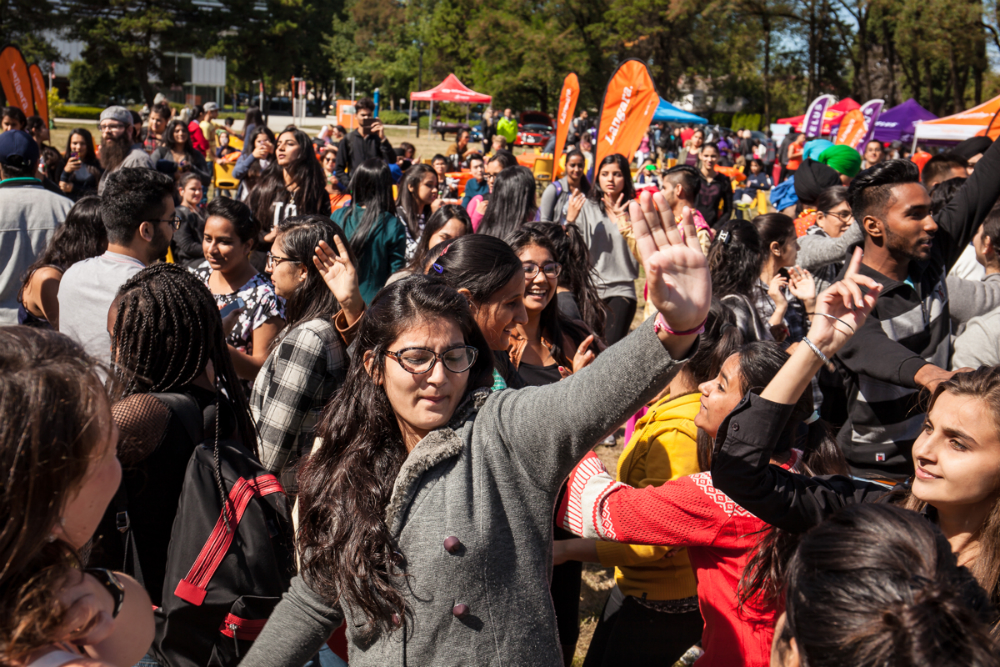 Semester Kickoff makes coming back to school easier with events and happenings all over campus. Students can pick up a ton of free resources, swag, snacks, info, and so much more. From September 5–8, students can visit info tents and sponsors, enter to win awesome prizes, participate in fun activities, and enjoy live entertainment.
Tips: 1. Be social – Semester Kickoff is the perfect time to meet new people and fellow students in your program area. 2. Get to know the campus – all of the student service areas are out during Semester Kickoff and ready to answer any questions students may have. Familiarize yourself with the resources available to you. 3. Visit the info booths – lots of organizations will be on campus and most will have swag, prizes, or student discounts that you can take advantage of. 4. Get involved – register for clubs and other extracurricular activities. 
Presented by:
The Office for Student Engagement
Connect via:
Twitter
Okanagan College
"Kelowna Kickstart Beverage Garden"
Sept 7
OCSU's Annual Kickstart Beverage Garden- September 7th, starting at 2pm. The event is free. Live DJ, outdoors in the campus courtyard and ton of prizes to be won!. Drinks are $3 each.
TIPS: All ages event. 2 pieces of ID required for 19+. Drink purchases are cash only (ATM located on campus). All students who are planning to drink are strongly encouraged to arrange for a ride home or make use of the on campus transit hub.
Presented by:
Okanagan College Students' Union
University of Manitoba
"Frosh Music Festival"
Sept 15

Taking place in the heart of UManitoba campus on the Duckworth Quadrangle, Frosh Music Festival is a full-day, all-ages campus community event and concert series that emphasizes student engagement and programming that appeals to our diverse student body. Student earlybird pricing is available before Sept 9th. Don't miss out on the biggest back-to-school party of the year!
Presented by:
University of Manitoba Students' Union
Connect via:
Twitter
University of New Brunswick
"Freddy Beach: Kick Off Concert Feat. Virginia to Vegas"
Sept 9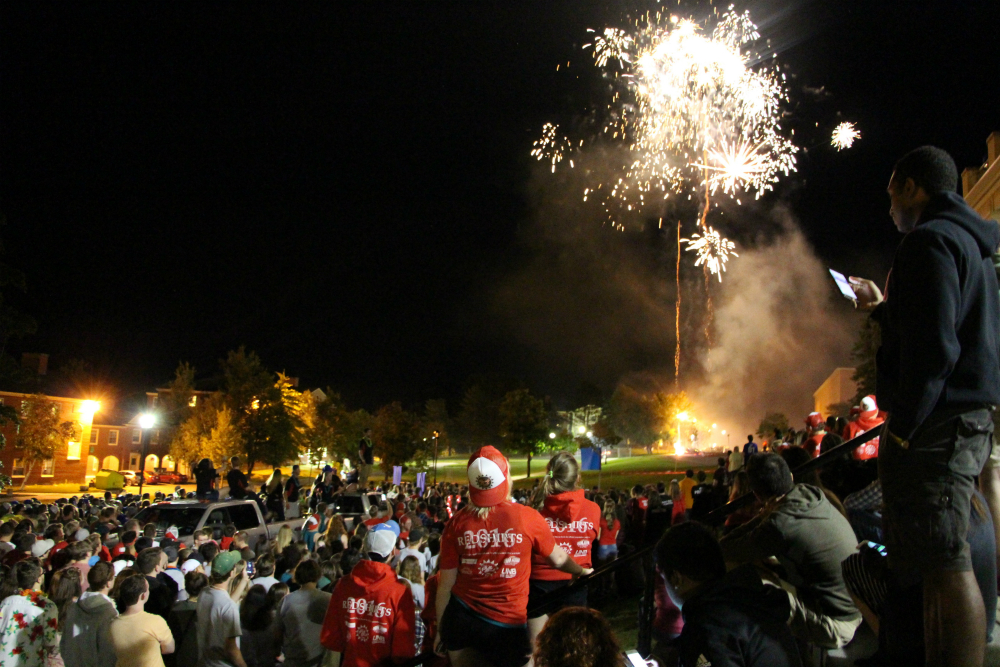 From the first time you step onto the beautiful UNB Campus, you will be greeted by a beach-y welcome. Whether its showing your pride at the exciting Blast-Off rally, dressing up to the nines at Casino Night, winning amazing prizes at our Game Show, singing your heart out at the Welcome Concert – get ready to make a splash at beach themed events all week long. From check in today, to blast off, the beach blast dance, stunt magician, paint party, kick off concert , academic orientation and many other exciting events – we want to guarantee that your first week here at UNB is extremely memorable.
TIPS: Remember that Orientation Week has happens once in your academic life here at UNB, so be brave, have fun and make the most out of it. The Student Union wants to guarantee a smooth transition for you here at UNB! Welcome to Freddy Beach!!!!!! We can't wait to welcome you!
Presented by:
UNB Students Union
Memorial University of Newfoundland
"Welcome Back Concert feat. Arkells"
Sept 20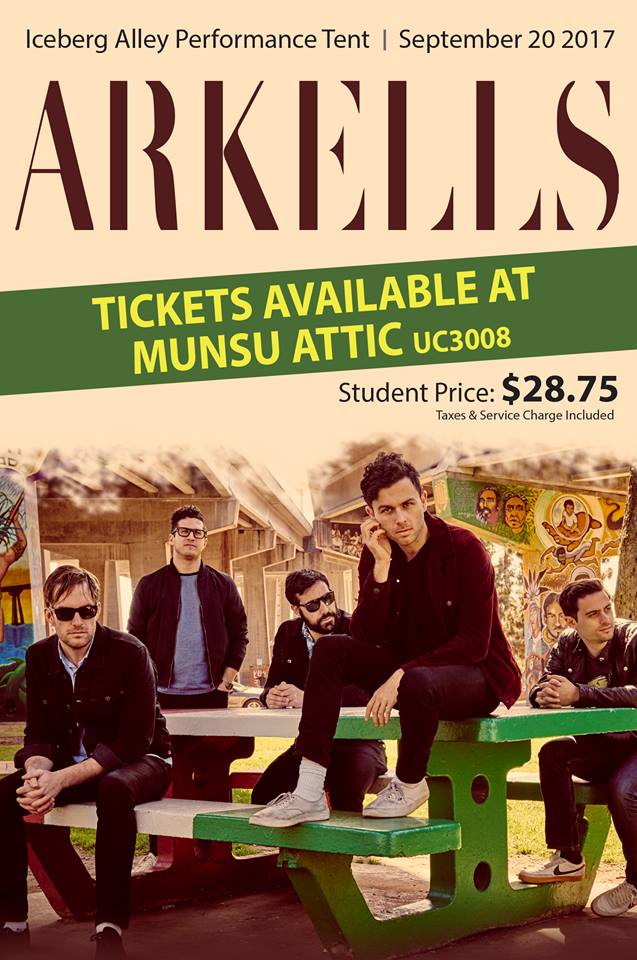 Every year as a MUNSU tradition we host a 'Welcome Back' concert for students on campus! We have paired up with the Iceberg Alley Performance Tent to put off the Arkells concert on September 20th! We're so excited! This event will be taking place inside the Iceberg Alley Performance Tent in Quidi Vidi. The doors for the event will open at 6:30pm BUT we also have a Molson Coors Prime Party happening at The Breezeway, campus bar, starting at 3pm with a DJ, treats and prizes for guests, with shuttles bringing folks to the show! The Darcys will be opening for the Arkells!
TIPS: This event will run rain or shine! The doors open at 6:30pm. We will have shuttles bringing students from the University Centre to the concert tent beginning at 6:30 and will be accommodating accessibly needs. I would suggest wearing a jacket for that Newfoundland fall weather for heading to and from the show- but you definitely won't need it inside the tent! There will also be bars and food inside of the tent for purchase. Remember: to bring your ticket, a government issued photo ID (as this is a 19+ event), your student ID, some money for drinks and snacks and your singing voice to sing along!
Presented by:
Memorial University of Newfoundland Students' Union
Acadia University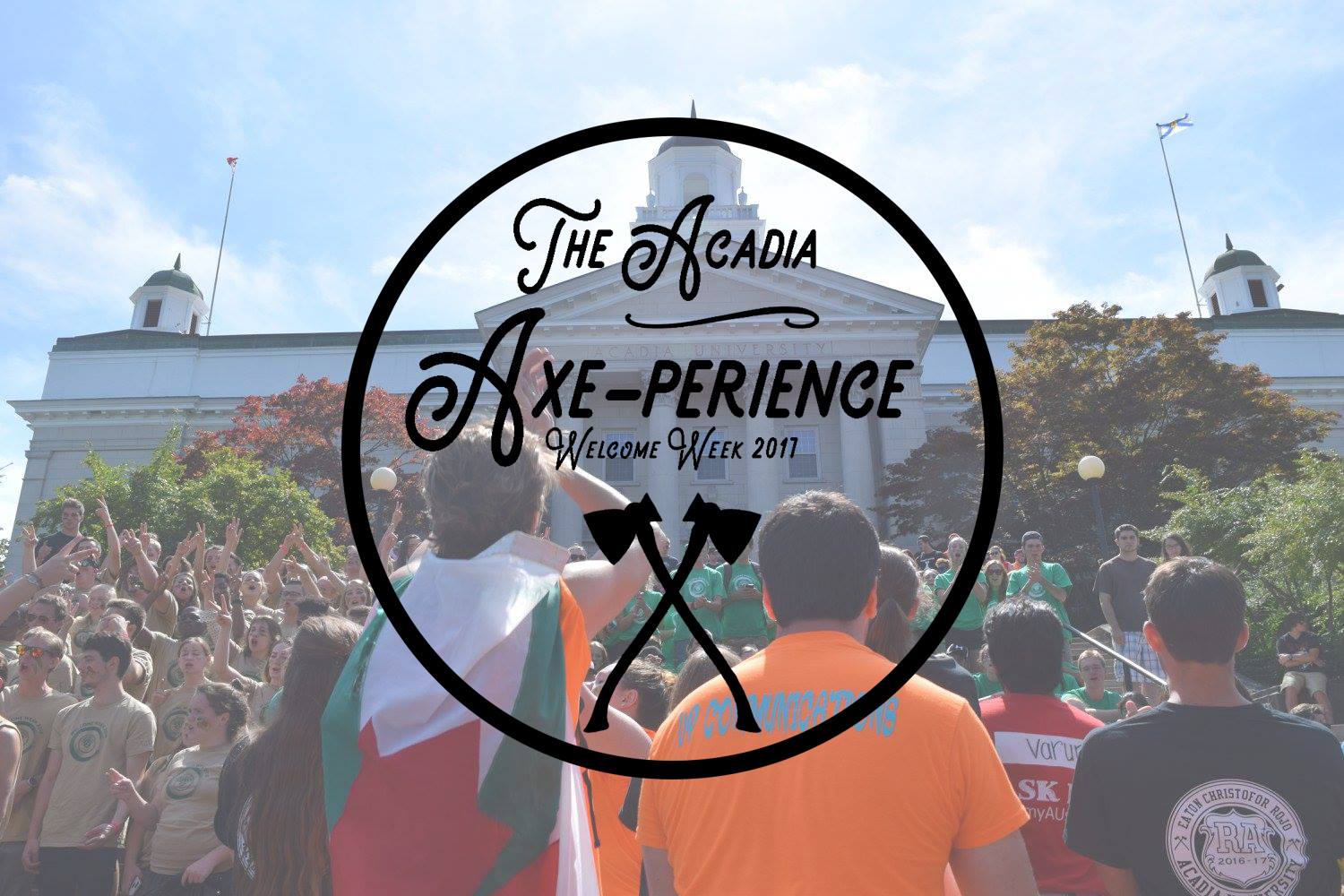 This year's Welcome Week theme is the Acadia Axe-Perience. One new and unique Welcome Week event is axe throwing. The winner will get a wooden carving made with a chainsaw! Students can purchase tickets from our students' union store called the Union Market or will receive them in their Axe-Pack (frosh kit).
TIPS: The best advice I can give to any student is to take a chance and get involved in anything you can. Nothing makes university more special than feeling connected to your school and your community. Start by attending events or visiting a club meeting, then go from there! Remember to get your Welcome Week Axe-Pack for great swag and an all axe-cess pass to our great events!
Presented by:
Acadia Students' Union
Mount Saint Vincent University
"Spike 'n Shine"
Sept 9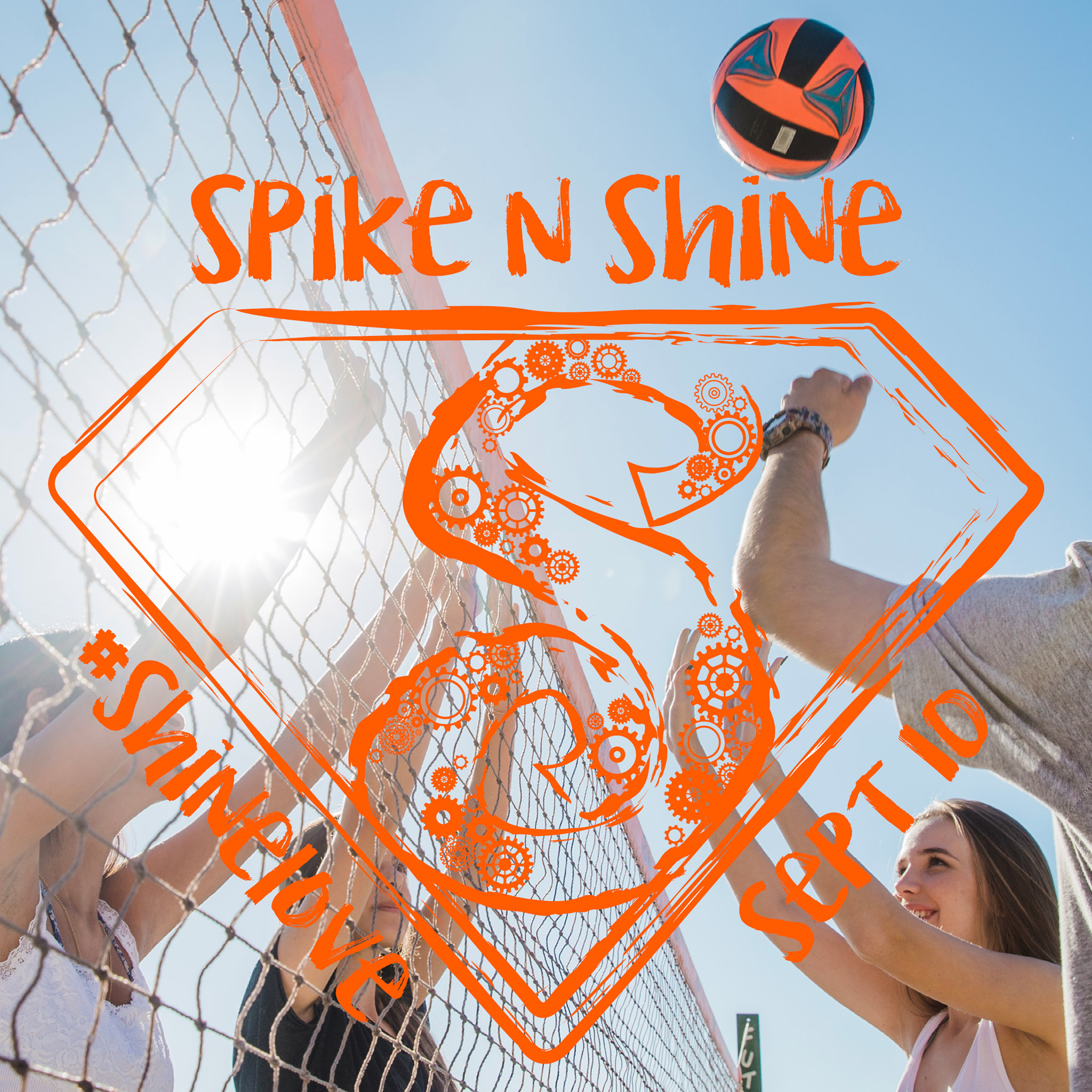 The 13th annual Spike 'n Shine is on Saturday, September 9th – 11 AM until 4 PM at theHalifax Waterfront Courts. All ages Annual outdoor amateur volleyball competition. Get ready to bump, set, and SHINE making CF stand for Cure Found!
TIPS: ONLY in SHINE-Y weather, rain day September 10th Bring your happy selves, and get ready for a fun filled day 🙂
Presented by:
Mount Saint Vincent University Students' Union
Algonquin College
"An Evening with Matty Matheson"
Sept 14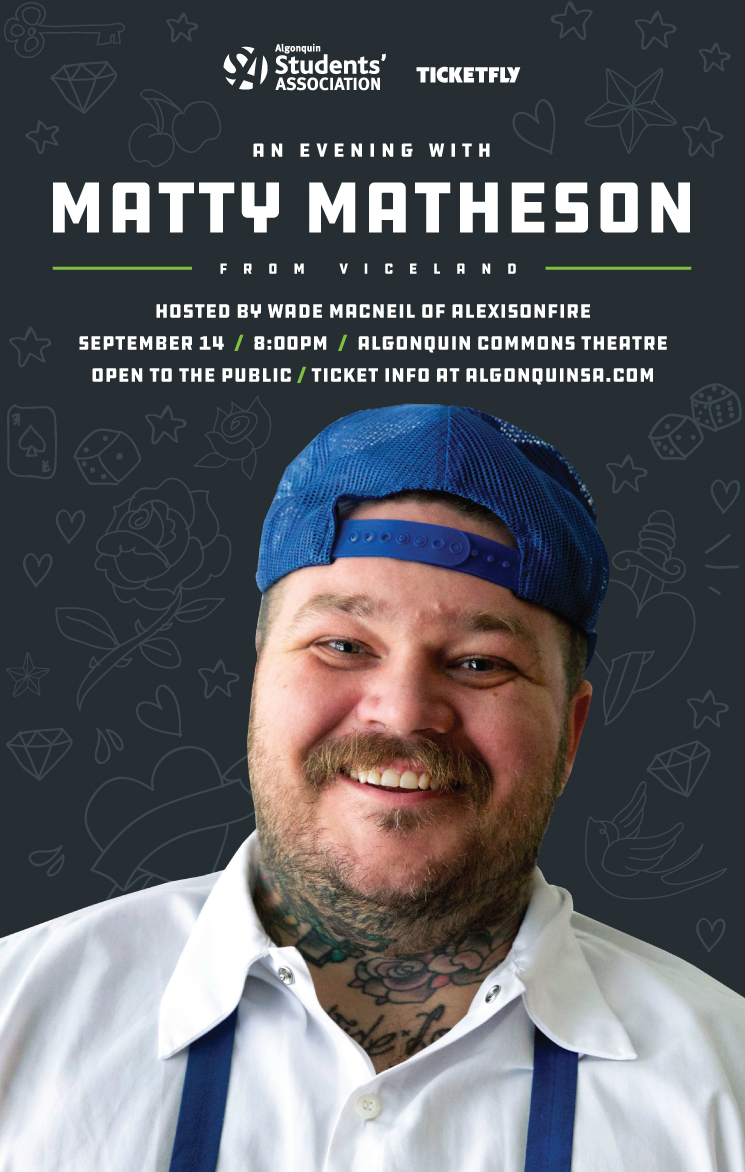 Algonquin's "Evening With Series" is an opportunity to see celebrities in a new light. These are intimate events where an MC and the Audience get to ask them questions and here them talk about a variety of different topics. At the end of the event all attendees get to meet the celebrity and take a photo with them! All of these events are open to the public as well.
TIPS: These events are positive environments and everyone is welcome. Not everyone goes in groups, many go alone, so don't be afraid. This is your chance to make friends who probably have a lot in common with you, you both already like the same celebrity so you are off to a great start! Remember to bring: Your ticket, if you don't have one you should get one.
Presented by:
Algonquin College Students' Association
Brock University
"Brockchella"
Kick off Party – Sun Sept 3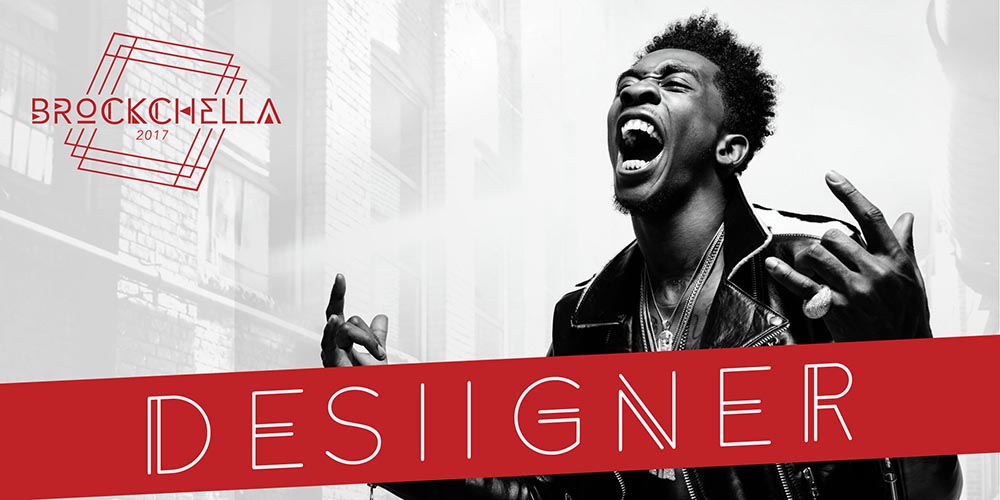 BUSU's festival-style programming offers a wide variety of events that target any and every student, whether new to campus or returning as a graduate. There'll be a kick-off party, drive-in outdoor movie, vendor fair, paint party, condom poker tournament, a secret headliner and more!
TIPS: Purchase your Brockchella Pass NOW for total access to all events, line by-pass, branded gear and other special privileges (available on website). There will be tons of free swag, food, entertainment and more, so bring your squad, Student ID, and Brock Spirit to ensure you'll get the most out of O-Week. Remember: While we always hope for sunshine and rainbows, Mother Nature doesn't always agree so remember to stay tuned for rain locations and any re-scheduling of events.
Presented by:
Brock University Students' Union
Connect via:
Twitter
Carleton University
"Carleton's 75th Birthday Bash at Throwback!"
Sept 16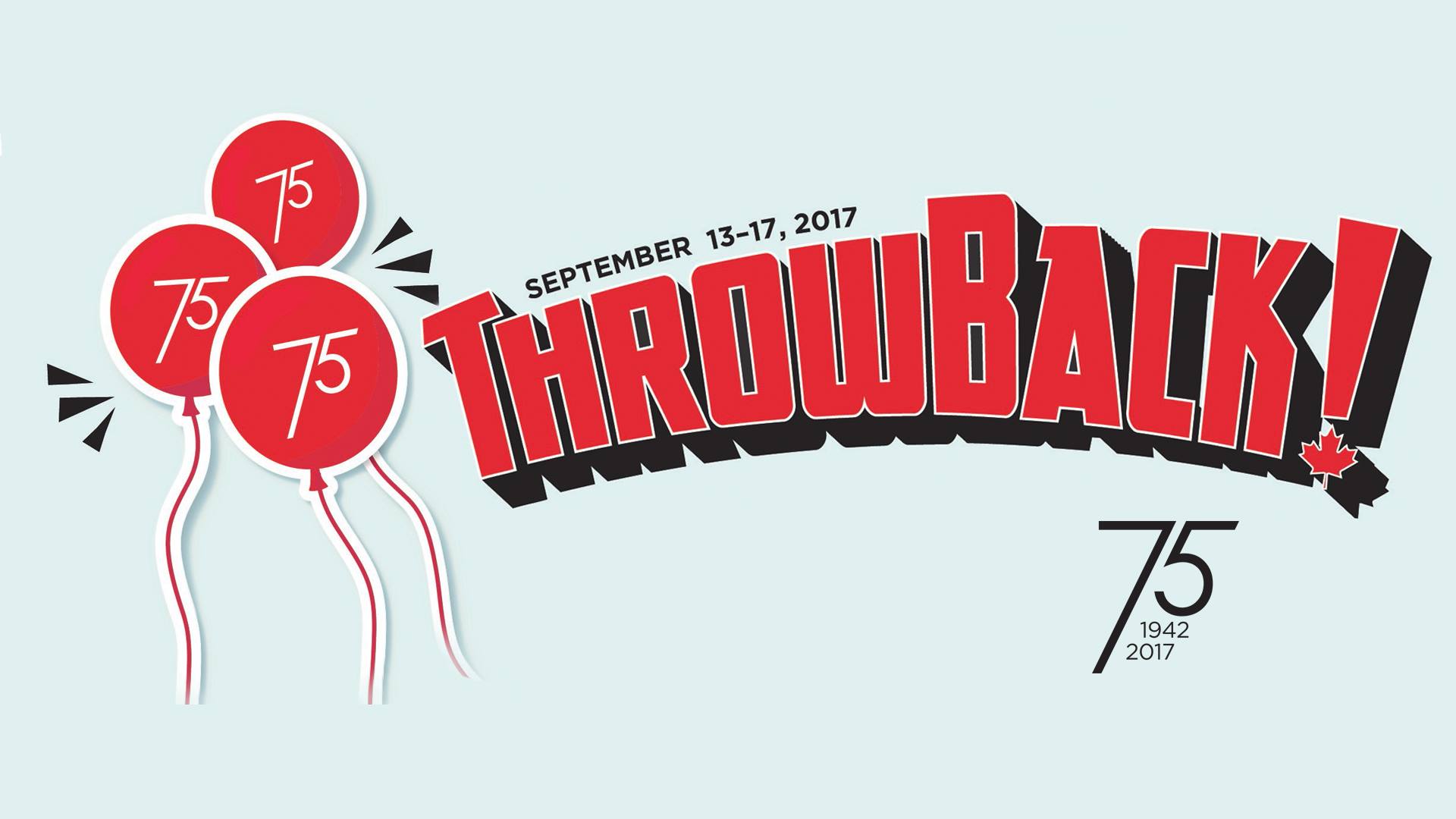 Carleton University is celebrating its 75th anniversary and they want to celebrate with you on Saturday, September 16th! Join in for a day of entertainment, great food and Carleton pride in Parking Lot 5 from 10 a.m.-5 p.m. Take a ride on the 50-foot ferris wheel, complete the inflatable obstacle course and indulge in some traditional carnival food. Enjoy a local beer in the beer garden while watching the Chemistry Magic Show and a performance by our very own Carleton Cheerleading team. Live entertainment and pre-football game activities before your Ravens take on the Waterloo Warriors at 1:00pm will happen in Parking Lot 5. Admission is free. Donations to support Carleton students are welcome.
Presented by:
Carleton University Students' Association
Centennial College
"Night Light Ting"
Sept 8
Free for Centennial students with ID and $5 for guests before 11pm. After 11pm $5 for students, $10 for guests. (1 guest per student, signed in) This is our feature Orientation Party, welcoming students to Centennial! Watch as the room transforms before your eyes, dance the night away, spend some time in our video booth and try out an awesome oxygen bar. Dancehall – Reggae – Soca – Hip Hop – Bhangra all in one night, don't miss out.
TIPS: Arrive early! a) to avoid line ups b) so you don't have to pay! Bring your Centennial ID and/or your official government ID if you plan on drinking this evening. Drink Responsibly! 
Presented by:
Centennial College Student Association Inc.
Connect via:
Twitter
George Brown College
"GBC Fest feat. Post Malone"
Sept 14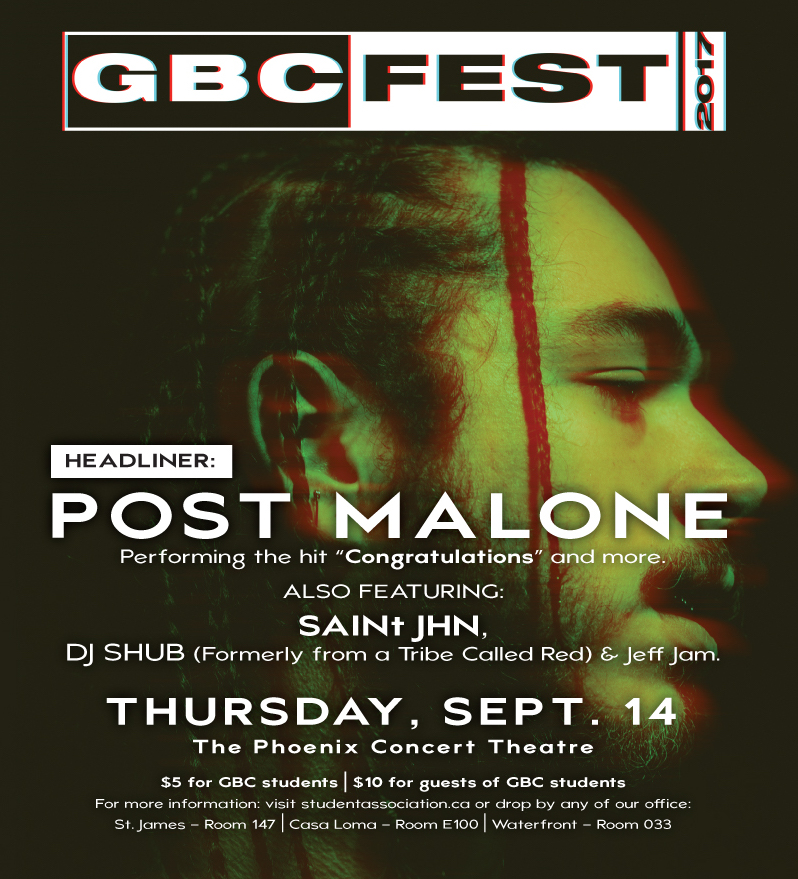 The amazing Post Malone headlines. Students can get excited for DJ Shub (formally from a Tribe Called Red), to rock the house and pub night favourite- Jeff Jam to get the night started. It's an all-ages event and it'll all be going down at the indoor Phoenix Concert Theatre. This event is only for George Brown students (plus one guest)! Students can find out where they can buy tickets on Facebook or Instagram.
TIPS: This is a no judgment zone so wear whatever you're comfortable in! With GBC's diverse population, there will be some students dressed to the nines, some kickin' it in sweats, and everything in between! Don't forget to bring your Student ID and your ticket! If you're 19+ and planning on hitting the bar up, bring that government issued ID! 
Presented by:
Student Association George Brown College
Connect via:
Facebook 
Twitter
Instagram
Queen's University
"Mystery Concert"
Sept 8
The Orientation Week Mystery Concert is a tradition that has been happening for many years, and invites each of the faculties to attend one centralized event. It is an outdoor concert held in a closed off parking lot on campus. Each year there are artists like Strumbella's, Walk off the Earth, Hollorado, and Down With Webster which come perform and welcome all of the incoming students. Last year one of the student acapella groups on campus even had the chance to sing "Spirits", the Strumbella's biggest hit and closing song, on stage with them!
TIPS: The event runs rain or shine, and students need to remember to wear both their faculty Orientation Week wristband, as well as their concert wristband.
Presented by:
Queen's University AMS Student Government
Ryerson University
"Week of Welcome: RSU parade"
Sept 8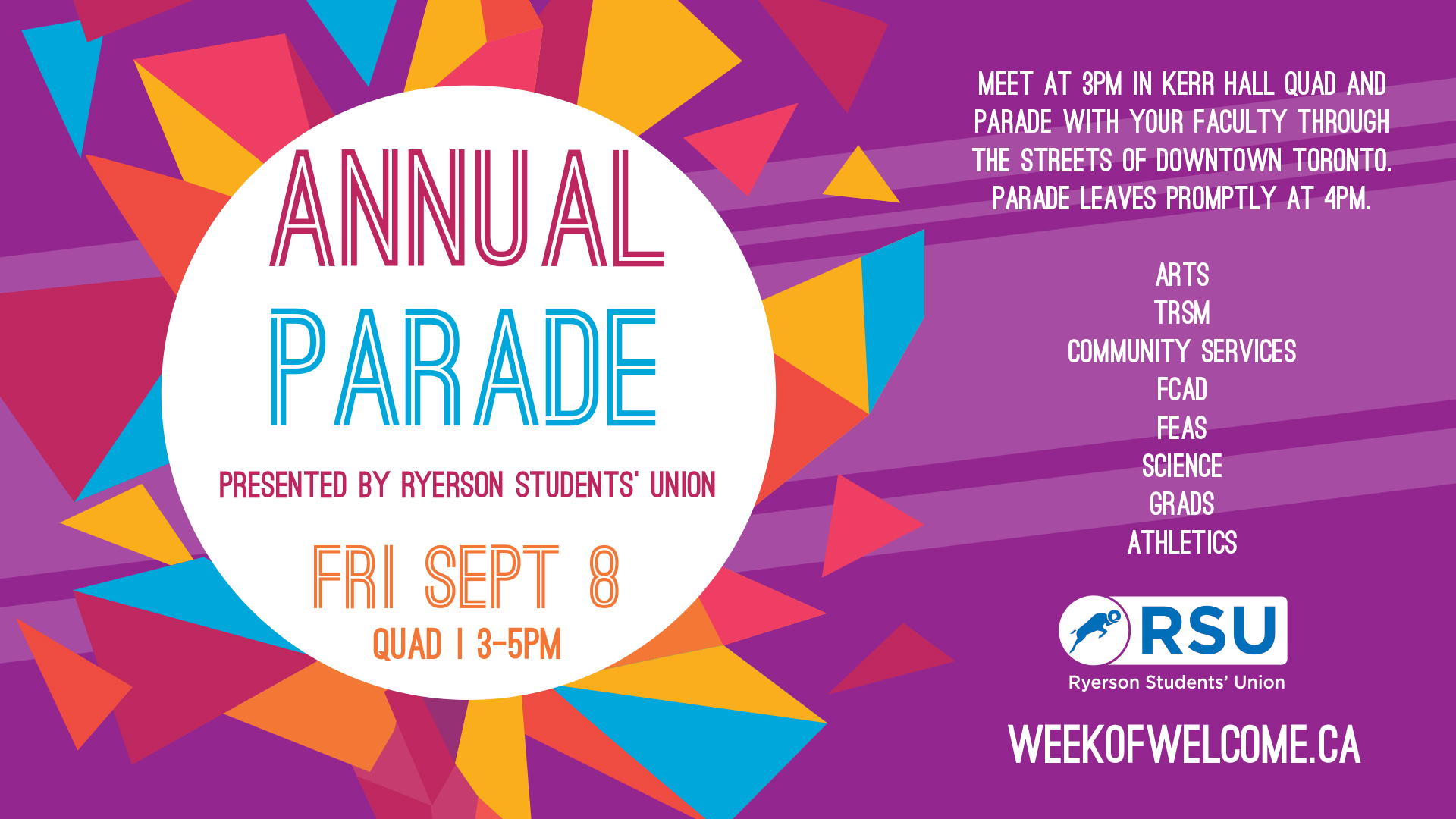 Ryerson is expecting over 1000 students to line the streets of Downtown Toronto, showcasing their Ryerson Pride. Students are divided into their respective course unions and get to march along side their new peers. Its a fun way to get to meet new people and its the only event like this all year! It's definitely our best event all week. High energy, lots of spirit and good music.
TIPS: Take as much free stuff as you can! Get out of your comfort zone, come and meet new friends Make sure you check out the art festival! Attend campus groups day to get involved Make sure you're in the Ryerson Parade Remember to bring: Government ID for 19+ students
Presented by:
Ryerson Students' Union
Sheridan College (Davis Campus)
"Davis Block Party"
Sept 6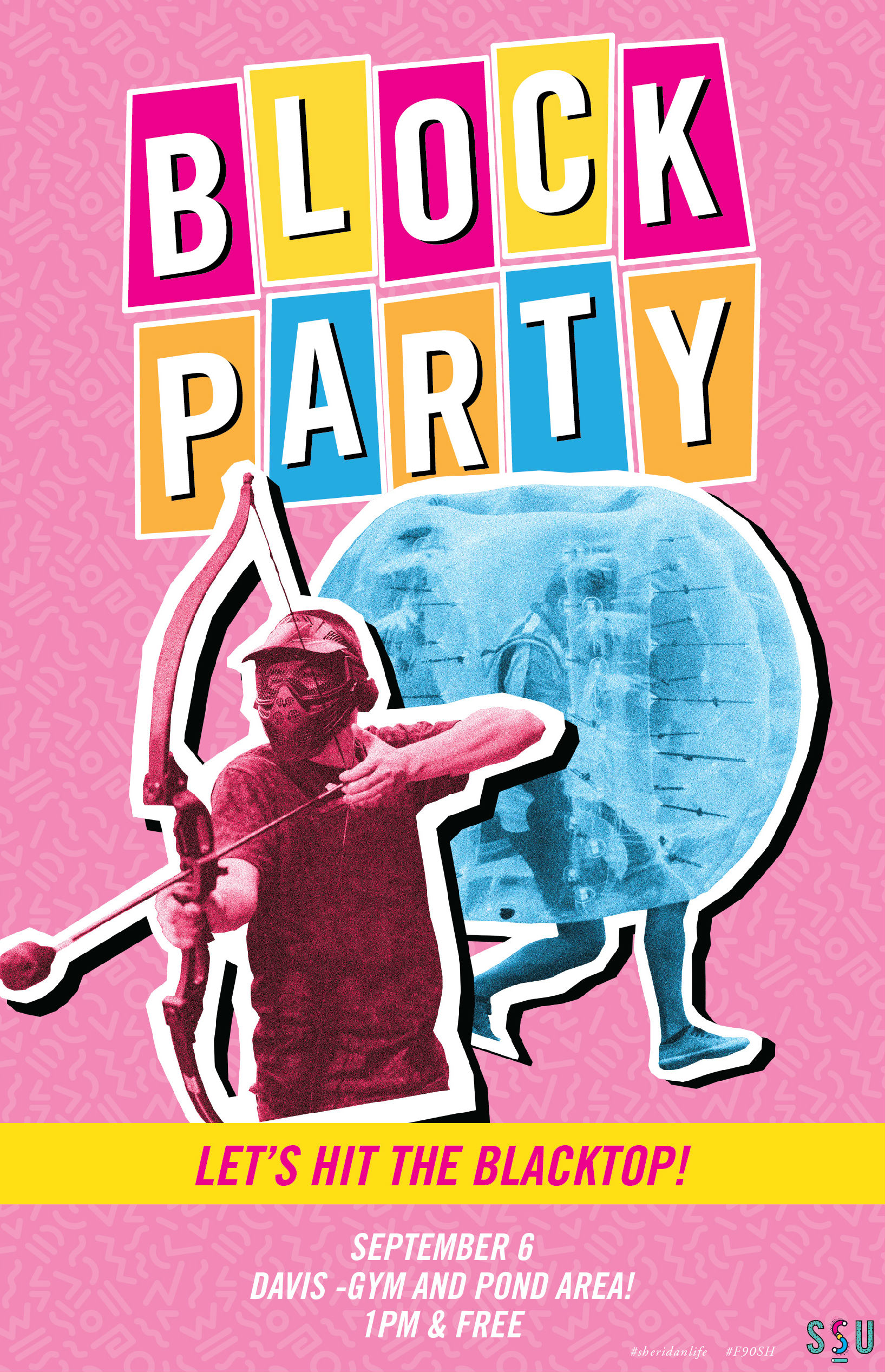 Free Event! Food Trucks & more! Meet the SSU on the field & discover all things Sheridan at the DAVIS Block Party! Themed after the 90's show – Recess! Each character will be joining in on the fun. Get the chance to snag that perfect Instagram Selfie with your favourite character. The DAVIS Block Party will kick-off outside for the best summer festivities! Live music, food trucks, bubble soccer, archery tag, and a lounge to hang out with your friends!
Presented by:
Sheridan Student Union
Connect via:
Twitter
Sheridan College (Trafalgar Campus)
"The Real Swim Shady Please Surf Up! 3rd Annual Boat Cruise"
Sept 14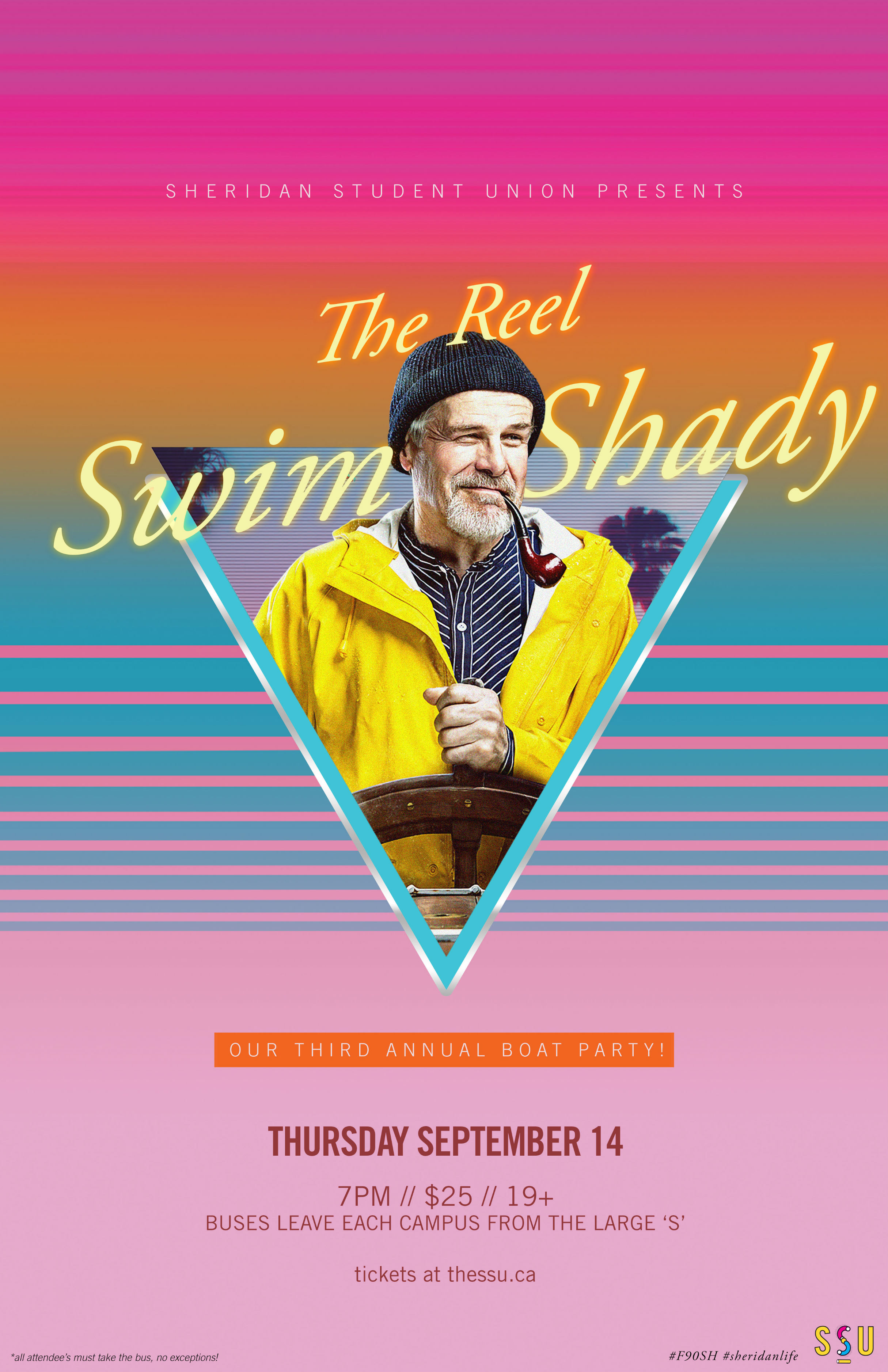 The SSU's 3rd Annual Boat Cruise is BACK!  Get ready to ride the waves around the six and bump to one of the best DJs in Toronto. Event happens rain or shine! There will be food and beverage on the boat, so no need to bring your own. A three-hour boat party with live music, food & drinks!
TIPS: Event happens rain or shine! Remember: to bring your Student ID and Government issued ID. 19+ event. Tickets can be purchased at: www.thessu.ca/events
Presented by:
Sheridan Student Union
Connect via:
Twitter
St Clair College
"Marianas Trench"
Sept 7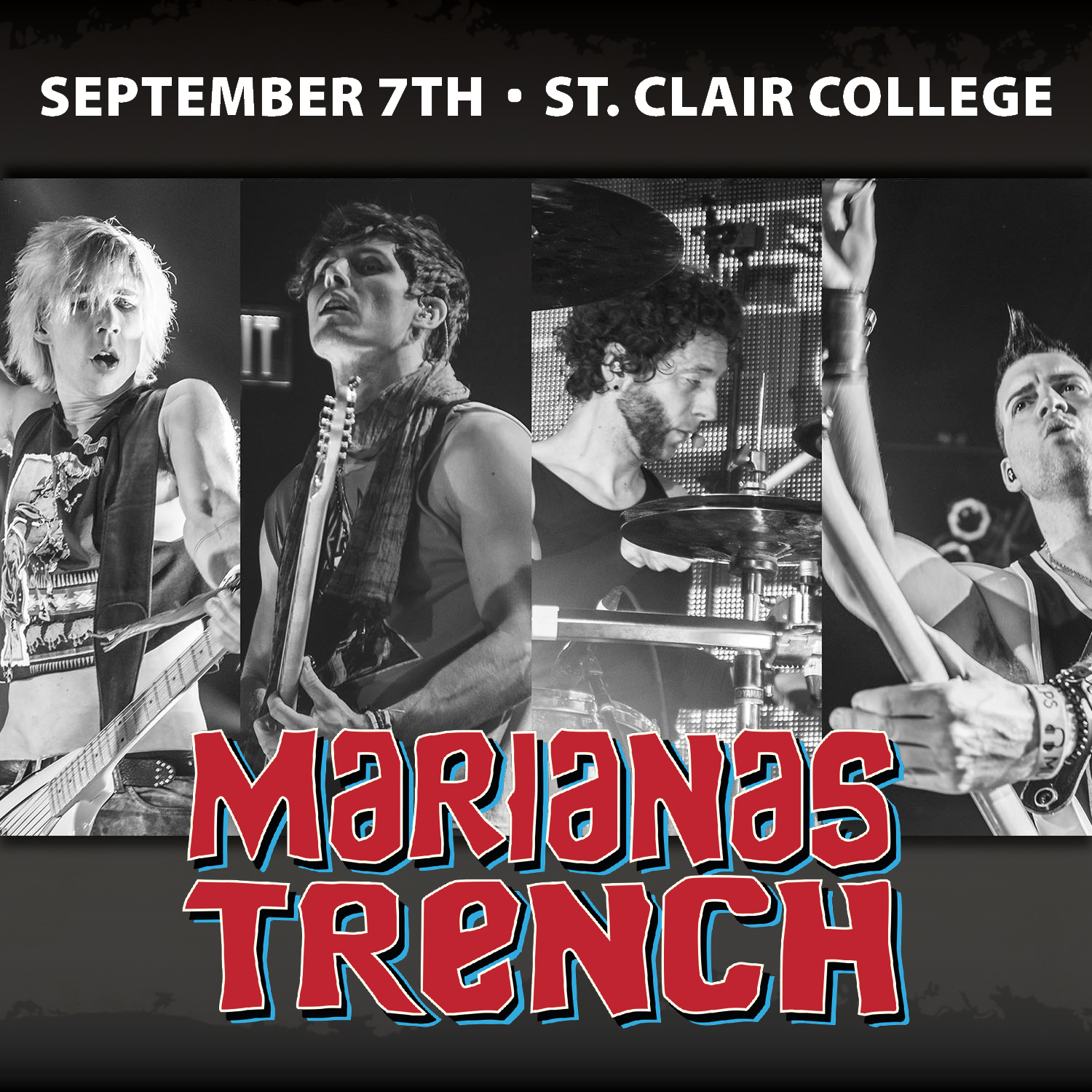 This is your once-in-a-lifetime opportunity to experience Canadian heroes, Marianas Trench, in an intimate, college-exclusive concert held in our new state-of-the-art venue, the Student Life Centre. With general admission is priced at $25 and tiered packages are available. Start the year off right and make the most of your #SCCFROSH2017.
TIPS: Put your dancing shoes on and come ready to have a good time! Also make sure you have your Id, Ticket (Can be printed or on your phone) Student card or Proof of enrolment. I would come a little bit early so you're not stuck in the back of the line.
Presented by:
St Clair Student Representative Council
Connect via:
Twitter
University of Toronto Scarborough
"We the East: Festival"
Aug 31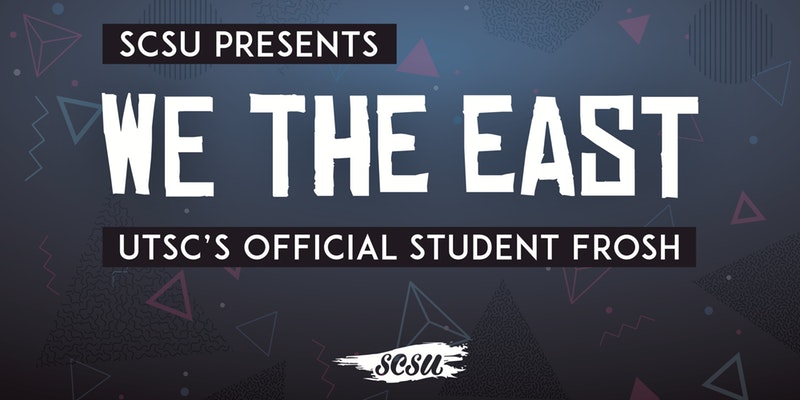 Frosh, which is happening on August 29-31st is a great opportunity to meet new people, get acquainted with the campus and have fun. UoT Scarborough will be having a festival (Aug 31) to wrap up Frosh with guest performers and Roy Woods.
TIPS: Pack light and dress comfortably! We will be providing you with bags, t-shirts and meals. Need your wristband & T-shirt for We The East Festival. Outdoor event. Rain or Shine .
Presented by:
Scarborough Campus Students' Union
Connect via:
Twitter
Trent University
"5K Colour Run"
Sept 7

Trent University's annual 5K Colour Run event is to promote active healthy living, positivity and unity between all faculty, staff and students of different athletic abilities! In order to continue the positivity and healthy living, at the beginning of the race, you'll receive a event shirt with a reusable water bottle while supplies last. At the end of the 5K Colour Run race, music and healthy snacking options will be available!
TIPS: i) Challenge yourself! Try something new! Feel good about yourself!, Everyone is here to support you ii) Feel free to utilize the water stations to stay hydrated during the event iii) Pace yourself! There's no timeframe to complete the run! Feel free to bring your funkiest outfit for the event and some sunscreen!
Presented by:
Trent Central Student Association
University of Waterloo
"Feds Showcase"
Sept 12
Learn what Feds can do for you! All of our student-run services and commercial services will be hosting booths with activities and giveaways. Come enjoy Bomber burgers, decorate cookies with the Women's Centre, and sample some Wasabi sushi!
TIPS: There will be lots of interactive activities for students to learn more about Feds as well as enter to win amazing prizes. Visit our booths and enter to win the Ultimate Warrior Prize pack!
Presented by:
Federation of Students University of Waterloo
Wilfrid Laurier University
"Shine Day"
Sept 9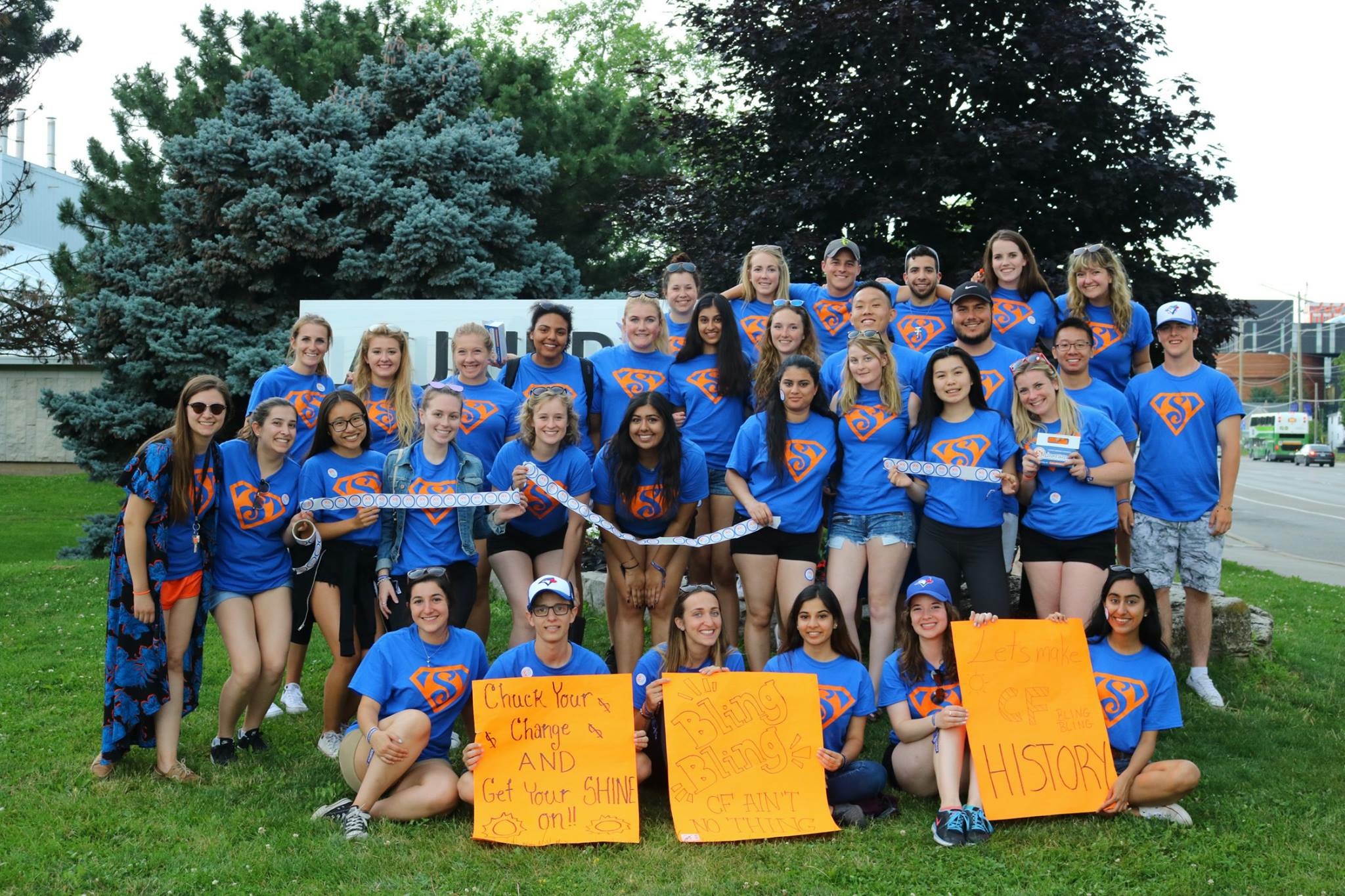 Laurier students participating in Laurier's Orientation Week have it made – they just have to show up to the event and they can participate in Shine Day! On Saturday, September 9th, their icebreaker will bring them to campus where they will get on a bus and go to their designated site for a day of fundraising. This event involves students fundraising and cheering outside all day long (rain or shine, they still shine!). Students have a history of getting creative with getting donations: perhaps you will stumble upon students singing, dancing, or playing instruments. If you are out there fundraising yourself, maybe you can come up with a new way to gather attention!
TIPS: Make sure to take the day to bond with all the new friends you are meeting in university and get acquainted with the community. It goes by fast and it will likely become one of your favourite memories from university! REMEMBER: Wear comfortable shoes for the day and bring some sunscreen. Shinerama does provide a pizza lunch for the day, but remember to bring a water bottle to stay hydrated. Wear some of your favourite spirit clothes to catch attention for your cause! And last but not least, remember your amazing Golden Hawk spirit! This spirit defines Laurier as a school and is what makes our Shinerama campaign nationally renowned!
Presented by:
Wilfrid Laurier University Students' Union
Western University
"Purple Fest 2017 Concert and Carnival feat. The Strumbellas"
Sept 10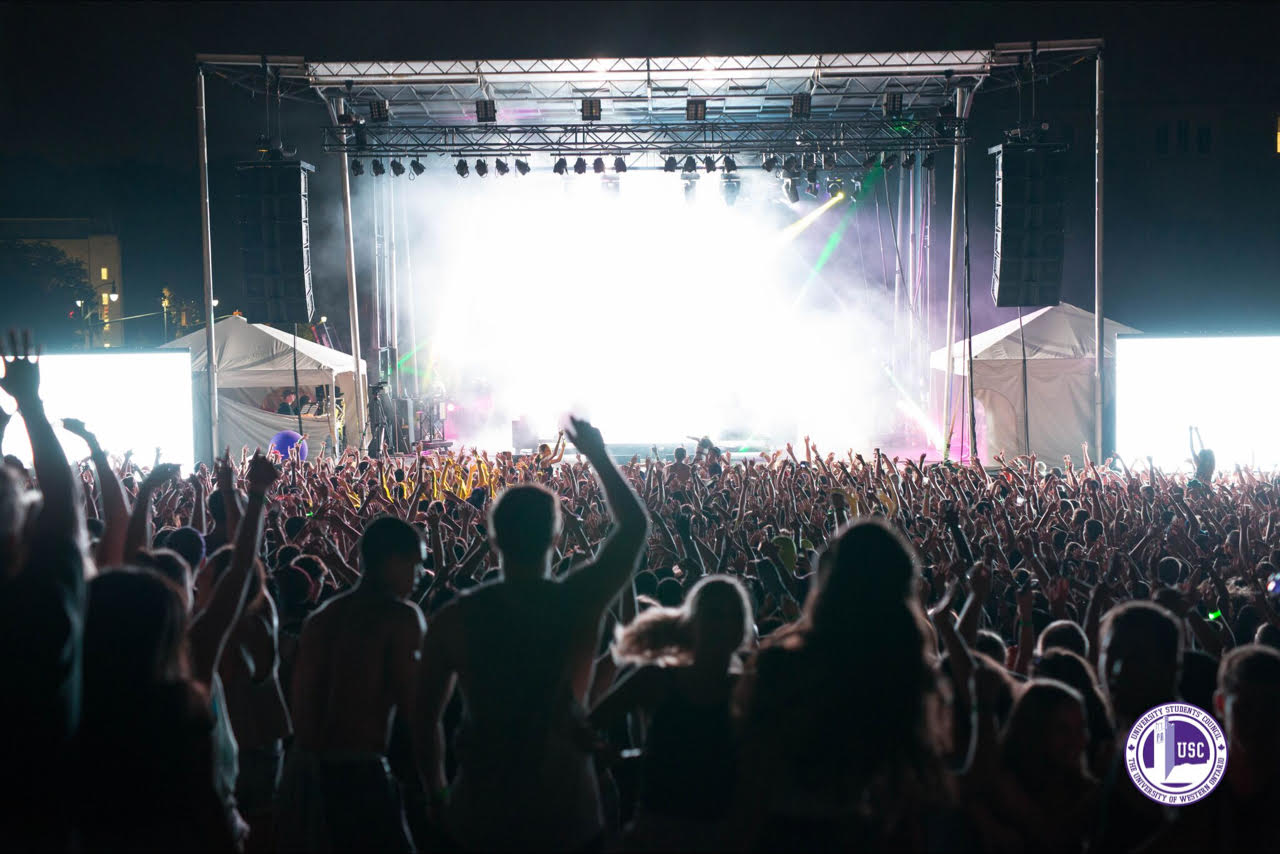 Purple Fest is the USC's annual outdoor concert that kicks off the school year or all students. Located on UC Hill we have a one night festival that features carnival games, food trucks, a headlining act each year. We are extremely excited to have the Strumbellas coming for this year's Purple Fest and expect to see a lot of students out on The Hill!
TIPS: Purple Fest runs rain or shine, so make sure to bring a poncho or umbrella if it's looking a bit cloudy! Purple Fest is a FREE event for all current Western students, so the only thing you need to remember is your student card!
Presented by:
University Students' Council
Connect via:
Facebook 
Twitter
Instagram
SnapChat: westernusc
York University
"Yorkfest Welcome Back Concert"
Sept 28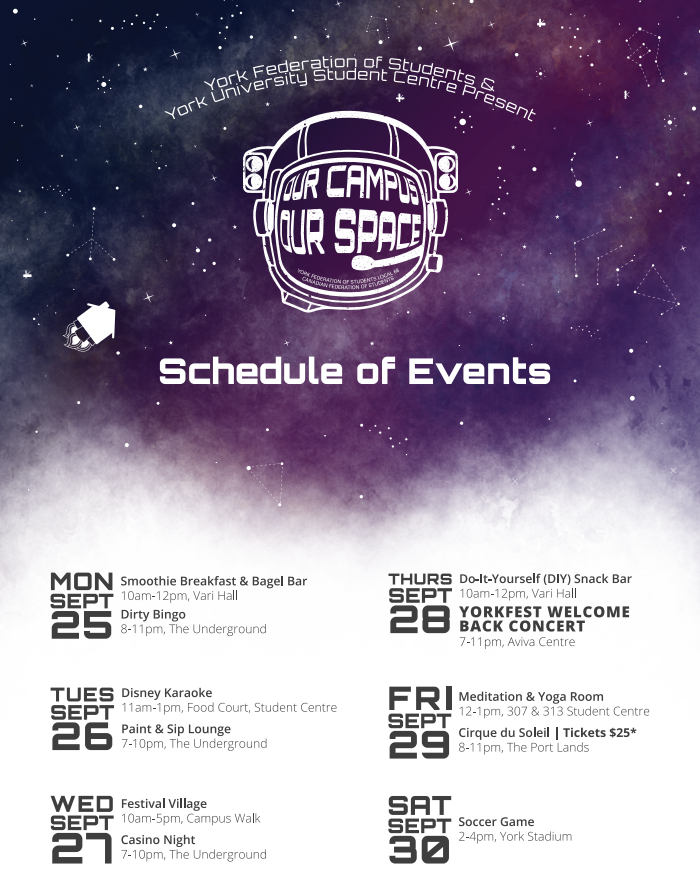 YorkFest is the largest welcome back orientation festival in the country. It hosts over 250 student clubs and sponsors, and has an attendance of over 30,000 students. It's a week-long full roster of FREE events during Yorkfest which, this year will be from September 25- 29, 2017. The biggest events are the Festival Village (September 27th, 2017), which is basically a Vendor day and a Clubs Day all rolled into one huge day long Fest. The concert is always a major hit (September 28th, 2017). Previous artists include; Alessia Cara, AlunaGeorge, Big Sean, B.O.B., Nas, Keri Hilson, Lupe Fiasco, and Major Lazer—which have all been 'at capacity' concerts.
TIPS: Arrive early, bring York ID for entrance. Government ID if 19+. Try to avoid backpacks to get through the line faster.
Presented by:
York Federation of Students