I've always made plans. I like to know how things are going to play out, I like to have a strategy. University was no different for me. Choosing "what" to study was easy. I loved biology, and I thought I would study it.
After a lot of reflection, I chose Lakehead as my "where." When I came to Lakehead, I was going to study biology. I was going to become a biologist. Then I took a geology elective in my first year, and (to my surprise) I really liked it. The professor teaching the course has such a passion for geology that when she talks about it, you can't help but want to love geology as much as she does. I thought it was so fascinating. We wrote our midterm in early October and when the marks came back, I'd only gotten one question wrong. Being the absolutely shameless overachiever that I am, I asked my professor if I could come by her office and take a look at my test, to see where I made the mistake. She said of course and set up an appointment the following day. When I got to her office she already had the test out, open to the page. After we spoke about my test, she asked how my other classes were going. I said that they were amazing. I told her that geology was my favourite class, but I wasn't sure what I could do with geology. She started talking about what she did, telling me stories from her career.
One meeting became many meetings with my professor and with others in the geology department. By second semester, I was officially a geology student. Without that first elective and the professor who taught me in my first year, I'd have never discovered my passion for geology. Lakehead is unique because the people who choose Lakehead are unique. My professor took enough interest to see something in me that I hadn't yet discovered in myself.
My professor took enough interest to see something in me that I hadn't yet discovered in myself.
I don't think you find this kind of environment often. At Lakehead, every professor I've had so far is dedicated to teaching. They take a personal interest in their students. They'll learn your name. At Lakehead, you're not a number on a piece of paper. You are a unique, individual person. Your education is the priority. And I promise you, you won't find this anywhere else.
Leaving Home & Finding a Family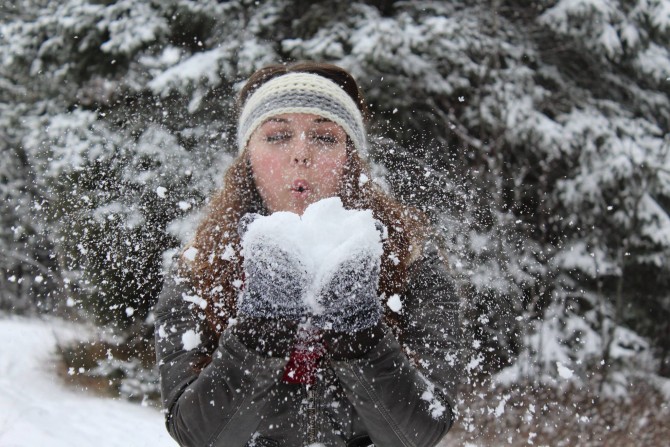 Leaving home for the first time wasn't easy for me. I moved nearly 1,700 kilometres away from home. I'd lived in the same house for my entire life in a small village in southern Ontario. However excited I might have been to come to university, I was pretty scared, too. I was worried that I wouldn't like living in a (relatively) big city, that I wouldn't make friends and that maybe I had made the wrong choice. I realize now that I probably wasn't alone in those feelings.
During my second week of university (ever!) I was asked to attend Lakehead's 50th Anniversary Homecoming Gala as the student guest speaker. Then I was told it was black tie occasion and that I could bring a date. And that it was in a week. I was so overwhelmed. I mentioned it to a few people I lived with in LU Residence, and they all rallied to help me. Tyler helped me write the speech by coaxing some good stories out of me and helping me decide what to say. Samantha and Holly helped me find a dress. Libby did my hair, and Alyssa did my makeup. Evan came with me to the Gala itself, and it gave me confidence to have a friend there with me. Now, as I'm writing this, it seems like the most natural thing in the world because those people are my friends, and maybe it seems trivial. But at the time, during our second week together, we didn't know each other. We were hardly friends yet, but it didn't matter. Everyone was there for me.
As the year went on, we all looked out for each other. If you needed help with an assignment, you could always ask someone. If you needed a shoulder to cry on, a friend was always there. If you wanted to skate on Lake Tamblyn (right on our campus doorstep) at midnight, there were always half a dozen people who would go with you.
The people you meet at Lakehead become your new family. We rely on each other. We look out for each other.
Most people at Lakehead move away from their homes and their families, myself included. It isn't a casual drive home on the weekend. In a lot of cases, it's all the way across the province. For this reason, the people you meet at Lakehead become your new family. And it's not just the people you live with either; it's the people in your program (classes are small, so you know everyone), the people on your rec league team, and the person you always happen to sit next to in the library. You end up eating Thanksgiving dinner together, and it's always one of your friends who makes you a birthday cake. We rely on each other. We look out for each other. I think that's the most important thing.
Why Lakehead is Different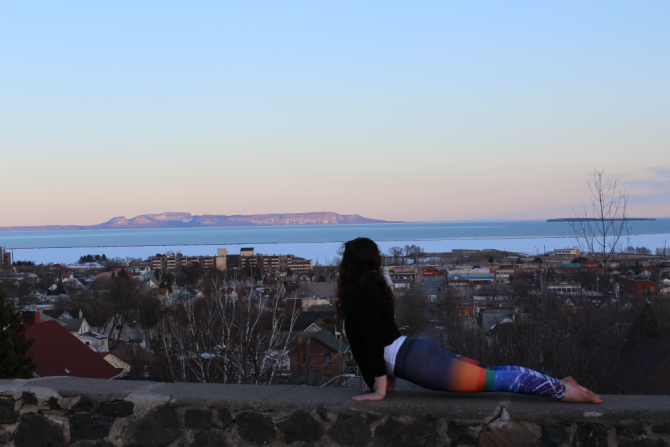 Lakehead is anything but ordinary. That much is obvious, even from the first time you visit the campus. There's something about Lakehead that has always felt like a home to me. I loved the idea of a student-first education; an education on my own terms. I've never been able to see myself as a nurse or an engineer or a helicopter pilot or anything else with a neat title and tidy description. I don't know what I'll do after I graduate. When I was choosing a university, I wanted a school where I'd have the opportunity to grow and where I'd be challenged to fulfill my potential. I chose Lakehead because I wanted to be encouraged to take risks. I wanted to take a leap of faith, and discover something I love. At Lakehead, they offered me these opportunities. And more.
"Ruth, You Can Go Anywhere"
People say to me all the time: You could have gone anywhere. That's probably true, I could've gone just about anywhere. What people often don't realize is the value of an education and the kind of experience that Lakehead University offers. I don't want to say that you'd get a better or worse education here than anywhere else, because I don't know that. What I do know is that I chose Lakehead because it's a school that puts me first. And that's what I tell people when they ask.
Lakehead is a place where what you want comes first and your education happens on your own terms. It isn't about competing for the top spot with your classmates or writing multiple choice tests with 500 other nameless students.
The greatest success I've found at Lakehead is in the ability to make my own choices and to receive an education on my own terms.
The greatest success I've found at Lakehead is in the ability to make my own choices and to receive an education on my own terms; to have a relationship with my teachers and to find a family in my classmates. I'm a firm believer that success is never an individual affair; that is, you're never wholly responsible for your own success. Along the way there are always people helping you: the professor who lets you review your exam so you don't make the same mistake twice; your roommate who cooks your dinner when you're too busy to do it for yourself; the classmate who spends hours in the lab studying with you; the friend who makes sure you take some time for yourself every now and then; the woman at the coffee shop who always asks you how your day is going while she fills your cup. Every single one of those people is important, they play a role in your success no matter how big or small. Those are the people I've found at Lakehead and they have contributed to my success here in such a real way.
Choosing Lakehead was the best thing I've ever done for myself. People say to me "you could have gone anywhere," but what they don't realize is that the way I'm motivated to challenge myself at Lakehead will give me the tools to go anywhere and everywhere I aspire. It will carry me to places I can't even imagine.
Congratulations, Nanziba!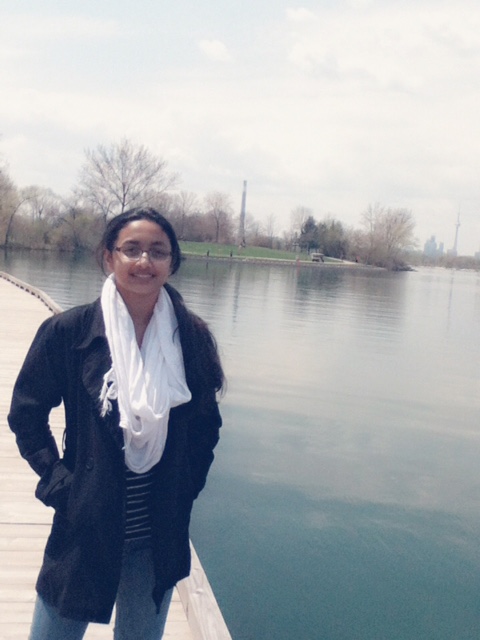 Nanziba Tasneem of East York C.I., you've won $1,000 for your education. Congratulations!
About Lakehead University
University can be about getting a world-class education while having the experience of a lifetime. At Lakehead University, expand your horizons and start your journey at a university that is far from ordinary. With two campus locations in Thunder Bay and Orillia, Ontario, we offer a personal campus experience where you can truly realize your potential. Over 8,000 students study from our comprehensive range of undergraduate and graduate programs, alongside acclaimed faculty which truly care about your academic growth and success. For the second consecutive year, Lakehead has been ranked #1 for undergraduate research in Canada. Starting right in first year and beyond, we provide you with an opportunity to explore and develop something new through cutting-edge research allowing you to make a positive difference in the world around us.
From the moment you step onto our campuses, you will discover this is no ordinary university experience. Learn more at www.mylakehead.ca.