Like Twitter itself, the silver bullet of career success is all about the connections you make early on. Starting now.
Getting a tip about an open position at our "someday" company may seem out of our control, but it's not. And this kind of help is what careers are built on, if you ask Justin Vandenberg.
He's an Account Executive at Twitter who helps brands like Rogers and Apple use the platform, and he's a total sports dude. So it's fitting Justin lives by the mantra, you're only as good as your team. He didn't walk into Twitter on his own, just like we can't land our dream job solo. 
"I think everybody starts with a friend. That's how it begins."
How did you start out?
I decided to study advertising at Georgian College on a whim because I wasn't sure what I wanted to do. When I was in high school, I wanted to get into broadcasting and be in front of the camera.
Coming out of high school I emailed James Duthie, the sports broadcaster from TSN, (he was my favourite). I emailed him for thirty days straight until he got back to me. He called and invited me down to TSN, and we had a conversation.
One thing he said that stuck with me was that you can't just show up and be in front of the camera and have that as the only thing you can do. You have to have multiple functions in terms of what you can potentially do as your career. So if you want to be in front of the camera, you should also be a writer or have other talents as a backup, because things are changing. So I thought if I can't get into broadcasting, advertising seems kind of cool. I got involved in absolutely everything that I could.
My first official job was selling grocery cart handle advertising in retail. I got [the job] through an internship through college. It was actually a friend's mom who got me into [the company]. I think everybody starts with a friend. That's how it begins. That's how I got into the advertising/sales space.
How did you get into Twitter?
The gentleman who hired me at [my previous job] started working at Twitter, and put in a good recommendation for me when they opened their office here in Canada, and I ended up getting a chance to interview for it because of him.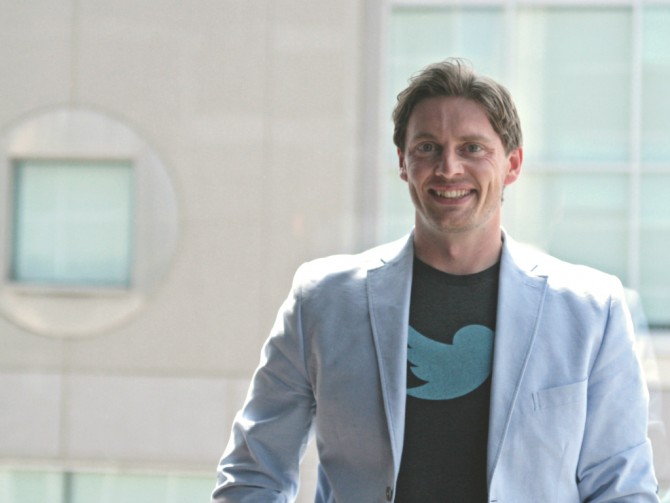 "No matter where you go, people will come in and out of your life, and you never know when they might tap you on shoulder and ask you to come back in."
Why were you recommended?
I think we worked well together in the past, and he understood my work ethic in terms of how I operate with a team, and how I operate outside of the office. That's the importance of keeping good connections. No matter where you go, people will come in and out of your life, and you never know when they might tap you on shoulder and ask you to come back in.
Was the interview process stressful?
No, the most stressful part was the background checks. They called every single past employer, even from ten years ago. That's why it's so important to ensure that when you're leaving companies you're not burning bridges.
How did you prepare for the interviews?
I called people that had purchased advertising from Twitter, or that I had networked with, or who were my mentors in the past, to get a better understanding of what Twitter was all about. So it was a lot of reaching out to people I had done business with to have a serious conversation with them about the platform.
And you can do that in many ways. You can tell them flat out that you're thinking of applying for a position (if you trust them), or you can say your company is thinking about partnering with them. Anything to get more information to try and understand more about a company. Aside from that, there are a ton of articles on Twitter. You don't have to look far to learn pros and cons about it.
"A ton of people have helped me get to where I am today… You're only as good as your team."
You seem like a person who taps into the resources he has.
A hundred percent. Anybody who thinks they can succeed from a professional standpoint on their own will be very disappointed when they find they can't be the lone wolf. A ton of people have helped me get to where I am today. A ton of people I continue to work with on a daily basis help move this engine forward. You're only as good as your team.
Any mistakes you've made in your career?
Something I wish I had done differently in those times where I was less experienced or less mature, or if I had an issue with somebody or problem with a boss or somebody was working with, is that I had reached out and done something about it. Had that conversation, versus not doing anything at all.
Do you go to a lot of industry events?
I think industry events are a fantastic way to meet new people. They're an opportunity not only to market yourself as an individual, but also to ask questions to other people in the industry to find out what they're doing or what their stances are on different companies or products. They're a good opportunity to network and put a face to a name, because a lot of people hide behind email these days.
Actually get to know people?
Yeah. Absolutely. If you go to these events, that's a natural part of it. I would hope you're not just there to try the caviar, have a couple beers and leave. The purpose is to celebrate together as industry and learn from each other.
Best decision you made in your twenties?
One of best decisions I ever made from a personal development point happened just before college. My last year of high school, I decided to take improv. Improv opened up a whole bunch of opportunities for me. I learned a ton about myself, other people, about acceptance, teamwork. I throw a lot to improv for directing me into a sales position today. And that's not to say that I'm showing up to meetings and not being prepared. But things change. You have to be able to tell a really great story in front of a client or brand, and that is what I excel in. Ultimately, something we're tasked with as salespeople is to be really great storytellers.
Case in point: keep in touch with old bosses. Get out and meet new people, and keep in touch with them, too. Finally, always leave great, lasting impressions. You can follow Justin on Twitter @JVBerg