Most Canadians think that attending school automatically yields a better future. This especially applies to grad school. They (mostly parents) say something to the effect of, "You have to pursue higher education to get a good job!"
But do you? What about the people without degrees who still land stellar jobs in fields that they love?
This makes things more than a little confusing for those of us who haven't quite figured out our academic situations.
How can we know what's right for us? How do we know what'll make us happy?
Pursuing a Masters, PhD, or professional degree could be a marvelous decision—you just have to know yourself before you go through with it.
The 2013 Canadian Graduate and Professional Student Survey polled over 50,000 graduate students in nearly 50 schools to uncover their feelings about their academic and social lives during post-grad.  Although the 50k demographic comprises a third of all students asked to take the survey, that sample seems fairly representative of the whole group.
40.6% of students who took this survey reported having a "very good" academic experience at their schools, with only 11% rating it as either "fair" or "poor" and 25% reporting it as "excellent." Similar figures applied to the students' satisfaction with both their programs and their overall experience with grad school (this info is in Section 11 of the survey if you actually want to read it).
As indicated in Section 8 of the survey, only 19% of students estimated they'd have up to $10,000 in debt, and a cumulative 22.3% of respondents estimated that their debt would fall anywhere between $10,000 – $30,000. Less than 11% predicted they'd have debt ranging anywhere from $30K – $80K+.
A whopping 48.5% of respondents self-reported that they would complete their graduate studies with $0 of debt.
Let me just write that out—zero dollars of debt.
This is possible with the help of bursaries, scholarships, fellowships, and assistantships — those are on top of any other income or savings one might have, of course.
Todd Pettigrew, an Associate Professor of English at Cape Breton University, can back up this information about the cost of post-grad education: "The upside is that most programs will provide you funding that will mostly or even entirely cover your costs. Funding generally comes in three forms: external funding like that provided by the national granting agencies like the SSHRC (for humanities and social science students), NSERC (for science and engineering), and CIHR (for health research)."
All this information is totally contrary to the horror stories that post-grad students are up to their necks in debt, insomniacs, or otherwise in utter disdain of their own lives. How is it that so many Canadian grad students seem pleased with grad school when it's perceived as such a soul-sucking experience?
Well, it's simple: when the wrong people enroll in post-grad education, it is soul-sucking. When the right people do, it's an entirely worthwhile pursuit.
So when deciding if a Masters, PhD, or other professional degree is right for you, here's what you need to ask yourself:
How passionate am I about my chosen field?
How resilient am I to stress?
Am I okay with constantly doing research and academic writing?
Do I believe that grad school will be enjoyable overall?
If your respective answers to those questions went something like, "Super. Very. Yes. YES," then congratulations! You'd probably flourish in grad school.
However, if you're looking to go to grad school solely because you think your career prospects will improve, you may want to reconsider your decision.
A report detailing the economic returns of PhDs states that "In 2011, the most recent year with authoritative data available, 6,219 Canadians earned a PhD." This figure is an increase of 68% from the amount of PhDs granted to Canadians in 2002. The report also highlights that, as of 2015, "26 per cent of those with PhDs in Canada end up in positions with annual salaries under $50,000."
So if you're considering grad school for its purportedly lucrative job prospects, you could be in for a disappointment. Even though many universities beam about their students' future employability —"with some touting post-graduation employment rates of 90 per cent"—the objective value of post-grad degrees in the workforce is shaky at best, and these degrees won't necessarily score you the financial security you seek.
Loretta McMann, a law student at Osgoode Hall Law School whose name has been changed for privacy reasons, can attest to the dangers of going through post-grad when it isn't a labour of love. When I interviewed her about it, she described her experience at law school as "the most stressful period of [her] life," and not stressful in a good way.
"I considered [pursuing] grad school in philosophy, but the long term career prospect of law was more appealing," she says. "My family favoured law school over grad school, so that was a major factor."
And so because external factors made her go against her better judgment, Loretta felt "like a cog in the system, being forcefully injected information that was neither useful nor interesting" during her time at law school.
Despite her bad experience, Loretta had beautifully lucid advice for budding scholars pursuing higher education: "If you love the subject you're studying, then consider grad school. Don't do it for the prestige. Don't do it because you're already doing it. Don't do it for any reason except that you love it."
Happiness comes about when you do the things that you are compelled to do, whether it's starting a family, becoming a musician, or getting a post-grad education. Attending grad school is a decision that only you should make, and it's one that you need to be sure of before you go through with it. If the enthusiasm is there, follow it. Anyone who tells you what's best for you is either a) your mom, b) lying, c) trying to sell you something, or, in extremely rare cases, d) all of the above.
I'd like to direct you to this hilariously cheeky (but useful) article about 20 things to expect once you're done with your post-secondary studies—the information therein is useful regardless of your eventual decisions about post-grad.
You, as they so aptly say, do you. Nobody is more readily equipped to foster your own happiness than your lovely old self.
Congratulations to Tiina Kukkonen of Queens University, winner of Week 2 in the 10K Study break!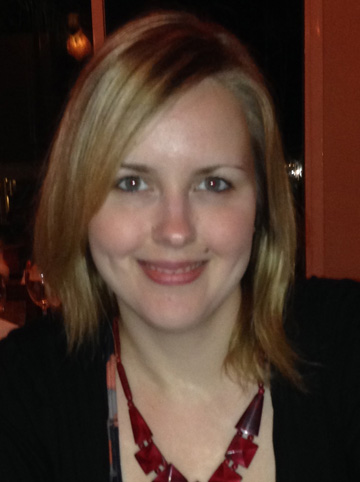 Enjoy that $1,000 study break, Tina! For your chance to win, see this week's challenge!
The above content is intended only to provide a summary and general overview on matters of interest and is not a substitute for, and should not be construed as the advice of an experienced professional. CIBC does not guarantee the currency, accuracy, applicability or completeness of this content.
*No purchase necessary. Open to legal residents of Canada 16+ (excluding Quebec). Contest closes at 11:59:59 PM ET on July 13, 2016. There are ten (10) prizes available at the outset of $1,000 each. One prize per Challenge period; prizes available will diminish as awarded. Odds of winning depend on number of entries received per Challenge period. All amounts in these Rules are in Canadian dollars. One (1) prize is available to be won per challenge period. Limit one (1) prize per person during the entire Contest Period. Skill testing question required. Full rules available here.