Last Thursday, February 25, Ontario's Liberal government passed a budget that included one of the most radical reforms to student financial aid in recent history—non-repayable tuition grants for low-income post-secondary students.
While the Ontario government has issued post-secondary tuition grants in the past, this is the first time it will issue grants large enough to cover the entire cost of some tuitions, and in some cases, even leave students with a surplus to help cover other expenses.
So, the headlines scream "free tuition," and naturally, students seemed thrilled. However, Conservative opposition would submit that the Liberal utopia comes at a cost.
The Conservative Party called the recent budget a "shell game," which funnels money out of other essential services and refocuses it towards the tuition grants. In addition, since the tuition grants come as package deal with the overall Ontario budget, they'll be made into law along with a cap and trade on oil and gas, effectively raising the price of gasoline at Ontario pumps. This will dig into the pockets of not just students, but Ontarians as a whole.
You've probably seen a few of your pick-up-truck-driving friends post similar, albeit less articulate, arguments on Facebook. But do their arguments hold water? Will students have to pay for their "free" tuition in some unforeseen way?
We asked Reza Moridi, the Minister of Training, Colleges and Universities and one of the primary forces behind the push for Ontario tuition grants, if the budget overall will have a negative impact on students.
"The Conservatives are looking at this in a very superficial way," said Dr. Moridi. "When we shut down coal plants, for example, it's costly in the short term, but look at the big picture. We're saving billions each year in health care to battle respiratory diseases, not to mention human misery."
"More diversity on campus. Fewer barriers to entry. Debt-free graduates. Less stress. Oh, and a more eco-friendly Ontario as a bonus."
Students also shouldn't fret a slight spike at the gas pumps, "It's going to help out students," continued Dr. Moridi. "When they graduate they're going to be able to find new jobs in the clean energy sector. Ontario is a leader in clean energy."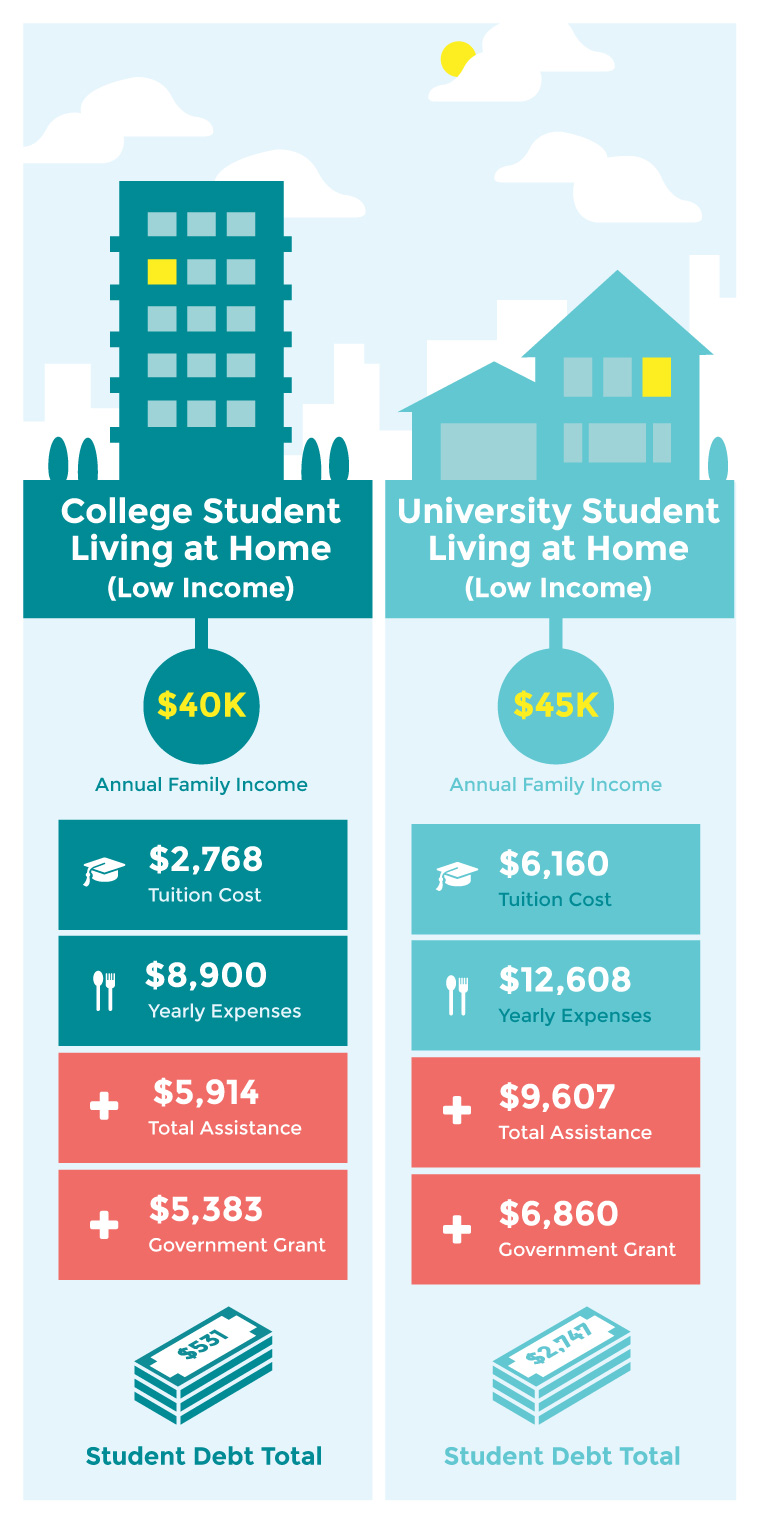 Illustration by SLN's Satesh Mistry. Stats via National Post.
As this new budget is expected to decrease the Ontario deficit overall, and money allocated towards student grants remains the same at $1.3 billion, thanks to the Liberal's "shell game," it's safe to say that students won't need to rethink their tax-dollar funded tuitions.
"This is a very progressive tax policy," said David Agnew, President of Seneca College and Chair of the Colleges Ontario Committee of Presidents. "We're not putting any new money into the system. Shortly to be ended are tax credits that were only benefitting the highest income folks."
The new grants also remove many previous restrictions that applied to part-time students, post-graduates and students who had been out of high school for more than fours years. "In Ontario, we've had governments and institutions which are very determined to create a system where anyone can qualify regardless of financial status," said Agnew.
With a potentially heavy influx of post-secondary applications, will high school students have to fight harder for available spots in the classroom?
"In GTA institutions, we're in a demographic slump right now. Because of birth rates, we've seen a dip in graduates. There are a lot of international students, but domestic growth has been slow, so when you look at the system as a whole, growth has been slow," said Agnew. "We're not talking about restricting entry, we're building capacity. We'll be able to absorb any kind of increase."
Additionally, the grants work to keep low-income students in school once they're accepted. Currently, according to Moridi, only 22% of students coming from households making less than $50,000 annually continue their education, while a whopping 77% of students from high-income households see graduation.
"We're not talking about restricting entry, we're building capacity. We'll be able to absorb any kind increase."
It's not difficult for most students to imagine the kind of psychological burden that would be removed by being financially secured and debt free throughout their post-secondary experience. In many cases, that negative connotation stops many students from applying in the first place.
"What we see is that high costs of tuition act as the number one barrier for students looking to go to college," said Rajean Hoilett, Chair of the Canadian Federation of Students' Ontario executive committee. "This new budget will no longer penalize students coming from low-income households. Because we're shifting how we're providing assistance, it's going to level the playing field overall. Right now low-income students end up paying 50% more because of interest. This is a more equitable and accessible system."
Hoilett also commented on the demographic decline of domestic students in post-secondary, citing that this will be a greater opportunity to create further diversity on campus. "That creates a greater opportunity for our campuses to be more racially diverse and to have greater queer and trans representation," said Hoilett. "It's not just about saving students money. It's about social justice and combating oppression which impacts Ontarians daily lives."
"It's not just about saving students money. It's about social justice and combating oppression which impacts Ontarians daily lives."
So while there may be legitimate concerns about socialist post-secondary funding becoming overinflated, or doing more harm than good, it would appear Ontario's model has struck a good balance.
"If you go to the countries that have "free tuition" it's a highly restricted system and it ends up either being just for a few people or the elite institutions are massively expensive and the free institutions are of very poor quality," David Agnew explains. "It takes money to run a post-secondary institution, but we want to make it available to as many people as possible. It's not just the cost of tuition, it's the cost of living and books and so on. This government has struck a balance between affordability and access."