It took me a long time to buy my first car.
It's a huge purchase, and it was tough for me to justify spending that kind of money on something that would keep me so… grounded.
Throughout university and college, I became an expert at carrying my luggage through the bus stations across the country, drove every compact vehicle in Budget Rent a Car's fleet, and shamelessly relied on friends to move my belongings… between eight apartments in three cities over five years.
After months of searching, I came across a used 2010 Ford Focus SE in silver (my #1 colour choice) with leather seats (bonus!) and only 19,000 km on the odometer. Thinking back, it still feels like I didn't find that car as much as it found me. I bought it within an hour.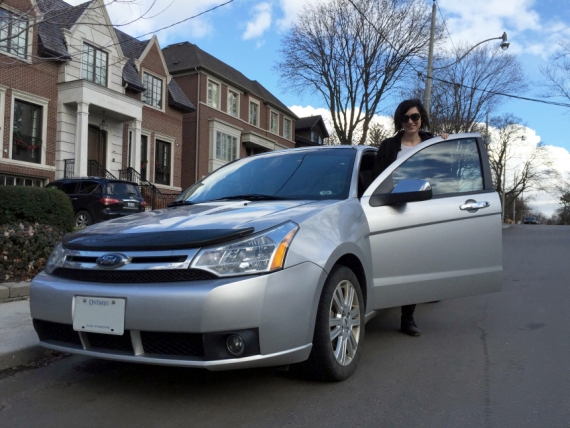 So how did one little car sell a travel-light, public transit-hopping girl on the merits of car ownership? Let's see…
The Solo Drive
There's a special bond you create with your car when you drive 90 minutes to and from work. Thanks to its voice-activated SYNC system, the Focus and I developed a surprisingly agreeable commute routine. I'd call friends and family hands-free from the road or turn up those Fall Out Boy playlists from 2nd year (and charged my phone along the way with the charging USB port).
On chilly mornings, I'd turn on the seat heaters and tuck in with a coffee and an audiobook for the long haul.
The Best-Pal Road Trip Possibilities
Admittedly, a car purchase hurt my travel budget. It's a lot harder to justify a seat sale out to the mountains now, but it's also introduced me to a new category of travel: The Spontaneous Roadtrip. These days, there's never a New Year's Eve spent at home (hello, Atlantic City) or a concert too far for me (like Paramore… again).
Whether it's an hour-long drive to visit a friend or a mission across the United States to see my all-time favourite bands, my Focus has afforded me so many memories of navigating the interstate with a car full of friends, surrounded by coffee cups, gas-station liquorice, and Super Trooper quotes.
"My Focus has afforded me so many memories of navigating the interstate with a car full of friends, surrounded by coffee cups, gas-station liquorice, and Super Trooper quotes."
The trunk easily fits luggage for four people, which leaves the backseat with enough room for en route napping (big plus, let's be honest). Most importantly, the Focus is incredibly efficient on fuel (it actually got us places for cheaper than our collective bus fare).
But when SLN decided to give Canada's Luckiest Student a 2016 Ford Focus, I knew I had to take one for a test drive to report back on my findings. Since then, I've concluded that the 2016 Ford Focus will probably be my second car.
Good Things Usually Get Better
Walking into my Ford dealership in my hometown, the first thing I noticed was that the Focus had gotten a huge makeover. I was happy to find that the best features not only remained, but were improved. The slick new appearance of the front-end and the interior controls caught my eye, but Ford really had me at the heated steering wheel (yessss!) that comes with the SE Winter Package.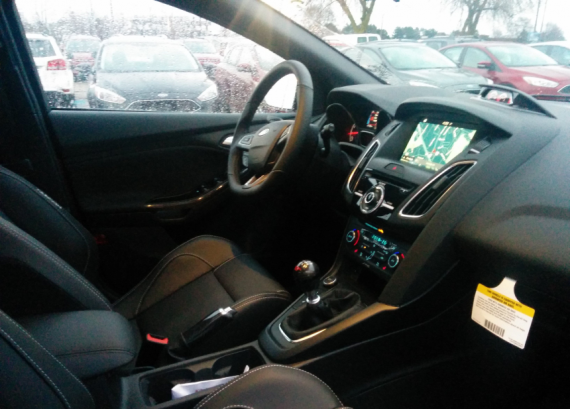 It was easy to see that the dealership staff were excited about the car—three of them jumped in over the course of my visit to tell me why they loved the new model. When they pulled up the Focus ST for a test drive, with its stunning gunmetal rims, Recaro sport seats (think classic race car) and available digital navigation system, I knew I was hooked on this car.
I was already imagining cruising through a West Coast road trip when I was assured that despite its high horsepower, the Focus maintains its five-star safety rating. Which means I can get a little more fast car without paying a little more for insurance.
The Ford Family
My Ford dealership feels like family, and they have since the first day I walked in.
I still commute back to my hometown for routine maintenance because I know it'll be relatively stress-free (and maybe because I'm always given an iPad and some WiFi while I wait). And when it comes time to finance a new car, Ford isn't just a credit score-based lender. From the minute they met me, I was treated like a savvy, responsible new grad (which I was) and a potential lifelong customer. Which, as it turns out, I am.
So while it took me a long time to decide on a car, it didn't take me long to know I'd made the right choice with the Focus. After years of chasing that feeling of freedom as a traveller, I've come to realize there's a certain kind of freedom that only comes with being in the driver's seat.
Want Your Own Focus? Win it!
The winner of Canada's Luckiest Student won't only win $100,000 in prizes, they'll also win a brand new Ford Focus. Win it!