On Father's Day, countless sons and daughters struggle to find a perfect gift for their dads. From watches to barbecues, the possibilities are not only endless, but pretty expensive. Should you buy him a power tool? A fancy shirt? Did he recently misplace his sunglasses (again)? It can be hard to keep track of pops' wants and needs, but no matter what you choose to buy for him, these sweet and simple projects will wonderfully complement anything you get for dad.
1. Dad's Tropical Breakfast
For this meal, you will need a variety of fruits. This can include apples, oranges, mangoes, grapes, pineapples, strawberries, blueberries, and anything under the sun you think dad would love. This activity is really fun to make if you use waffles or pancakes as a base, since you can create faces with them. Although I didn't do this for my own breakfast (pictured below), you can even use maple syrup to spell out "Happy Father's Day"! Strawberry syrup or chocolate drizzle work, too. If you can't fit the message onto the food itself, try writing it out on the plate instead. I kept this meal pretty simple and stuck with a tropical theme, but if you want to challenge yourself, you could try a theme related to your dad's career or hobby.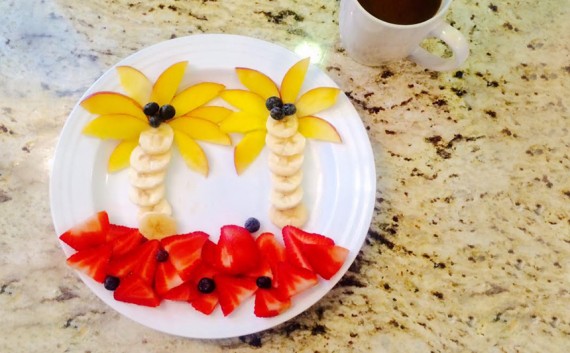 2. Candy or Treat Jars
For this one, you'll need a mason jar, ribbons, and a plethora of sweet treats! You could just buy a bunch of candy in bulk and stuff them in the jar, but I personally prefer making cookies. Buying prepared batter is safe and easy, although you can make your own cookie batter from scratch to personalize them just for dad. Cut them into cute shapes and add frosted designs on your cookies to make them fancy. Let your creativity run wild; draw moustaches, hearts, or simply write "dad" on each cookie. Here is a simple sugar cookie recipe that I've used for years; it's ideal for the culinarily challenged like myself. Once your cookies have cooled, toss them in the jar, smack some ribbons in it, and voilà—ready to give to dad!
3. Dad's Envelope Surprises
You will need to gather a bunch of envelopes and come up with as many "coupons" as you can to fill each envelope. They're basically free passes that dad can use to get chores and deeds done for him, or ones that can earn him some cool stuff (like a homemade meal or a kiss on the cheek). I've given my dad coupons for taking out the trash, vacuuming the house, cleaning the dishes, a hug—there are many, many options. You can give your dad as little or as many envelopes as you like; it's up to you! If you want to make this task more Father's Day-esque, gather 16 envelopes and write out Happy Father's Day with one letter on each envelope (that's including the apostrophe, of course). Fill with coupons and then present to dad!
4. The Dad Tee
This DIY requires some sneaking around on your part. Snatch one of your father's older but still wearable t-shirts—you know, the ones he only wears on Saturdays. Grab some markers, stickers, stencils, or iron-on designs and make your shirt as creative and tailored to your dad's personality as you can. Make it from the heart. I kept it simple and drew some stars on my dad's tee because I know my dad is a simple guy, but feel free to go wild! If it turns out you can't find a good shirt of his, a trip to the dollar store should solve your problem. Plain dollar store t-shirts range from 3-8 dollars. Just be sure to get your dad's size right, since it would suck to give him a shirt that he can't (or kind of won't) wear.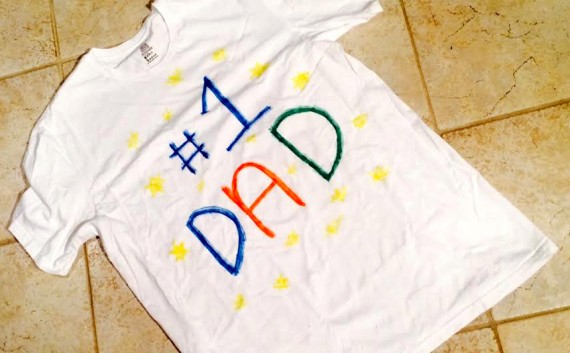 If you're itching to do something fun and inexpensive for this Father's Day, these ideas should hit the spot. I hope you have as much fun as I did creating these gifts and that your father loves your DIY presents. Here's wishing a very happy Father's Day to all you fathers and grandfathers out there!